We all use different kinds of power plans on our system according to our requirements. When we're going to watch movies or play games on our system, we choose the High-Performance power plan, and when we save battery for long use, we use Power Saver.
If you consider a multi-user system, there may exist the scenario when you select a power plan which you find useful, and in your absence, someone else who used the system changed the power plan which you find destructive. In such a case, placing a restriction to modify the power plans by others on your system became necessary.
Force Windows to use Specific Power Plan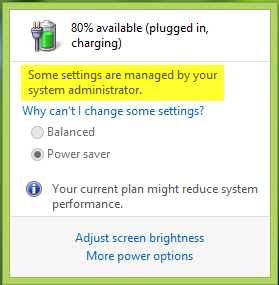 In this article, we'll show you the way to force Windows 11/10 to use a specific power scheme so that users can't modify the active power plan from normal settings. Basically, this restriction can be applied using the Local Group Policy Editor. Here is how to restrict the user from changing the active power plan:
Specify a custom active Power Plan
1. Open administrative Command Prompt. Type POWERCFG /LIST and hit Enter to get a list of available power schemes; here * implies active plan. Please note down the GUID for the plan you'd like to set as a specific plan.

2. Press Windows Key + R combination, type put gpedit.msc in Run dialog box and hit Enter to open the Local Group Policy Editor.
3. In the left pane, navigate here:
Computer Configuration -> Administrative Templates -> System -> Power Management
4. In the right pane of the window shown above, double click Specify a custom active power plan setting which is Not Configured by default to get this: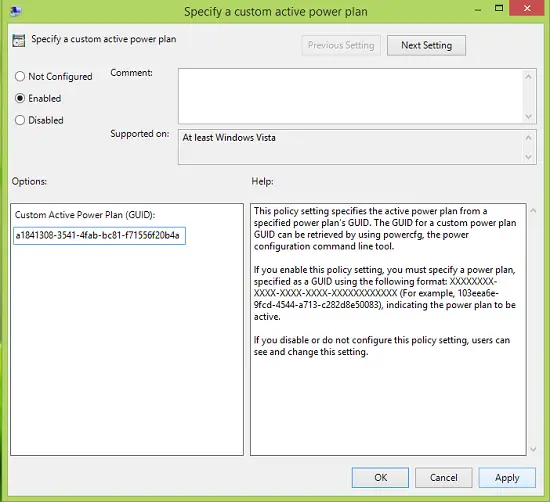 5. In the above-shown window, firstly click Enabled and then in the Options section, input the Custom Active Power Plan (GUID) as we copied from step 1. Click Apply, followed by OK. You may close the Local Group Policy Editor now.
Now if you try to set power schemes manually by clicking the battery icon in the taskbar notification area, you won't be able to do so: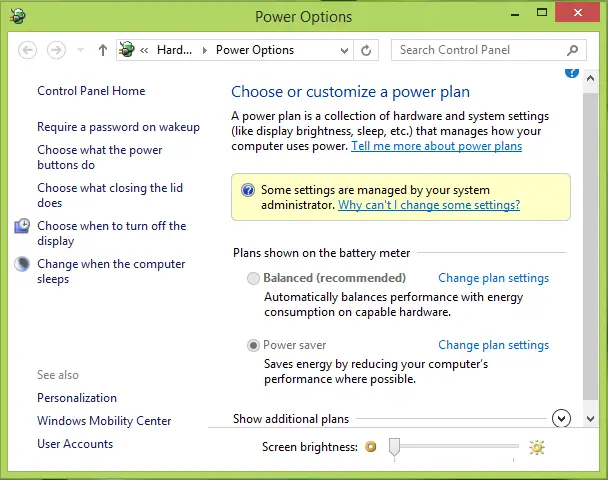 Hope you find the tip useful.
These Power-related article may interest you: