One of the issues that have since forever been giving Windows users problems is DirectX Graphics Kernel Latency issues. This glitch comes up mostly after a Windows Update and causes sound issues during some processes on your computer. For many users, gamers especially, this problem is a nightmare as the computer audio, and sometimes the graphics will start flickering and stuttering. Besides, programs like games also become laggy or even crash due to this high latency. And the worst part is that they don't always find solutions to the problem. If you are facing high DPC Latency from Directx Graphics Kernel, this post will help you.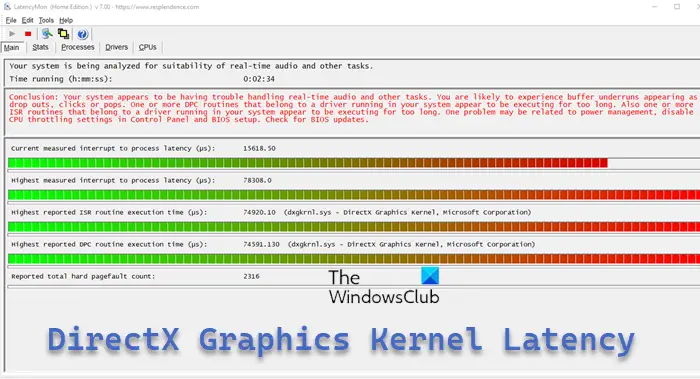 This Windows bug sets your computer latency to maximum, and as a result, the computer starts malfunctioning by responding at a prolonged rate. However, this issue can most times be traced back to Window updates (Driver issues), as mentioned earlier as well as to some third-party bugs that makes the driver communicate with other drivers on your computer causing excessive processing time for the driver to function. Regardless, there are still some simple workarounds to resolve the DirectX Graphics Kernel Latency on Windows 11/10 PC, which will be covered in this article.
Fix DirectX Graphics Kernel Latency on Windows computer
Run DirectX Diagnostic Tool
Reset BIOS
Troubleshoot in Clean Boot State
Change your PC Power Plan
Uninstall Graphics and Audio drivers
Use TCP Optimizer
System file checker
Uninstall and Reinstall DirectX
Temporarily disable Antivirus and Firewall.
1] Run DirectX Diagnostic Tool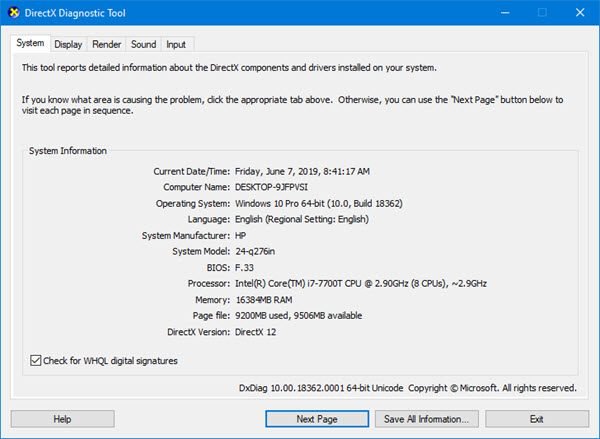 When faced with this issue on your Windows computer, the first thing you should do is to run the DirectX Diagnostic Tool. DxDiag is an inbuilt Microsoft tool created to help resolve issues encountered with Windows DirectX. So, it would help if you try the solution and see if the DirectX Graphics Kernel Latency Issue gets fixed. Refer to this link to use the DirectX Diagnostic Tool.
2] Reset BIOS
This issue may be due to corrupt BIOS settings, which can be resolved by restoring the settings to defaults. Try to reset the BIOS configurations on your computer and see if that helps.
Related: Fix High DPC Latency on Windows 11/10
3] Troubleshoot in Clean Boot State
Often, some processes or services running on your computer are always behind the issues you face. By performing a clean boot, you'll be able to troubleshoot and isolate the offending process that could be the root of the problem and know what to do to resolve it. However, you should make sure to restart your computer after each action you take while using the clean boot state. This can also help you in fixing the DirectX Graphics Kernel Latency.
Read: LatencyMon checks if your Windows computer is suitable for real-time audio processing
4] Change your PC Power Plan
Another helpful solution to fix this issue on Windows computers is to tweak your power plan configuration. When computers employ the balanced power plan, the system occasionally becomes confused about which plans to prioritize and which ones not to, thereby resulting in latency problems. It's better to modify the Power plan to address this issue, and here's how:
Press Windows + R to open the run command box.
Type powercfg.cpl in the box and hit Enter to open the Windows Power Plan.
Then change the Power Plan to High Performance.
Read: How to change Power Plan and Create Custom Power Plans in Windows
5] Reinstall Graphics and Audio Drivers
You can also uninstall your graphics and audio drivers, then reinstall their updated versions and see if the issue gets fixed. To uninstall these drivers:
Simply go open Device Manager on your computer.
Right-click on the respective drivers and select Uninstall and confirm the action.
After this, you should install the new versions of the drivers on your computer. You can make use of any of these methods to do that:
Then, ensure that you restart your computer after the installation and check to see if the problem persists or has been fixed.
6] Use TCP Optimizer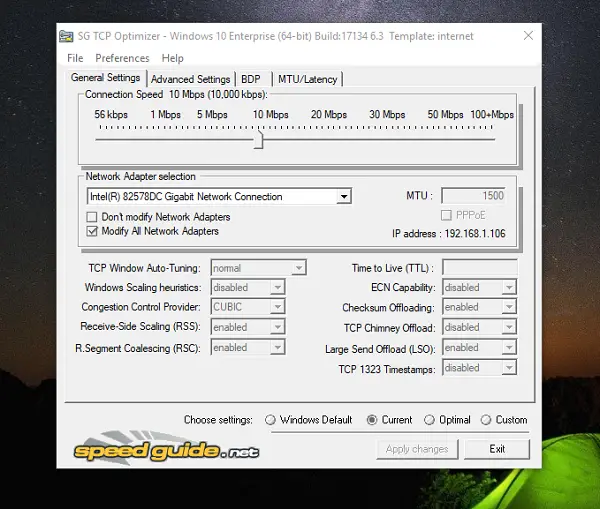 Many users have been able to reduce their PC latency significantly by using this tool, and you can give it a shot too.
Download the TCP Optimizer
After installing the software, right-click it and select Run as administrator to open the tool.
Select Optimal under the Choose Settings option and click on Apply changes afterward.
7] System File Checker
The System File Checker is a tool that helps check for file problems on Windows computers. The utility scans for corrupt and missing files on your PC and replaces them. Since issues like DirectX Graphics Kernel Latency can be due to file problems, you can run the System File Checker to help restore your files to normal.
8] Reinstall DirectX
Since this software is what's causing the issue, it'll be best if you can install a new version of it on your computer. Simply check out this link for more details on how to reinstall DirectX.
9] Temporarily disable Antivirus and Firewall
Firewall and Antivirus sometimes destabilize a computer's performance and may be the reason behind this DirectX Graphics Kernel Latency. It'll be best if you temporarily disable the Antivirus and Firewalls on your computer and see if the issue gets resolved or not.
These are a few ways to address DirectX Graphics Kernel Latency, and you might need to try more than one of them to get your computer to work correctly. Just ensure the fixes are done well, and hopefully, they will be helpful. If not, you might require a technician's assistance to change parts of your computer hardware.
Related:
What is DirectX Graphics Kernel?
The Driver Graphics Kernel is a Microsoft program explicitly built as a pointer to help display the Miniport driver function. It can assist you in accessing your graphic card's frame buffer and some more sophisticated features.
What is causing the DirectX Graphics Kernel Latency?
Driver problems, such as obsolete or malfunctioning drivers, are the primary source of the DirectX Graphics Kernel Latency on Windows systems. Additionally, conflicting software on your PC may also be at fault.