After Windows Update, if you see a Blue Screen with Stop Error VIDEO_DXGKRNL_FATAL_ERROR in Windows 11/10, here are some solution that might help you troubleshoot the issue. This error message may be accompanied by error codes such as 0xD80310B0, x05F6C614D, 0x680B871E or 0x96D854E5 and indicates that the Microsoft DirectX graphics kernel subsystem has detected a violation.
Fix VIDEO DXGKRNL FATAL ERROR Blue Screen
The VIDEO_DXGKRNL_FATAL_ERROR blue screen error usually appears during the installation of a new hardware driver or software. If you get this Stop Error, here are a few things you could try:
1] Reinstall/Update the Graphics Driver
In Windows 11, to update Graphics Drivers, do the following: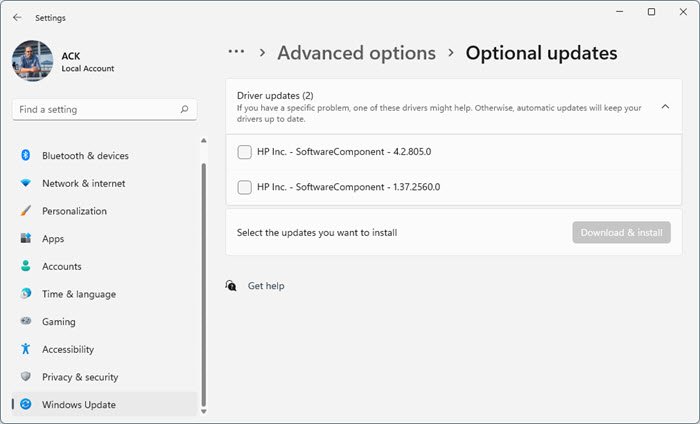 Launch Windows 11 Settings
Select Windows Update from the left side
Click on Advanced options on the right side
Select Optional updates on the right side
Expand Driver updates to see if any Graphics or other driver updates are available.
Or you can try this. Uninstall your Graphics Driver and install it again. If that doesn't solve your issue, you might need to update the Graphics Driver. To update the driver, open Device Manager. After opening it, expand the Display adapters option, right-click on the driver and select Update driver option.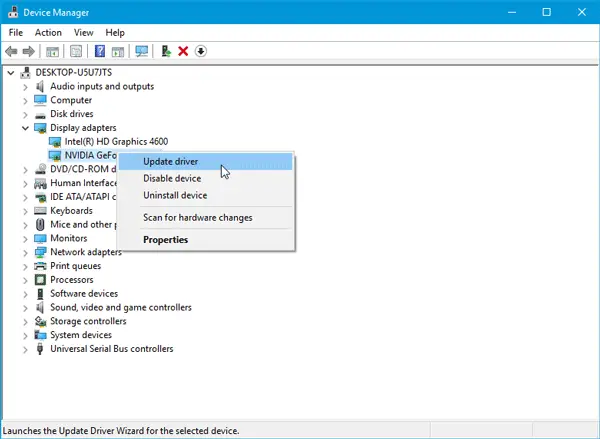 Then, you need to go through the screen options to complete the update. For your information, some people had to replace the graphics driver since it was not compatible with other hardware like the motherboard.
If you need to uninstall the NVIDIA driver, after you have uninstalled it, download the latest NVIDIA driver and install it. After a reboot, remember to set Nvidia as the default GPU.
2] Update or Reinstall DirectX
Download the latest version of DirectX for your version of Windows from Microsoft and install it afresh on your system.
3] Use System File Checker
The System File Checker tool helps users search for changes in registry keys as well as system files. Following that, it can restore the original file if it detects any change. Video_Dxgkrnl_Fatal_Error message can appear due to recent changes made by different software or drivers. Run System File Checker and check whether it solves the issue or not.
4] Turn Off Fast Startup
Some users have found that turning Off Fast Startup has helped resolve this issue. Try it and see if that helps.
5] Troubleshoot in Clean Boot State
Driver-side issues can be solved using Clean Boot as well. If you do not know, Clean Boot is nothing but booting the system with all non-Microsoft process, startups, and services disabled. That way, you can find out the offending process manually.
If you need more help, you may refer to our Windows Stop Errors Guide.