Destiny 2, also known as Destiny 2: New Light is a free online multiplayer first-person shooter game. The game is available to play on Windows, Mac, PlayStation 4 & 5, Xbox One, Stadia, and Xbox Series X or S. Some of its players are experiencing FPS drops and sometimes lagging. In this article, we are going to see why this is happening and what you need to do if Destiny 2 Lightfall experiences FPS Drops and Lags.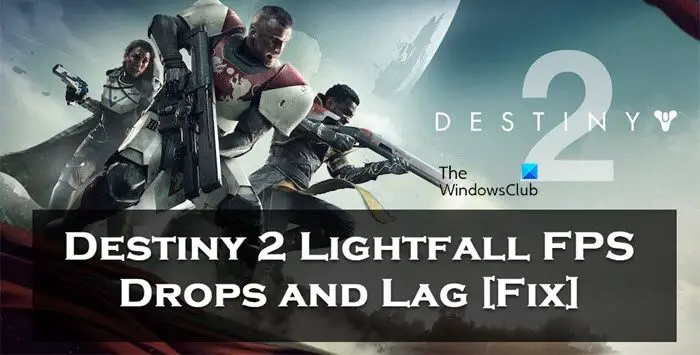 Why is Destiny 2 so laggy right now?
If you have checked your Internet connection, and there's no issue with it, then check the status of the Graphics Driver. It's necessary to run Destiny 2 with the latest version of the drivers, otherwise, gamers will experience sudden freezes in the game.
Fix Destiny 2 Lightfall FPS Drops and Lag
If you are experiencing FPS Drops and lagging in Destiny 2, follow the steps prescribed below:
Update the Graphics driver
Change the game settings
Remove all the game cache
Adjust the virtual memory
Quit background apps
Disable overclocking
Disable in-game overlays
Verify the integrity of game files
Let's get started.
1] Update the Graphics driver
Updating the Graphics Driver to its latest version is one of the basic troubleshooting solutions. Keeping everything up to date is a necessity, when gamers want no distractions while gaming, especially Graphics drivers. Hence, make sure that you have updated the device drivers, and then move on to other solutions.
2] Change the game settings
Playing the game at a high FPS rate and with high graphics settings puts a load on the system, due to which we experience FPS drops. We need to change some of the game settings to reduce this load. So, open the game and hit Esc (Escape button) and make the following changes.
Field of view: 90
Anti-Aliasing: SMAA
Screen Space Ambient Occlusion: Off
Texture Anisotropy: 4x
Texture Quality: Medium
Shadow quality: Medium
Depth of Field: Low
Environment detail distance: Medium
Foliage detail distance: High
Character detail distance: High
Motion Blurr: Off
Light Shafts: Medium
Wind Impulse: Off
Chromatic Aberration: Off
Render Resolution: 100%
Film Grain: Off
Now, launch the game to see if changing some of the settings helps.
3] Remove all the game cache
Ensuring the game caches are not corrupted must be among the first solutions in the troubleshooting guide. If corrupted it can cause the FPS to drop so clearing out these caches is a must. Here's how to do so:
Click Win + R to open the Run dialog box, and then paste %appdata%.
Locate and open the Bungie folder.
Now, click on the DestinyPC folder, and delete it.
When you launch the game, these caches will be automatically installed.
4] Adjust the virtual memory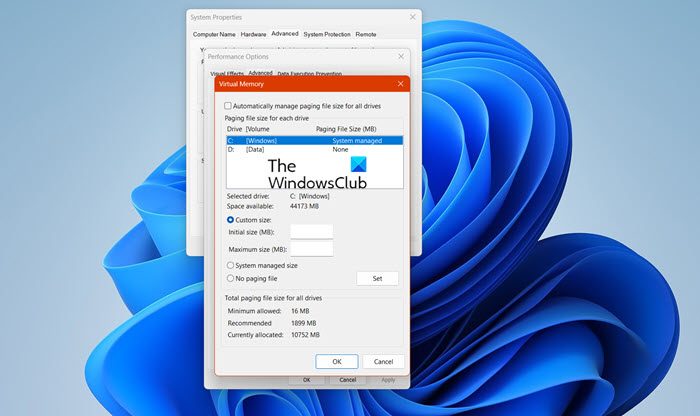 The PC won't be able to save the temporary game files if your system is low on virtual memory. Since it's necessary to have plenty of virtual memory, we are going to increase the virtual memory, and you can follow the steps given below to do the same:
In the Taskbar Search, type "Advanced System". and click on View Advanced System Settings.
In System Properties, click the Advanced tab and then go to the Performance section and select the Settings button.
Once the Performance Options opens, go to the Advanced tab and, under Virtual memory, click on Change.
Now, untick the Automatically manage paging file size for all drives option, and highlight your Windows system drive.
Select the Custom size option, change the Initial size value and the Maximum size value to a higher value, and select Set.
At last, select Apply/OK all the way.
After doing these steps, launch the game and see if it's running smoothly now.
5] Quit background apps
Destiny 2 is a resource-intensive game that needs undivided RAM, and if any other task is going in the background, it will start lagging. Due to this equation, it's better to quit the task running in the background so that you can enjoy the game better. If you want to see which application is eating out your resources, open Task Manager. There you can see processes running in the market. Look for apps that are processor intensive, right-click on them, and then click on End Task. Do this to every single resource-hogging app and check if the issue is resolved.
6] Disable overclocking
Yes, overclocking does raise FPS and somewhat improve game performance, but this can also lead to lagging problems and ultimately GPU crashes. Therefore, we recommend disabling overclocking for a simple solution, otherwise, you can opt for a different configuration that doesn't crash the GPU.
7] Disable in-game overlays
Although in-game overlays are a nice thing to boost game performance, they do put a burden on your PC, and thus the game starts lagging. To avoid this lagging, disable in-game overlays. Doing this is simple enough, if you are using the Windows Bar, then Click Win +I to open Settings and then click on the Gaming option. Now turn off the Open Xbox Game Bar using this button on a controller option.
If you have enabled Discord or Steam Overlay as well, make sure to disable them as well.
Read: Steam Overlay not working in Windows 11.
8] Verify the integrity of game files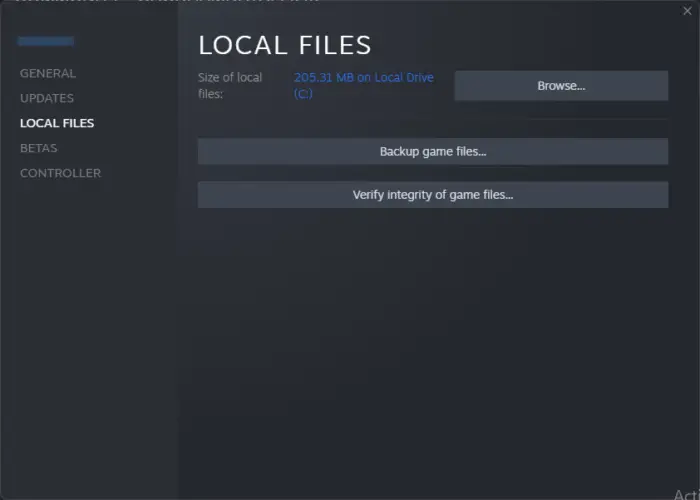 Game files are known to get corrupted; sometimes, antivirus software and firewalls can also lend a hand in this cause. In this scenario, simply use your launcher to verify the game's files and then repair them.
Steam
Open the game launcher and go to its Library.
Right-click on the game, select Properties and click on the Local Files tab.
Now select the Verify integrity of game files option.
Epic Games
Open Epic Games launcher.
Go to Library.
Click on the three dots associated with Destiny 2 and then click on Verify.
Wait for the verification to complete; hopefully, there won't be any more lagging.
Also Read: Fix Destiny 2 Error Code BROCCOLI on Windows PC
Should I have VSync on Destiny 2?
The answer to this question depends on your gaming experience. If a gamer experiences frequent screen tearing, we recommend enabling the Vsync, however, in case of lagging, disabling VSync is usually the best decision.
Read: Fix You have lost connection to the Destiny 2 servers error.