The new Microsoft Edge (Chromium) browser is compatible with Windows 11/10 as well as Android, macOS and iOS. The browser comes with a brilliant new look and features which you can customize the way you like. You can choose the theme for your browser, set the zoom level, customize the font, and also, customize the new tab page. What's even better is that you can import your favorites, browsing history, and saved passwords from other browsers. Let us explore and see what the latest Microsoft Edge has to offer.
When you open the new Microsoft Edge browser, this is how it will look like.
At the top right side of the browser, you will see three dots. That is where you will find the settings, history, downloads, apps, and extensions. The keyboard shortcut is Alt+F. Click on Settings.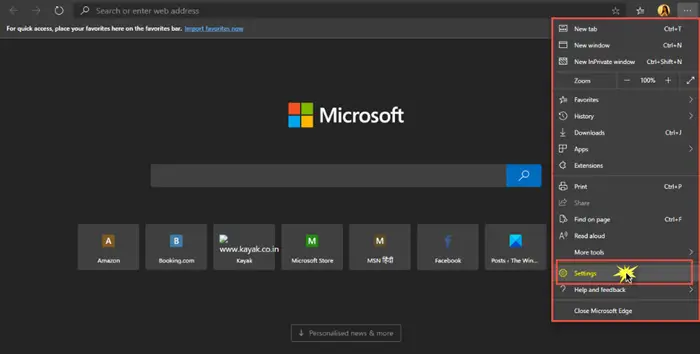 Microsoft Edge Settings
This is where you will find all the Settings that will help you customize your Edge browser. On the left pane, under Settings, you will see the following tabs:
 Profiles
 Privacy and Services
 Appearance
 On Startup
 Site permissions
 Downloads
 Languages
 Printers
 System
 Reset settings
 About Microsoft Edge.
Here, we will cover only those settings which will help us to customize the new Microsoft Edge Browser.
Customize Microsoft Edge Browser
In the following pointers, I have covered only a few tabs under the Settings which are more focused on the design, layout, and appearance of the browser.
 1) Profile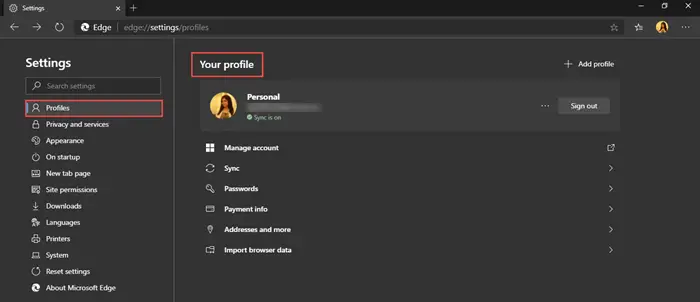 The Profile tab allows you to edit or remove your profile. You can also add a new profile here. The Sync option allows you to sync your history, favorites, passwords, and other browser data across all your signed-in devices. You can turn on or turn off the sync anytime you want. A few features related to history, open tabs, extensions, and collections are yet to be updated.
 2) Appearance
Under Appearance, you can change the theme of the browser, customize the font style and size, set the zoom percentage of the browser, and so on. You can choose a dark theme, light theme, or the system default one. For my browser, I have chosen the dark theme. You can choose to show favorites bar always, never, or on new tabs only. Turn on the favorites button, feedback button, and home button if you wish to show them in the browser.
The Zoom option allows you to select your zoom level preference from a minimum of 25% to a maximum of 500%. Under Fonts, you can select the size of the font from very small, small, medium, large, and very large. The medium size is what is usually recommended. Click on Customize fonts to further change the font type and style.
Read: How to change Microsoft Edge browser themes, background and appearance.
 3) On startup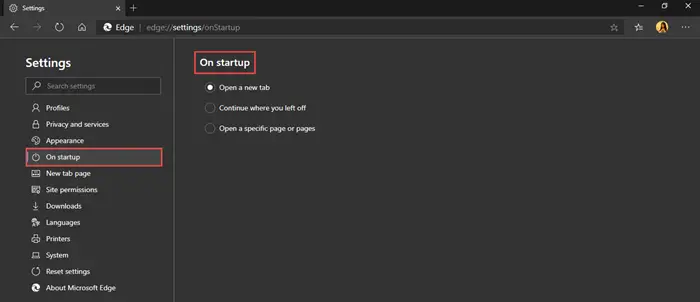 On startup or restart, you can decide which of the following options you would prefer.
Open a new tab
Continue where you left off
Open a specific page or pages
You can add a new page or set to all the currently open tabs.
 4) New tab page
Here, you will be able to customize the layout and content of the newly opened tab page. Click on the Customize button to the right.
As you can see, under Page Layout, you have four options – Focused, Inspirational, Informational, and Custom. Check out every layout to find out what suits you the best. Choose the desired option under change language and content.
 5) Languages
The languages tab enables you to display your Microsoft Edge browser in any language of your choice. You can add any language from the given options. There is an option to enable spellcheck as well. You can add or delete words. This feature helps you to easily read and understand the content that you are comfortable with.
How do I customize my Edge toolbar?
You can easily customize the Microsoft Edge toolbar. To do so, open Edge Settings and go to "Appearance > Customize toolbar." There you will see various options to customize your Edge toolbar, like show or hide the Favorites bar, show or hide the Title bar in vertical tabs, show or hide different buttons, including Home, Favorites, History, Downloads, etc.
In this way, all these settings will help you customize your New Microsoft Edge Browser just the way you like.
Want more? Take a look at these Edge Browser Tips and Tricks post.