Microsoft Edge, like all other modern web browsers, comes with a home page that you can customize. Not everyone who uses Edge goes to great lengths to customize the homepage, so if you are one of these people, then you're in the right place.
Customize the Microsoft Edge homepage
The default homepage is the only one you can customize, and that's not a problem from our point of view. Now, the length of changes you can make to the homepage is limited, but for us, it was not a bother, though may become an issue for others.
In the future, we hope that Microsoft adds more options to the customization section of the homepage for users to truly make it theirs.  The steps are simple:
Launch Edge
Click on the Gear icon on the top right side
Select the Page layout

Focused
Inspirational
Informational
Custom

Select the one you want.
Let us talk about this in more detail.
OK, so to begin with the customizing of your Microsoft Edge homepage, please fire up the web browser, then click on the Gear icon located at the top-right. Once that is done, the user will be presented with four options to choose from.
We are going to explain each.
1] Focused
When you select Focused, it will present a clear-looking page free from clutter. The only content on this page is quick links to access your most visited websites.
2] Inspirational
This section brings a bit more to the homepage. For example, users will now see a daily background image along with information about it. In truth, Inspirational is merely Focused but with a photo that changes every day.
Read: How to change Microsoft Edge homepage.
3] Informational
OK, so the Informational section contains a lot of data that might be overwhelming for some users. The news stories section contains several tabs for you to click through in order to read information through different categories.
Read: How to customize Microsoft Edge New tab page.
4] Custom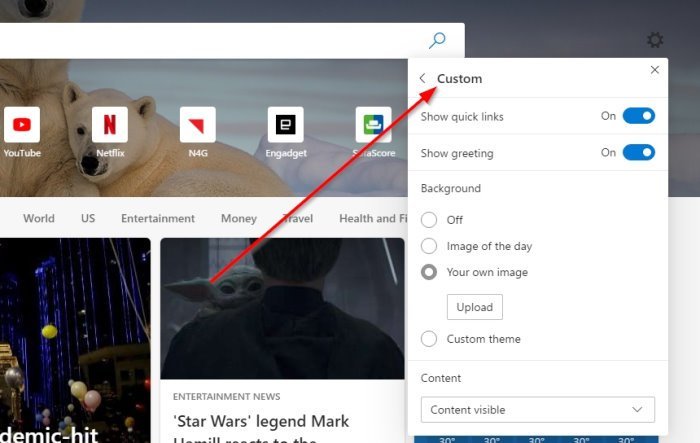 From our point of view, Custom is the best of the bunch because it allows you to customize the homepage to your liking. Users can choose between all the different page elements to create something that speaks to you.
It does contain a plethora of options, but at least you can add your own picture instead of relying on the daily images Microsoft delivers.
If you want to do more, then this post has tips on how to customize the new Microsoft Edge Browser.