Microsoft has announced the Collections feature for new Edge users, however, it is limited to Microsoft Edge Developer and Microsoft Edge Canary for now. Collections is a powerful feature that allows users to save and group information found across the web. The feature allows you to share your collections with other Microsoft users across the Internet.
Enable Collections feature in Microsoft Edge browser
While the Collections feature hasn't been launched for all Edge users yet, you can access it using an easy hack explained in this post. The procedure to enable the Collections feature in the stable version of the new Edge is as follows:
1] Download the latest version of the new Edge browser from the official website. The trick works with the stable version of the new Edge browser only.
2] Create a desktop shortcut for the new Edge browser.
3] Right-click on the desktop shortcut of the new Edge browser and select Properties.
4] In the Shortcut tab (which would be open by default), add the following suffix to the Target field while keeping a space between the last letter and the suffix:
--enable-features=msEdgeCollections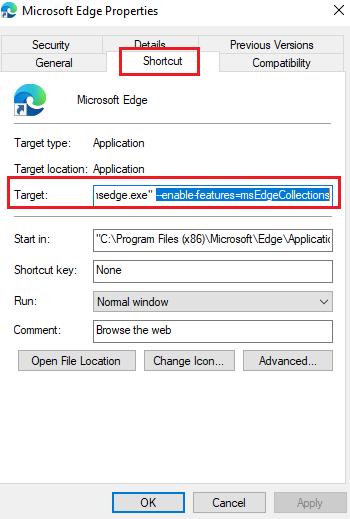 5] The final path should look something like this:
C:\Program Files (x86)\Microsoft\Edge\Application\msedge.exe" --enable-features=msEdgeCollections
Where C: drive is the system drive.
6] Click on Apply and then on OK to save the settings.
Now you would be able to access the Collections feature on the new Microsoft Edge but only when you open the browser through the desktop shortcut.
How to use the Collections feature in Edge
After launching the new Microsoft Edge from the desktop shortcut, to use Collections in Edge, click on the Collections icon from the top-right menu.
From here, you could start a new collection and add pages to the collection.
I hope this works for you.
Read: How to show or hide Collections button in Microsoft Edge browser.