Portable Document Format (PDF) is considered to be one of the most reliable formats for communication because of its immense security. While Adobe has always been providing free Acrobat Reader for opening as well as reading up of files but to create new PDF files of your own will call for additional resources called Adobe Acrobat X Standard which will cost you.
Adobe Acrobat X Standard allows the privileged to be used on a rent basis as well. While Adobe Acrobat consists of many simple as well advanced tools and options to make up work faster, reliable as well as fully secured if you are looking for a free simple and very standard tool for creating PDF files then you might achieve the task by going for a freeware option.
Free PDF Editor for Windows PC
There may be times when you are not connected to the internet and may want to carry your laptop along with you and create new PDF files along the way.
We suggest you check out Free PDF Editor. It doesn't need the process of installation since it's an executable file where it would just require you to double-click on the EXE file to open the application. This will also enable you to carry out this tiny application in your Pen Drive as well.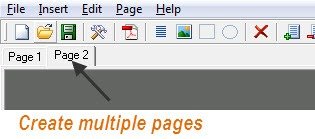 Once you open up this tiny application, you will see a blank window that will also you to insert Text, Images of your choice from your computer. It also provides an additional toolbar that will allow you to change the color of the text and customize the text, the way you want it to be.
This application also allows you to add various shapes like Rectangle, Square and Ellipse. After aligning the text as per your requirement, you can then go ahead with pressing the function key F9 from your keyboard to create and save PDF format files. The default document extension for this application is FPE which meant Free PDF Editor File.
While Free PDF Editor is not at all a tool to create professional and advanced kinds of PDF files, it certainly supports many simple as well some advanced functions to let you create some basic PDF files. You can download it here.
If you know of any more good free tools to create PDF files, please do share them with us.
This list of free PDF readers may also interest you.
Similar: Create PDF Files with free PDFCreator for Windows PC
Also read: How to create a PDF File on Windows 11.