Some Asus users have experienced an error – Can't open AsIO3.sys when working on their Windows 11/10 computer. This is an error that can prevent you from using your computer, as the system won't be able to access this file. When this type of error occurs, there is something wrong with the registry entries or system files that are linked to the operating system. In this article, we explain the reasons why the AsIO3.sys file may not be accessible and how you can fix the issue.
Can't open AsIO3.sys! Failed error code 433, A device which does not exist was specified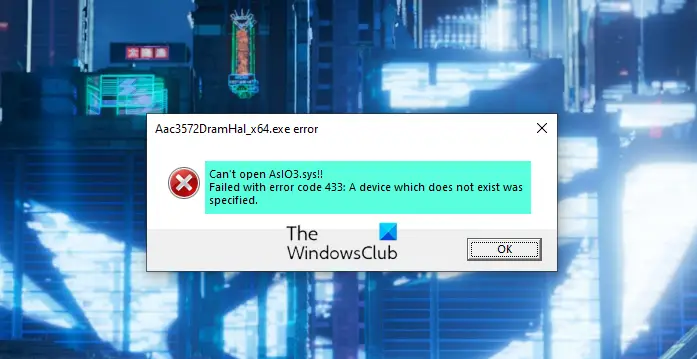 A full scan of the system, the updating of drivers, and the removal of newly installed programs can help fix this issue. Read on to learn everything you need to know about AsIO3.sys error on ASUS computers and how to fix it.
What Is AsIO3.sys and why is it not opening?
AsIO3.sys is a driver designed specifically for ASUS computers. AsIO stands for Asus Input Output. As part of the preinstalled software on your ASUS computer, this application monitors RAM temperature and GPU unit speed. It also controls other hardware, such as the speed of internal fans. This tool makes it easy to monitor and manage your ASUS computer because it notifies you when hardware-related issues occur.
There have been reports of users experiencing an error message saying "Can't open AsIO3.sys" when they try to start their computer. Several factors can lead to this error, including malicious software infections, malfunctioning hard drives, and corrupted memory. Check out this article if you are experiencing this error on your ASUS computer.
Fix Can't open AsIO3.sys error on ASUS computers
If you can't open AsIO3.sys error on ASUS computers, follow the below suggestions. Before you apply these methods, be sure to back up your data in case something goes wrong with it and your data gets lost.
Reinstall the driver or the ASUS software
Disable or Uninstall Asus TUF Armoury Crate
Update your device drivers
Run System File Checker
Perform System Restore
Let's take a closer look at each method:
1] Reinstall the driver or the ASUS software
This method requires you to reinstall the driver or the Asus software that includes or installs this AsIO3.sys file
2] Disable or Uninstall Asus TUF Armoury Crate
The solution to this problem is to disable or uninstall the Asus TUF Armoury Crate & Aura Creator. Following are the steps you can take to uninstall all Armoury Crate apps and services:
Open the web browser and navigate to the Armoury Crate support website.
On the Driver & Utility tab, click on the drop-down menu.
Here you will find two options, Windows 11 64-bit or Windows 10 64-bit, choose whichever option suits your needs to download Armoury Crate Uninstall Tool.
Click on the Download button to get the file.
Once you download it, open File Explorer (Windows+E keys) and go to the Downloads folder.
Unzip "Armoury_Crate_Uninstall_Tool.zip" and double-click "Armoury Crate Uninstall Tool.exe" to start the uninstall process.
Once the uninstallation has been completed, restart the system.
Note: The official AC cleaning tool is the best way to remove the Armoury crate.
3] Update your device drivers
A faulty or outdated driver may also be responsible for causing this Blue Screen error. In such a case, you have two options to choose from:
4] Run System File Checker
In case the above solutions don't work, it appears your system is corrupted. To resolve system file corruption, you can use the System File Checker utility using the following steps:
To get started, launch the Command Prompt as an administrator.
In the Command Prompt, copy and paste the following command:
sfc /scannow
Now hit the Enter key and it will then scan the system for any corrupted files. When the scan is finished, restart your PC and see if the problem is solved
5] Perform System Restore
This solution is highly effective at fixing many problems on Windows PCs, including BSOD errors like this. So, if nothing helps, simply restore your system to its previous state. In this way, you will be able to restore your system to its previous state, which was functioning properly at the time.
How to Download Asus Audio Drivers?
The following steps will guide you through the process of downloading the Asus Audio Drivers for Windows 11/10:
First of all, visit asus.com.
Then search for your product using the serial number.
On the next page, click Drivers & Utility.
Select the Operating System and then download the Audio Driver.
Related Post: How to fix Tcpip.sys Blue Screen Error on Windows computer