Listening to music is a form of relaxation as well as fun. But if you want to enjoy music in your school, college, or office, you need the best free unblocked music sites. Here's a quick rundown of some of the best free unblocked music sites you can play at school or work.
Best free unblocked music sites
Schools, colleges, and offices tend to restrict certain entertainment and music websites to you from wasting your time on unproductive activities. However, there are still plenty of websites that allow you to stream and download music online legally and for free. We have a list of the 10 best free unblocked music sites just for you.
LiveOne
Jamendo
Soundzabound
Bluebeat
AccuRadio
Grooveshark
TuneIn
Free Music Archive
Hulkshare
1] LiveOne
Previously known as Slacker Radio or LiveXLive, LiveOne is a music streaming platform offering audio and video music. This unblocked music site, allows you to stream your favorite music through 200 and more channels, and also live entertainment. With its free version, you can stream unlimited music anywhere on mobile/tablet/Smart TV/Smart Speakers/car/Chromecast.
2] Jamendo
When looking for free music websites for school, Jamendo is another great addition to the list. It allows you to explore a vast collection (600000+ free songs and 40000+ independent artists)  of the latest playlists and communities without registration and at no cost. So, when looking for the best free online music streaming sites, this is one website you won't want to miss.
Read: Best Free Music Player with Lyrics Downloader for Windows
3] Soundzabound
Soundazabound is another popular free music website that offers royalty-free sound effects or music for schools. Best of all, it does not need you to sign up and you can start listening to songs right away. Simply click on Browse Music, or browse through genres and start streaming the latest songs or sound effects for free. You can also download music and save them on your device.
4] BlueBeat
Whether you want to listen to the latest hits for free or you want to shake off an earworm, BlueBeat is the destination that helps you find your music. This is one of the top internet music services that features a huge collection of free high-quality music in its library. Moreover, it also offers 3D songs, allows you to create Playlists, and the option to change between any type of track effortlessly.
Read: How to make a playlist on YouTube with any video, without logging in
5] AccuRadio
As the name suggests, AccuRadio offers a wide range of customizable radio channels, all for free. So, whether you are in school, college, or at work, simply click a channel to start listening. With over 1400 internet radio stations, this is one of the best free unblocked music websites that helps you destress irrespective of where you are.
Read: Top Radio apps for Windows available at the Microsoft Store
6] Grooveshark
While the old Grooveshark shut shop in 2015, a new Grooveshark with a .org domain is still online. This is one of the sites that offer free and unblocked high-quality music for school. This is more of a music search engine, but you can also listen to tracks, create playlists, and more. Simply create a free account and get going.
Read: MusicBee will help you organize, find and play Music Files on your PC
7] TuneIn
Want to listen to exclusive music worldwide that too for free? TuneIn allows you to stream unblocked music from top Radio stations across countries or browse based on genres. Among the best free music apps for Windows, it's a unique website that also offers news, sports, and podcasts apart from radio and music for free.
8] Free Music Archive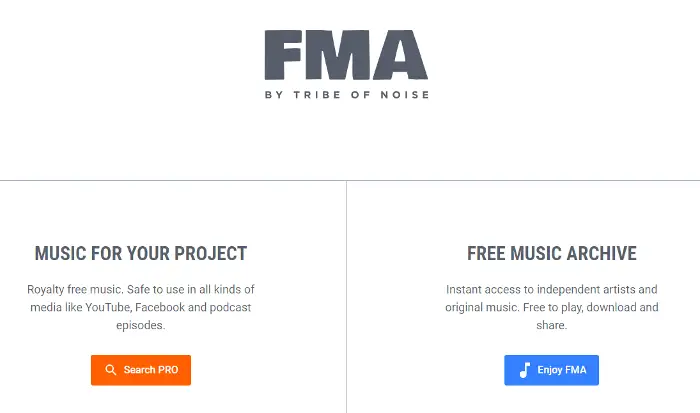 If you are a music fan who doesn't want to skip his dose of entertainment even at school or at work, Free Music Archive could be a great choice. While it offers instant access to independent artists and original music, it also allows you allows you to play, download and share music for free. You can also access its Pro library for royalty-free music at affordable prices.
9] Hulkshare
Missing your favorite tracks while in school or in the office? Hulkshare allows you to catch up on your favorite tunes without any subscription. One of the best free unblocked music sites, it not just allows you to stream music, but also share your own piece and connect with people in a group. However, in some parts of the world, you may need a VPN for Windows to access the website.
We hope this helps.
Read: How to unblock and access Blocked or Restricted Websites
How can I listen to music that is blocked?
Music websites can either be blocked by your school, college, or office or due to geo-restrictions. If it's due to a geo-restriction, in that case, you can use a VPN to unblock the site and listen to music. Alternatively, you can use free proxy software to unblock music streaming sites from servers worldwide. If that doesn't work, you may also change the network proxy in your browser or change your DNS settings to access blocked content.
What is the best music website?
While Spotify, SoundCloud, and YouTube Music are among the best free online music streaming sites, they are usually blocked in schools, or at the workplace. In such cases, you can either unblock the websites using a VPN or use the free unblocked music sites as mentioned in the above list. Alternatively, you can also use these free public-domain music archive sites.