Have you ever thought of setting up your own Internet Radio Station that would just play all your favorite songs? Today we will tell you, how you can set up your own Internet Radio Station on your Windows computer, for free. In this tutorial, we will discuss Icecast2 Servers, the tools we would need, setting up those tools, setting up our server, connecting to our server, and streaming our own internet radio station.
Set up a Internet Radio Station on your PC
In this whole tutorial, we will take the help of a free radio hosting service called Caster.fm. You may think that we could use our own computer to host the server, but I would like to tell you that the internet connections we've got at home are generally very low-speed (around 50 KBps) with that speed we can get only 3-4 listeners that's why we will use Caster.fm servers to host our radio. But if you have a fast internet connection, you may do so.
Requirements
Here are the minimum requirements for setting up a radio station:
An internet connection (DSL)
Windows PC
Other sound equipment such as Speakers, Headphones, and Mic
Set up Windows PC for a radio station
Step 1: Open up your web browser and type in "www.mixxx.org". Click on the download button to start downloading Mixxx. We are downloading Mixxx because we will use Mixxx to stream our Music. (Mixxx is free and open-source software).
Step 2: Run the setup file you downloaded in Step 1. Agree to the statements, and install the setup – but make sure that you tick all the Mixxx components before you install Mixxx on your Windows PC.
Step 3: Now download Lame Encoder that will allow Mixxx to stream MP3 files. Click here to download Lame Encoder. After the download finishes, copy the downloaded file to the directory where you've installed Mixxx. By default, it is C:/Program Files/Mixxx.
Now you have. successfully set up your PC to stream Music onto your radio server. Now we will discuss setting up our server and streaming music onto that server. And to be sure, we will test our server too.
Setting up the server
Step 1: Open your web browser and enter the URL: www.caster.fm. When the page loads; click on the Register link in the top right area of the webpage.
Step 2: Now on the registration page enter your details such as username, emails, passwords, etc. Click on the Sign Up button.
Step 3: You will receive a new mail from Caster.FM. Click on the given link to confirm your registration.
Step 4: Now go to www.caster.fm/cp/ and login with your credentials.
Step 5: You will be successfully logged into your account. Your server would be offline, but there would be an option to make your server online. Click on that option. (See Image Below).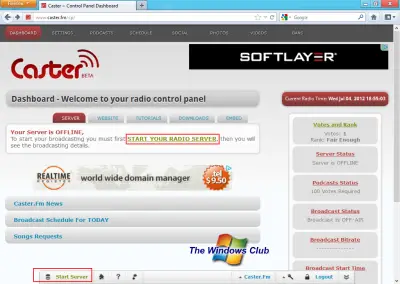 Step 6: Enter the CAPTCHA and click on the Start button.
Step 7: You will now be able to see the Control Panel screen where all your server settings will display. Note down the settings somewhere – we will require them in the next steps.
Configuring the Mixxx
Now that you have set up your server successfully, it is time to stream something over that server. As I told you earlier, we will use Mixxx to stream to our server. Please follow the following steps very carefully:
Step 1: Open Mixxx and switch to full-screen mode – this will give you a real FM Jockey feel.
Step 2: Click on the Options and then Preferences. You can also use shortcut Ctrl + P.
Step 3: In the Preferences window, in the left column click on the Live Broadcasting option.
Step 4: Enter the server settings you noted in Step 7 above,  here. Click on the OK button to exit.
Your Mixxx is now connected to your radio server. What you need to do next, is enable Live Broadcasting. To do it press Ctrl + L on your keyboard. Now what you play on your Mixxx will be played on to your server and users can listen to your radio by visiting your Webpage (for example djlavish.caster.fm). You can even embed a player on your website or blog by visiting the caster.fm Control Panel.
Now let us test your server.
Testing your server
From any other PC, except your own PC from where you are streaming, go to your Radio page (for example: djlavish.caster.fm). If you can listen to the music you were streaming from your computer, then it is fine. If you cannot listen to any music, I suggest you go through the tutorial and see if you have missed anything.
Happy Broadcasting.
Can I get a radio station on my computer?
An internet-based radio service or web radio is an online radio program. A stream of this service is available online, for example, on a computer or smartphone. You receive a web radio station online instead of a conventional AM/FM station.
Can we play FM on a laptop?
Yes, you can. All you need to do is buy a USB-based FM radio adaptor and connect it to the PC's USB port. However, changing the channel can be challenging, and it will depend on its software.