The right sound effects are very important for any video. They have a psychological impact which lets the audience feel the situation explained in the video. This would become more apparent when sound effects are removed from the stream. In that case, the visuals would feel so raw.
Find Royalty-free Sound effects
As important as sound effects are, you cannot just copy them from any video and upload them. A license needs to be attached. Yes, you can create your own sound effects, but that is neither easy nor feasible. Here are some of the best websites to download background Royalty-free Sound effects for video editing.
99Sounds
Noise For Fun
SoundJay
ZapSplat
FreeSFX
Partners In Rhythm
SoundBible
Freesound
Gamesounds
SoundGator.
Before you begin, you should know that if you are looking for sounds and background music for your YouTube videos, you can get them here at youtube.com.
1] 99Sounds
99Sounds is one of my favorite websites for royalty-free sound effects. It has a huge library with 32 collections, so it almost covers everything. The collection is free of cost, not even a one-time charge. The audios are placed with images as if they are album covers, which would help you sort out the sounds after downloading. The cons are that the collection is old, mostly added prior to 2016, they are a sound production company and not a community, thus they have a limit to the number of sounds, and not sure why, but they have no search option. Check out more on their official website here.
2] Noise For Fun
Noise For Fun is a unique concept of its own. If you are fed up with the usual sound libraries, I would strongly suggest you check their collection. They have a small, but unique collection of sound effects that are pretty unconventional. However, your audience will definitely appreciate the innovation in the audios. Even more, the sounds are in high-quality WAV formats. The cons are that the sound effects won't suit every project and you would need to attach the attribution with every copy. Find out more about their amazing collection on their website here.
3] SoundJay
SoundJay has collected every usual sound effect you would need in your videos, all arranged neatly in 10 collections. The sounds are high-quality and free to use. You can download the sounds in both WAV and MP3 formats. Since the sizes are vastly different for both the formats, the website mentions the file size prior to download. SoundJay keeps adding new sounds to its library, so you can count that as another positive. As for the cons, it doesn't have a search bar and the advertisements are bothersome. Learn more on the website here.
4] ZapSplat
ZapSplat is perhaps the most extensive website for royalty-free sounds. The website has a collection of more than 34,000 sound effects and innumerous categories. So, if you don't find a sound effect on ZapSplat, there's a hard chance you would find it elsewhere. The sounds are free for both commercial and non-commercial use, however, you will have to include the attribution for commercial use. To make it totally attribution-free, you can send them a small donation. Download the audios in either MP3 or WAV format from the website here.
5] FreeSFX
FreeSFX is an enormous royalty-free sound effects website with a collection of more than 500,000 sound effects and the collection is still growing. It has a search bar which makes the website easy to navigate. FreeSFX also has a collection of free music files. However, it only allows downloading files in MP3 format. Even more, the website requires signup and attribution needs to be attached to every sound effect. Check more on the website here.
6] Partners In Rhythm
Partners In Rhythm isn't a sound effect website itself but a linking website. Once you click on the desired sound effect, it redirects you to the royalty-free website which hosts that effect. However, the reason to prefer Partners In Rhythm of many other websites in this list is its huge carefully navigable database. However, the limitations are no less either. You will have to sign up to the website to download any audio. Furthermore, while most sound effects are free, some are premium. More could be checked on their website here.
7] SoundBible
SoundBible is a pretty simple website for downloading royalty-free sound effects. While not all audios on the website are free, they have a separate tab for royalty-free sounds. The sound effects are of high-quality and can be downloaded in both MP3 and WAV formats. However, attribution is required for every effect and there aren't enough categories and filters on the website. Learn more on the website itself here.
8] Freesound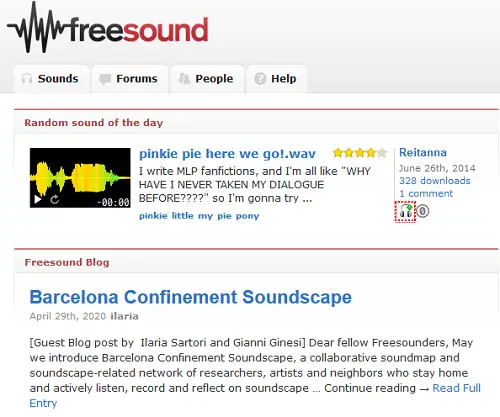 Freesound is an extensive and enormous community-based website to find royalty-free sound effects. A lot of content is uploaded by the community, so the quality differs amongst the audios. While you cannot download anything without signing up on Freesound, trust me, it is worth doing so. All the sounds are free, however, all of them aren't available for commercial use. Attribution may be required for certain audios. Find out more about this amazing website here.
9] Gamesounds
Gamesounds is a royalty-free sound library specific to gaming sounds. While the library isn't large enough,  it is accurately what a game designer needs. Rather, it is apparent that the sound effects on Gamesounds have been borrowed from other major libraries like 99sounds. Check the website and decide if this is what you need.
10] SoundGator
SoundGator might be an average library for royalty-free sound effects, but the fact that it allows interacting with the community makes it different. The sound effects are arranged by category and the search bar is clearly very helpful. However, you might need to register to download any audio from the website. Learn more about SoundGator on the website here.
Read: Royalty-free Copyright free Music which you can use in your videos.
If you have any better royalty-free sound effects website, please let us know in the comment box.