If you have some multipage TIFF (Tag Image File Format with *.tiff or *.tif extensions) image files that you want to convert into PDF documents for backup or for any other purposes, then this post is helpful. We have added some best free multipage TIFF to PDF converter tools for Windows 11/10 computers in this post. You don't have to adjust the output page size, orientation, etc., with most of these free software & online tools,  and a satisfactory output can be generated using these multipage TIFF to PDF converters. Also, there will be no watermark on the pages of PDF files.
Each tool in this list has some other interesting and unique features too. For example, you can convert different format images (JPG, WBMP, PNG, DCX, BMP, ICO, PCX, CRW, etc.) in one go, convert multiple TIFF files together and generate a separate PDF for each TIFF image, convert scanned PDF to searchable PDF, and create a combined PDF from the input TIFF files, etc.
Free Multipage TIFF to PDF Converter tools for PC
This list includes three online multipage TIFF to PDF converters and two free software for converting TIFF images to PDF. These are:
AvePDF
TIFF to PDF
Online2PDF
Advanced Batch Image Converter
Pearlmountain Image Resizer.
Let's check all these TIFF images to PDF converter tools.
1] AvePDF
AvePDF is an online PDF suite that brings 50+ PDF tools. This service lets you add page numbers to PDF, remove PDF content, repair PDF, redact PDF, convert PDF to greyscale, remove pages from PDF, and more. A separate tool is provided for each task. TIFF to PDF conversion tool is also there that you can use with ease.
To use this tool, open its homepage from avepdf.com. This tool lets you convert a maximum 256 MB PDF file at a time. You can add a multipage TIFF file from the desktop (using Choose File button) or upload a TIFF image from your Dropbox or Google Drive account. An online TIFF image can also be added.
Once the TIFF image is added, it will automatically upload it. After that, you can turn on/off Enable color detection button, and hit the Convert button.
When the output is ready, you can download it, and also upload it to your Google Drive, or Dropbox account.
2] TIFF to PDF
TIFF to PDF is another service that brings TIFF to PNG, TIFF to JPG, PNG to TIFF, and other conversion tools. TIFF to PDF converter is one such tool. This is one of the best options for converting multipage TIFF images. Multiple TIFF files can be converted in one go using this tool. And, you can create a combined PDF from TIFF images or create a separate PDF for each TIFF image file.
Using this tool, you can convert up to 20 multipage TIFF image files to PDF at once. Also, there is no size limit or the number of conversions per day. While other online tools come with a size limit and conversion limit in their free plans, this tool doesn't come with such a limit.
Open the homepage of this tool from tiff2pdf.com. There, use the UPLOAD FILES button to add multipage TIFF images from your system. After that, the process to upload TIFF files and convert those files to PDF is done by this tool automatically.
When the output files are ready, you can use the DOWNLOAD button available for each file separately or press the COMBINED button to get a single PDF that will include all the TIFF files.
Related: How to split multipage TIFF on Windows PC.
3] Online2PDF
Online2PDF is a multipurpose service that has the 10 most useful tools. These tools let you rotate PDF pages, unlock PDF & remove passwords, extract pages from PDF, define header/footer, compress PDF files, and more. A separate TIFF to PDF converter tool is also there which is pretty good.
This tool supports batch TIFF to PDF conversion. You can upload up to 20 TIFF files and convert them to a single PDF document. You can also create a separate PDF for each multipage TIFF file. For a single TIFF image, the maximum upload size is 100 MB. And, if you will upload multiple TIFF files, then the total size should not be greater than 150 MB.
One unique feature of this tool is you can rotate pages for the output PDF file. For each input TIFF image, a Rotate pages option is present. You can use that option and then specify pages or page ranges (like 1-4, 6-7, etc.), and those pages will come as rotated in the output PDF file(s). The option to specify pages for output is also there which is a good feature. You will have the option to select pages from input files and only those pages will be added to the output PDF.
To use this multipage TIFF to PDF converter, open its homepage from online2pdf.com. After that:
Use the Select files button to add TIFF images from your Windows 11/10 computer
Use Rotate pages option and Select pages option available for each input file or leave these options to default
Select the output mode using the drop-down menu. You can select the Merge files option to generate a single PDF file or use the Convert files separately option for creating a separate PDF for each TIFF file
Select the PDF file option for output from the drop-down menu
Press the Convert button.
The tool will upload and convert your TIFF images, and then you can download the output PDF files to your computer.
4] Advanced Batch Image Converter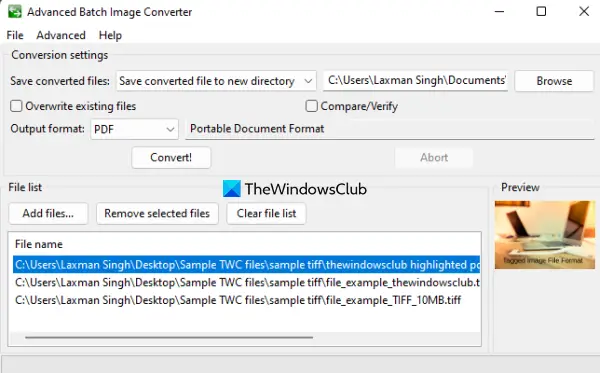 As the name indicates, this Advanced Batch Image Converter tool is used to convert multiple images with different formats together. Dozens of file formats (like AVS, DCM, GIF, ART, CUR, ILBM, JBG, JPG, JBIG, PCT, PAM, PNG, PSD, etc.) are supported for conversion. The multipage TIFF images can also be added for converting them into a PDF file.
The best feature of this tool is you can insert multiple multipage TIFF files and convert them into separate PDF documents. To use this tool, download its EXE from sourceforge.net. Install it and open the interface. There, you can use Add files button for adding the input TIFF image files. For each input file, file size, file path, image size (height n width or resolution), and other information are provided by this tool.
Now click on the Advanced menu present on the top part of its interface and select Allow all output formats. Then only you can set PDF as the output format for the input TIFF images. When you have done that, use the drop-down menu available for the Output format option and select PDF. After that, set the output folder or keep the default folder, and then press the Convert! button.
Once the conversion is done, open the output folder, and you will have the PDF files.
Also read: How to convert PDF document to a multipage TIFF image.
5] Pearlmoutain Image Resizer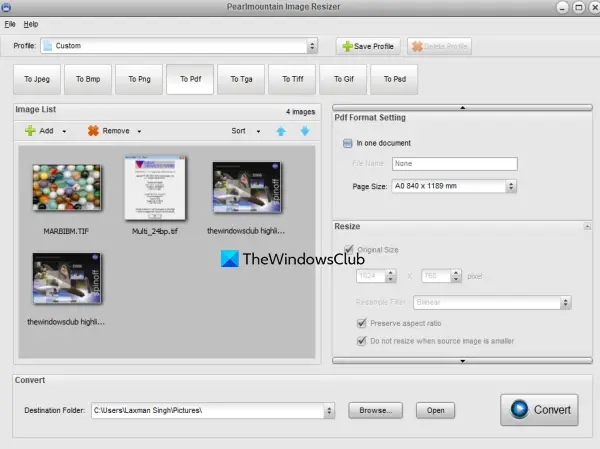 Pearlmountain Image Resizer (free version for personal use) lets you batch resize images in one go. But this tool can also be used to convert a multipage TIFF to a PDF document. By default, it generates a separate PDF for each individual page present in a multipage TIFF file, but you can also create a combined PDF for each page. Apart from this, you can also use this image resizer tool to create a single PDF file from multiple TIFF files at a time.
To use this tool, get it from batchimageconverter.com and install it. Open the tool interface and add a folder containing multipage TIFF images using the File menu or Add button. After this, select the To Pdf button for the output format. Now use the Browse button available on the bottom part of its interface to select the destination folder.
Now you have to use the Pdf Format Setting section available on the right side. If you want to create a combined PDF for the input TIFF files, then tick mark the In one document option or leave this option. Provide a file name and select a page size (A2, A4, A3, A0, A1, Tabloid, Legal, Letter, etc.) for the output. There are more Resize options but those are present in its pro version.
When everything is set, hit the Convert button, and wait for the result. After that, you can use the output PDF from the destination folder.
Hope this helps.
How do I convert a multipage TIFF to a PDF?
If you are using Windows 11/10 OS, then converting a multipage TIFF to a PDF file is easy. You can use any of the multipage TIFF converter tools for this purpose. To make it easy for users, we have created a list of the best free multipage TIFF to PDF converter software and online tools in this post that you can try. Each tool is good enough for generating a handy output and also comes with other features that you might find useful.
How do I open a multiple-page TIFF file in Windows 10?
Whether you want to open a multipage TIFF file in Windows 10 or Windows 11, you can use some free tools for this purpose. There exist some best free Multipage TIFF Viewer software and online tools such as BitRecover Tiff Viewer, Online Document Viewer, Windows Photo Viewer, etc., that you can try. The options to rotate pages and flip pages are also present in such tools.
Read next: Best free Batch Word to PDF Converter tools for Windows.