PDF redaction is handy to remove or hide sensitive information from different areas of a PDF document. The selected areas are covered with redaction marks or colored boxes so that the information or data (text, links, images, etc.) stored behind it is removed permanently.
When you have to share a PDF document with someone but want to protect sensitive data of that PDF, then PDF redaction can be very useful. In this post, we have covered some best free tools to redact PDF with ease. Before using any of these tools, you should also keep a backup of your original PDF documents.
How to securely redact PDF
This post covers some free PDF redaction software and online tools to black out text in PDF:
Sejda PDF Desktop
PDF-XChange Viewer
AvePDF
PDFzorro
Smallpdf
Canva PDF Editor.
1] Sejda PDF Desktop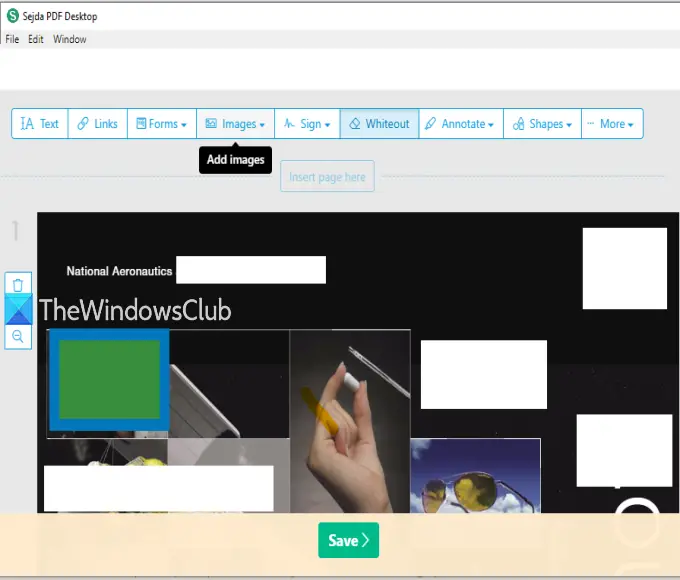 Sejda PDF Desktop is a PDF suite. Its main interface contains different tools like compress PDF, crop, merge, split, delete pages, extract pages, PDF watermark, etc. You can use its PDF Editor tool to add redaction marks in PDF pages. Instead of using black redaction marks, it provides a whiteout option to redact PDF.
This tool works well, but the free plan of this software is limited. You can add a maximum of 50 MB PDF or a PDF with up to 200 pages. Also, you can perform 3 tasks in a day.
Download this software here. On its interface, use All Tools drop-down menu, and select the Edit option. This will open its PDF Editor page.
Now you can add PDF and it will show pages of that PDF. On the top part, you will see text, links, images, annotate, whiteout, shapes, and other options. Use the Whiteout option and select an area on the PDF page. It will cover that area with white color. You can also use Shapes option to use a rectangle as redaction mark.
Hide areas of your choice and then press Save button to store the output PDF in a folder of your choice.
2] PDF-XChange Viewer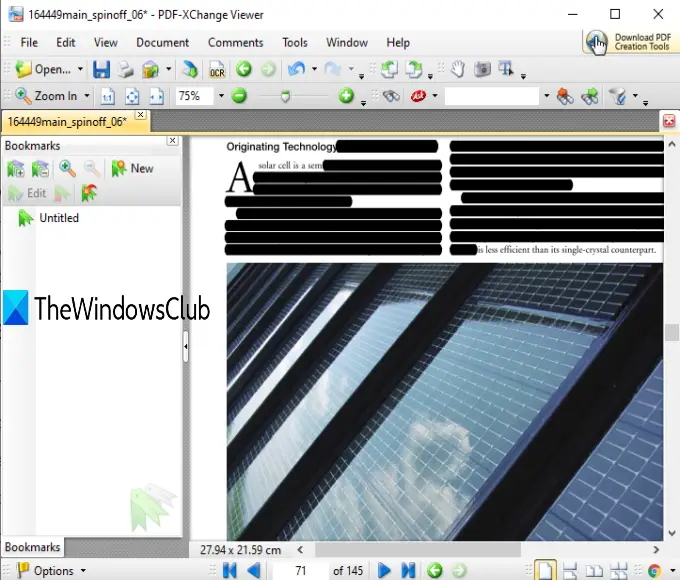 PDF-XChange Viewer is a useful PDF reader software with some interesting features. It lets you show/hide bookmarks, comments list, measure the distance between two points, highlight PDF, add sticky notes to PDF, and more. It also provides a highlight text tool that can be used to add redaction marks to PDF.
You can download a portable or installer version of this software here. After that, open its interface, and add a PDF file. Now, to redact PDF, access the Highlight Text Tool. It is present under the Comment and Markup Tools section of the Tools menu. Now, click on 'Show Comments Styles Palette' option under that tool.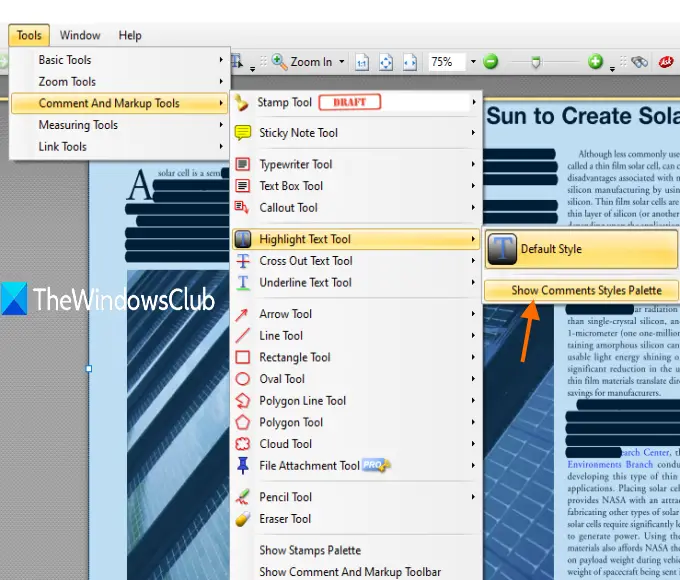 A separate window will open. There, select Default Style, and use a color palette to select a black or some other color. Also, set the opacity level to 100% using the icon available just next to the color palette.
Again, access the Highlight Text Tool. This time, select Default Style option. Now select some area and that area will be covered with the color set by you.
In this way, you can mark other areas. Finally, save PDF using Save As option under the File menu.
3] AvePDF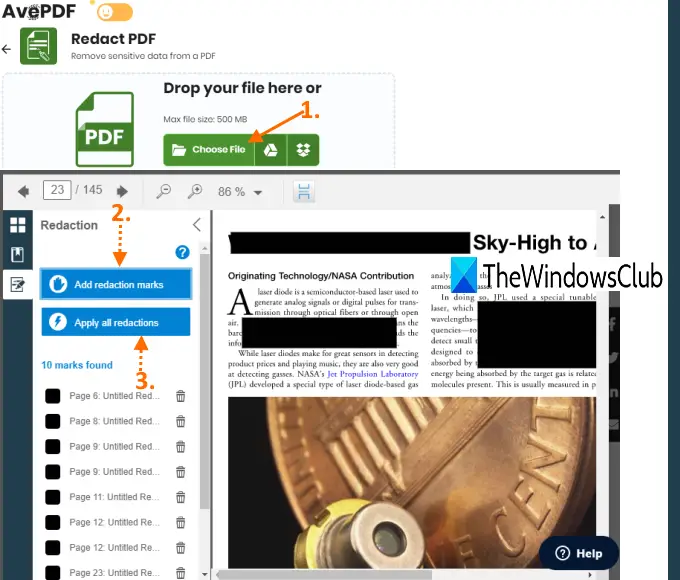 AvePDF service brings 40+ tools which include PDF converters, compressor, reverser, rotator, organizer, merger, PDF redactor, etc. You can upload up to 500 MB PDF file to remove sensitive data from it. Its PDF Redact tool lets you use different colors to add redaction marks.
This link will open the PDF Redact tool page. There, you can upload a PDF document from Google Drive, desktop, or Dropbox account. After uploading your PDF file, it shows PDF pages and provides two options on the left sidebar: Add redaction marks and Apply all redactions.
Using the first option, you can select areas on a particular page, and using the second option you can put redaction marks on those selected areas. It also shows the list of all redaction marks on the left sidebar. By default, redaction marks are set to black color. But you can click on a redaction mark, and then use Edit icon in the selected area of that particular mark to change its color. You can also delete a redaction mark using the same sidebar.
Finally, you can use Save the changes and then download the redacted PDF.
4] PDFzorro
PDFzorro is a PDF editor service that has an eraser, pencil, box, PDF text highlighter, box, and other tools. You can use its filed rectangle tool to redact PDF with six different colors. Its eraser tool can also be used as a PDF redactor because it removes the area of your choice from a PDF page.
Access the homepage of this service and then upload a PDF from PC or Google Drive. It also supports online PDF files and doesn't mention any size limit for uploading a PDF file. After that, you can start its PDF editor.
The left sidebar shows the thumbnails of PDF pages. When you select a thumbnail, that particular page is visible and its tools are also visible. Click on the box available just below the Modify option to select a color for redaction mark. After that, you can click on the Rectangle tool and then select an area on the PDF page. You will see that it has filled that area with the selected color. In this way, you can mark other areas.
Finally, you can use SAVE button, and download the output PDF using the given option. The service also lets you preview the output PDF within its interface but that fails to load PDF most of the time.
5] SmallPDF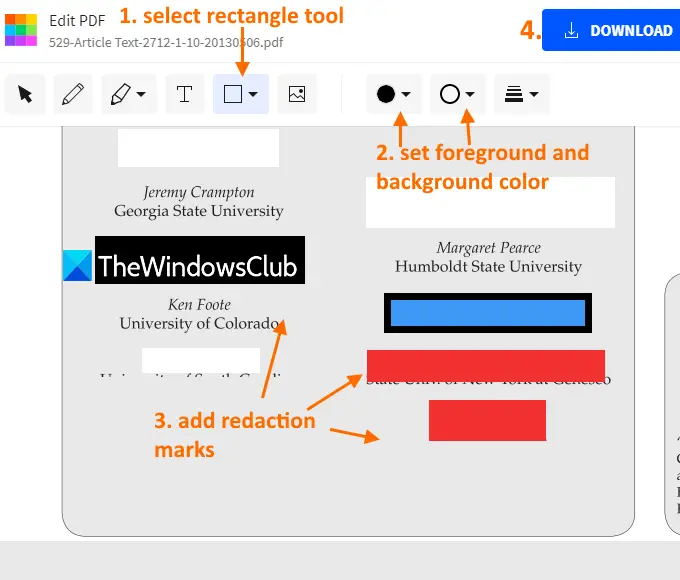 Smallpdf service is also helpful to redact PDF using its Edit PDF tool. The good thing is you can set border color and background color as redaction marks to hide PDF content or you can keep the same color. 6 different colors are available to choose from.
You can open its PDF Editor tool using this link. After that, upload PDF from the device (desktop), Dropbox, or Google Drive. When the PDF is added, you can see all the pages in that PDF editor.
Use the Rectangle menu. As soon as you select it, you will see two boxes: one box for background and another one is for a filled rectangle. You can use drop-down menus for both the boxes and select any of the available colors. You should set the same color for the border and background.
Finally, press DOWLOAD button to save redacted PDF to your PC.
It might still be possible to fetch information stored behind redaction marks using advanced paid software, but these PDF redaction tools work well for hiding PDF content.
6] Canva PDF Editor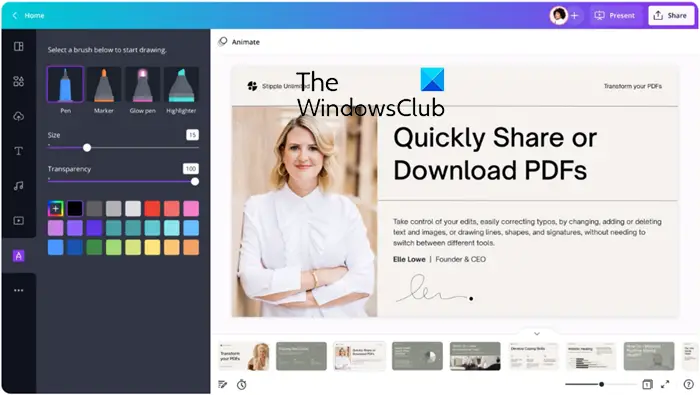 One of the extra features of Canva's online design and publishing tools is the Canva PDF Editor. The PDF editor function was created to assist users in improving the aesthetic appeal and engagement of PDF documents and it makes collaboration easy. Alternatively, it makes it simpler for the user to make that hurried change. Sharing it could also be easy with the file as a link, or you can compress it into a JPG, PNG, or PDF file. From the same dashboard, you can also download files that are print-ready and shareable online.
I hope these will be useful for you.