On your Windows 11 or Windows 10 system, if you have Avast security software installed, but you notice that the Avast File, Behavior, Web, Mail Core Shields keeps turning off and won't enable on your device, then this post is intended to help you with the most adequate solutions you can apply to resolve this issue. Core Shields are the main protection components in Avast Antivirus – all Core Shields are enabled by default to ensure maximum protection for your PC.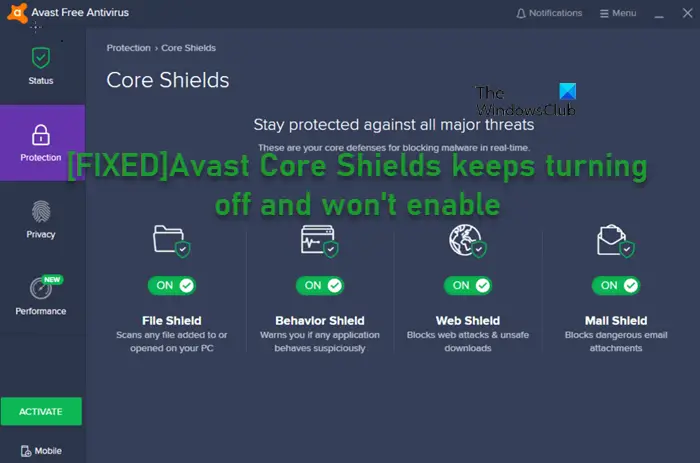 You're likely to encounter this issue due to one or more of the following reasons;
Incompatibility between installed Avast version & system OS
Malware or bugs in the Avast application
Avast Core Shields keeps turning off and won't enable
These Core Shields are turned on by default since they can provide protection for your computer; so, it is also strongly recommended that you ensure to turn each of them on. So, if any of the Avast Core Shields – File, Behavior, Web, or Mail Shield keeps turning off and won't enable on your Windows 11/10 PC, you can try our recommended solutions below in no particular order and see if that helps to resolve the issue on your system.
Initial checklist
Start or Restart Avast Antivirus Service
Troubleshoot in Clean Boot state
Repair/Reinstall Avast
Let's take a look at the description of the process involved concerning each of the listed solutions.
1] Initial checklist
Before you try the solutions below, you can do the following, and after each task see if Avast Web Shield can now be enabled or turned on without issues:
Restart PC. Minor issues like software glitches or the system didn't boot up properly to load all services and processes can be resolved by simply restarting your device.
Run Avast with admin privilege. Insufficient permissions can affect critical-mission features of Avast like the Core Shields. So, run Avast with admin privilege and see if you can enable the Core Shields normally.
Update Avast. If there are compatibility issues between the application and OS modules due to Avast is outdated, the issue in hand is likely to occur. So, make sure Avast is updated on your system – you can do this via the software Settings menu. In addition, check the version of Avast you're running is compatible with your current Windows version/build; otherwise update Windows accordingly.
2] Start or Restart Avast Antivirus Service
You may encounter the Avast Core Shields keeps turning off and won't enable on your Windows 11/10 PC if the Avast antivirus service is disable or turned off, most likely after a new Windows update has been installed on your device. In this case, to resolve the issue, you need to start or restart the Avast Antivirus Service as the case may be. To perform this task, do the following:
Press Windows key + R to invoke the Run dialog.
In the Run dialog box, type services.msc and hit Enter to open Services.
In the Services window, scroll and locate the Avast Antivirus service.
Double-click on the entry to edit its properties.
In the properties window, click the drop-down on the Startup type and select Automatic.
Next, make sure the service is started. If already started, restart the service.
Click Apply > OK to save changes.
Restart PC.
In the event you receive the following error message when you click on Start button to start the Avast AV service:
Windows could not start the service on Local Computer. Error 1079: The account specified for this service differs from the account specified for other services running in the same process.
In which case, do the following to resolve the error:
In the Avast Antivirus service properties sheet, click the Log On tab.
Click on the Browse… button.
Under the Enter the object name to select field, type in your user account name.
Click on Check Names and wait for the name to become recognized.
Click OK when you are finished and type in the password in the Password box when you are prompted with it if you have setup a password.
Click the Start button again. The service should now start without the error 1079.
3] Troubleshoot in Clean Boot state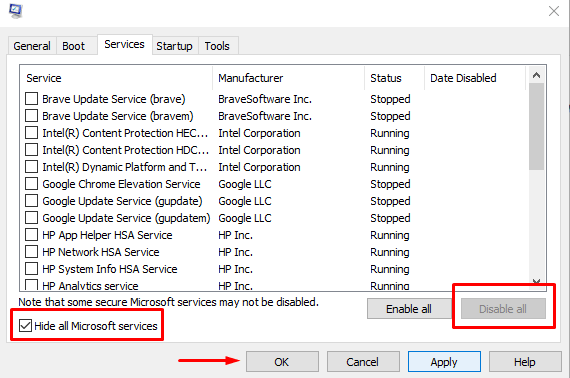 Make sure no other third-party antivirus is not running alongside Avast on your Windows 11/10 device. And since the issue in focus can occur due to conflicting third-party apps, services and processes, you can troubleshoot in Clean Boot state and see if that helps. You may have to uninstall any app most likely third-party identified as 'conflicting' with the Avast security software.
4] Repair/Reinstall Avast
Some affected users reported they were able to resolve the issue in view by running a repair of the installed Avast program on their Windows 11/10 device. Avast ships with a repair feature built-in the software itself; meaning you can perform basic troubleshooting without having to reinstall the program. To repair Avast, you can follow the instructions in the guide on how to fix Avast Update Helper Errors 1316, 1638, 1603.
If the repair didn't resolve the issue, you can simply uninstall Avast and then download the web installer or offline installer and reinstall the latest version of Avast on your system. You should be able to manually turn on the Core Shields if they are not automatically enabled after the clean reinstallation.
Hope this helps!
Related post: Avast UI fails to load on Windows 10
Why does my Web Shield keep turning off?
There could be a number of reasons why the Web Shiled keeps turning off on your Windows 11/10 device. Some users have reported that the Avast Behavior Shield has stopped working after they restart or turn on their systems, especially those users who are using Avast 2018. The first solution to solve the issue is to update Avast to the latest version.
Is AVG Web Shield free?
HTTPS scanning is a component of Web Shield in AVG Internet Security and AVG AntiVirus FREE. HTTPS scanning protects your PC against malware delivered by TLS and SSL encrypted HTTPS traffic when you browse the web. This feature is enabled by default, but you can disable it in Web Shield settings.