Windows 10 comes with its own anti-virus and anti-malware tool in the form of Microsoft Defender, but not everyone uses it. Some folks still use the Avast, the long-running anti-virus platform that delivers a free version too.
Avast UI fails to load on Windows 10
While we can say for certain that Avast is quite capable, there are times when it doesn't work as intended, and we're not talking about its ability to detect threats. To be clear, this is about the user interface, that from time to time, will simply fail to load.
So, is there any way to fix this problem once and for all? The answer to that is a yes, and we're going to explain how to get it done.
If the Avast UI fails to load or work as intended on your PC, then to have this fixed, we suggest following the steps
Restart the Avast Anti-Virus Services
Restart Remote Desktop Services
Update or Repair Avast Anti-Virus
Let us talk about this in more detail.
1] Restart the Avast Anti-Virus Services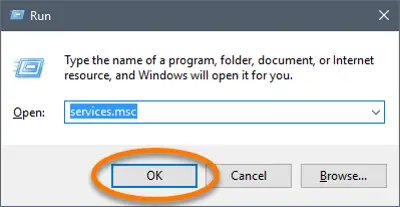 The first thing you should do here in order to restart Avast Anti-Virus Services is to open Services.msc. We can do that by clicking on the Windows key + R to fire up the Run dialog, then type services.msc within the box.
Finally, hit the Enter key on the keyboard in order to open the Services window right away.
You will want to search for Avast Anti-Virus within the Services section, then right-click and select Properties from the pop-up menu.
From there, make sure to click on the General tab, then move on to Startup type and select Automatic > Start. Then, click Apply > OK.
Finally, restart your computer, then check again if the UI is working as it should.
2] Restart Remote Desktop Services
When it comes down to getting this task done, you will need to perform a similar action to what we've described above.
Go to Services.msc, then locate Remote Desktop Services from within the menu. Right-click on it and select Properties. Choose the Automatic option from Startup type, then be sure to click on Start and finish your work by hitting Apply > OK.
Restart your computer and check again.
3] Update or Repair Avast Anti-Virus
If, for some reason, the above options do not work after trying, then maybe the best step is to repair the installation of the application. We can do this by clicking on the Windows key + X, then select Apps and Features.
Once that is done, locate Avast, then click on it and be sure to choose Uninstall. From there, an Avast window will appear with the options, Update, Repair, Modify, and Uninstall. Select either Update or Repair, and when all actions are done, simply restart your computer and check if Avast is now working as it should.
Hope something helps.
Similar: AVG UI failed to load properly.