Email is still one of the primary forms of communication, and if essential emails don't get a reply on time, it can be annoying. If you are on a vacation or holiday, it is crucial to let the person know you will respond later. This is where Automatic Replies come into the picture. In this post, I will share how you can set up automatic replies on Outlook.com, as well as in Microsoft Outlook. It will send a pre-written email when you are not available to respond to emails.
Set up Automatic Replies in Outlook.com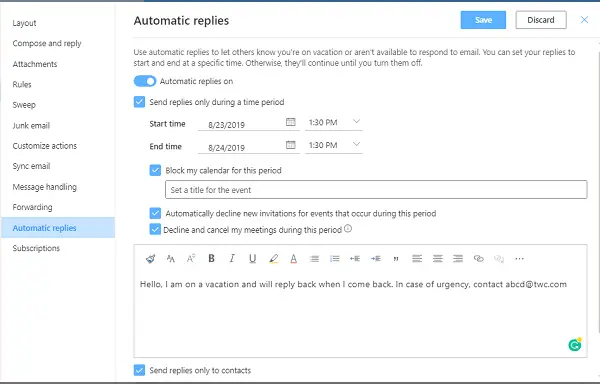 To set up Automatic Replies or Vacation Reply in Outlook on the Web, follow these steps:
Open Outlook Web, and click on the Settings icon on the top left.
Scroll to the end and click on View all Outlook settings
Switch to Mail section in the Settings app, and look for Automatic replies
Toggle on Turn on automatic replies
Next, choose how long (Start and End date) you want automatic replies to work
When you enable to start and end date, there are three actions you can setup

Block calendar for that period
Automatic decline new invitations for events that occur in that period
Decline and cancel meetings during this period

Now choose to compose a message where you can add details on where you are, and whom to contact in case of your absence
Lastly, you can choose to reply to only contacts in your address book.
Fun Fact – It was also known as Out of Office or Vacation Reply.
Two essential things to be careful about here:

Do not skip choosing reply to only contacts option. It makes sure you are protecting your privacy by not sending out information to "Emails from non-contacts," especially junk mails
While you can skip selecting a duration, but then it will keep working even when you are back. So it's best to have a dedicated date setup.
The Automatic Replies will turn off on its own on the end date. All your emails will be marked as unread.
TIP: You can also send different responses to different people. Create, setup, and use custom multiple out-of-office Automatic Reply template in Outlook.
Related: How to Automatically Forward Email in Outlook
Set up Automatic Replies in Microsoft Outlook
To Set up Automatic Replies in Microsoft Outlook:
Open Microsoft Outlook
Click on the File tab in the top left corner
You will see the Account Information panel
Under the Info tab, you will see Automatic Replies
Click on it to open its configuration box
Select the option to Send automatic replies & configure the settings as required.
That is all there is to it! I hope these tips were easy to follow.
PS: This post will show you set Automatic Replies in Windows Mail app.