If you see Audio renderer error, Please restart your computer error while playing YouTube video in your browser on Windows 11/10 PC, then this post may help you. Many users have faced this issue after installing an update and changing the audio device. Whatever the reason, you can fix it using these suggestions.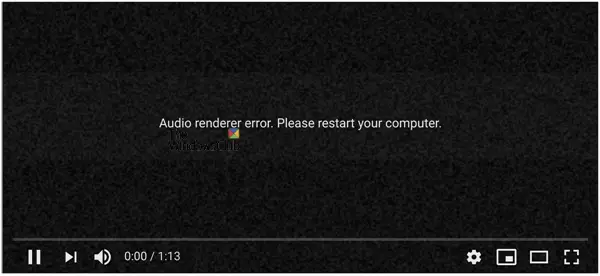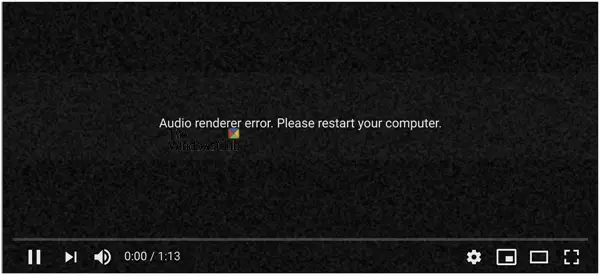 What does Audio renderer error mean on YouTube?
The YouTube error means that an outdated driver makes your PC unable to process and play the sound properly when you watch the video. Updating the audio drivers is the best way to resolve this issue.
Fix YouTube Audio renderer error, Please restart your computer
You may try the following suggestions to fix the Audio renderer error in YouTube on Windows 11/10 PC:
Restart your computer
Unplug/disconnect second audio playback device
Restart audio device
Update or Roll Back the audio driver
Run Audio Troubleshooter
Disable Hardware Acceleration
Update Windows
Update BIOS or UEFI
1] Restart PC

Well, as suggested by the error message, restart your computer and see if that makes the problem go away.
2] Unplug/disconnect second audio playback device
There are many people, who connect more than one audio playback device with their computers. For example, if your CPU has two audio ports and you have connected a speaker as well as a headphone or you have connected a headphone and a speaker via Bluetooth, then there is a chance of getting this error while playing a YouTube video. Although your system should use the default audio playback device and settings, you may end up getting this error message. So disconnect or unplug the second audio playback device and check if YouTube can play audio without any error or not.
3] Restart the audio device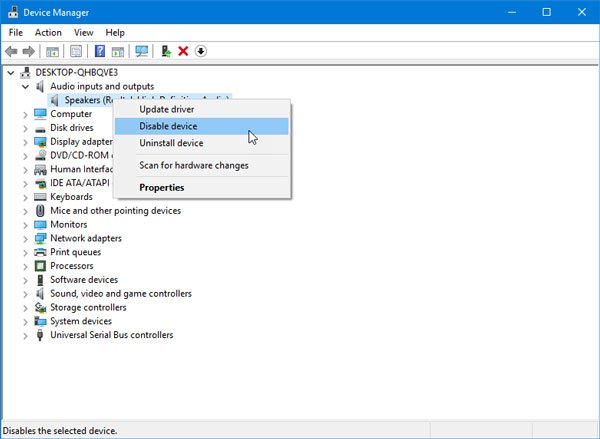 In most of cases, you can solve this issue by restarting the audio device. To do that, you need to open the Device Manager. In Device Manager, expand the Audio inputs and outputs option. Here you should find the driver of your audio device. Right-click on that, and select Disable device.
After confirming the change, again right-click on the same device, and select Enable device.
4] Update or Roll Back the audio driver
If you have recently updated your system or you have installed an update of your sound driver, and following that the problem has started, you can uninstall or roll back the audio driver. Here is a detailed guide on how to roll back device drivers.
If you have not updated it, we suggest you update your Audio drivers.
5] Run Audio Troubleshooter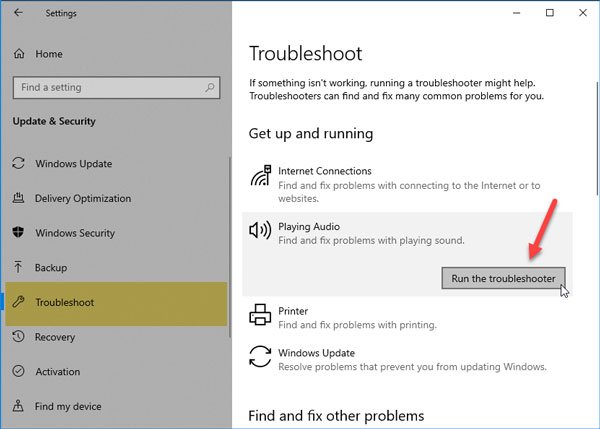 The built-in Audio Troubleshooter can be found in the Windows Settings panel, and it helps you fix common audio related problems on your Windows computer.
Open the Troubleshoot page in Windows Settings panel, and find Playing Audio. Click the button that says Run the troubleshooter. After that, you need to follow the screen instructions. In case it shows an option to choose an audio device, you should select your default audio playback device.
6] Disable Hardware Acceleration
In Google Chrome and Mozilla Firefox, you can disable Hardware Acceleration. Sometimes it may solve your problem within moments.
7] Run Windows Updates
Many fixes are rolled out with Windows Update. So if you haven't updated for some time, check if you have a Windows Update. Go to Settings > Update & Security > Check for Update. If there is an update or additional update, download and install it. Check if the issue persists.
8] Update BIOS or UEFI
In case of major issues, especially those on low level or machine level, it is fixed using UEFI or BIOS update. Most modern-day computer BIOS can be updated through the OEM software but if not, check for the website for an update. These updates can be processed only through using USB devices and using a special menu available through the menus.
How to Uninstall Audio Drivers in Windows?
Open Device Manager using Win + X, followed by press the M key. Then expand the "Sound, Video and Audio Controllers section. Select the device, and right-click on it, and click on Uninstall to remove the driver.
Fix: YouTube Can't connect right now
How do you fix an Audio Driver?
It can be fixed by installing new drivers. The first step is to uninstall the outdated drivers has shared above and then install the driver again. Make sure to download the driver from the OEMs website. Sometimes you need to check for specific driver settings such as ASIO driver settings or Realtek audio driver settings.
Read: How to fix No Sound on YouTube
How do you fix Realtek Audio?
Like any other audio driver, Realtek Audio can be fixed by reinstalling the driver. You can either use the Windows Update method or download it from the OEM website. Always make sure to check the version and the OS compatibility when downloading the driver.
What to do if your Laptop has No Sound?
It may be muted; check for any exclusive control or hardware lock for sound device, if you have an earphone plugged on or Bluetooth audio device, or external speakers, and more. Sometimes these are simple things that make you feel that the sound has gone missing except that it was occupied by something else. Also, make sure to check which is the default device.
These are some of the essential troubleshooting suggestions to fix this issue. Also, don't forget to use the latest version of your browser.