If you see Audio renderer error, Please restart your computer error while playing YouTube video in your browser, then this post may help you. Many users have faced this issue after installing an update and changing the audio device. Whatever the reason, you can fix it using these suggestions.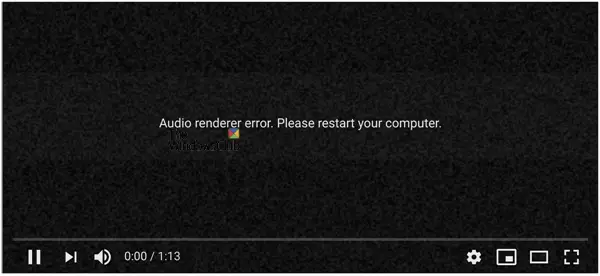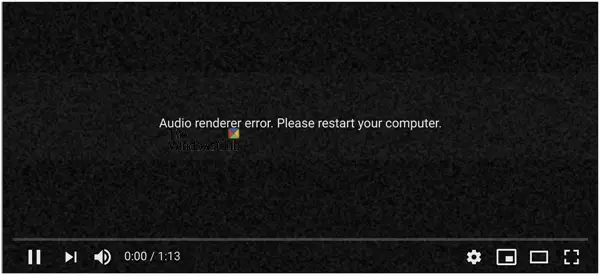 Audio renderer error, Please restart your computer
You may try the following suggestions to fix the issue:
Restart your computer
Unplug/disconnect second audio playback device
Restart audio device
Roll Back the audio driver
Run Audio Troubleshooter
Disable Hardware Acceleration
1] Restart PC

Well, as suggested by the error message, restart your computer and see if that makes the problem go away.
2] Unplug/disconnect second audio playback device
There are many people, who connect more than one audio playback device with their computers. For example, if your CPU has two audio ports and you have connected a speaker as well as a headphone or you have connected a headphone and a speaker via Bluetooth, then there is a chance of getting this error while playing a YouTube video. Although your system should use the default audio playback device and settings, you may end up getting this error message. So disconnect or unplug the second audio playback device and check if YouTube can play audio without any error or not.
3] Restart the audio device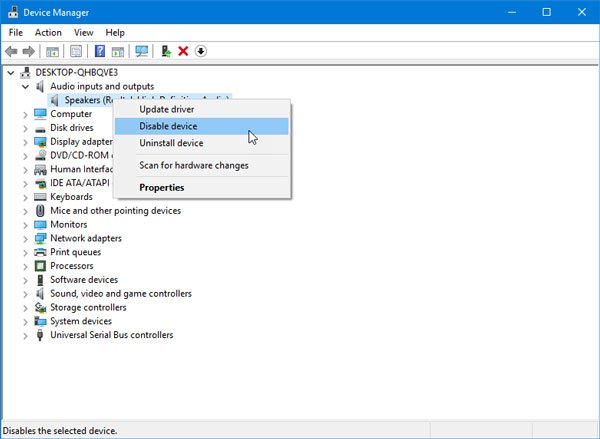 In most of cases, you can solve this issue by restarting the audio device. To do that, you need to open the Device Manager. In Device Manager, expand the Audio inputs and outputs option. Here you should find the driver of your audio device. Right-click on that, and select Disable device.
After confirming the change, again right-click on the same device, and select Enable device.
4] Roll Back the audio driver
If you have recently updated your system or you have installed an update of your sound driver, and following that the problem has started, you can uninstall or roll back the audio driver. Here is a detailed guide on how to roll back device drivers.
5] Run Audio Troubleshooter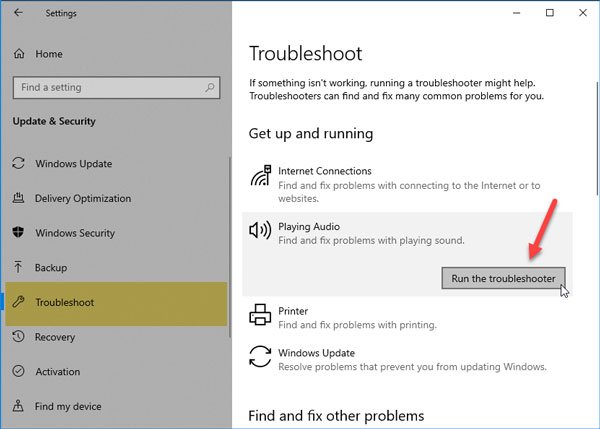 The Audio Troubleshooter can be found in the Windows 10 Settings panel, and it helps you fix common audio related problems on your Windows computer.
If you are using Windows 10, open the Troubleshoot page in Windows 10 Settings panel, and find Playing Audio. Click the button that says Run the troubleshooter. After that, you need to follow the screen instructions. In case it shows an option to choose an audio device, you should select your default audio playback device.
6] Disable Hardware Acceleration
In Google Chrome and Mozilla Firefox, you can disable Hardware Acceleration. Sometimes it may solve your problem within moments.
These are some of the essential troubleshooting suggestions to fix this issue. Also, don't forget to use the latest version of your browser.