If you want to restrict mature content on YouTube in Microsoft Edge, you need to enable Restricted Mode. With the help of this feature, YouTube will restrict all the vulgar content on your Profile. So, let us see if how to enable or disable YouTube Restricted Mode in Microsoft Edge
Enable YouTube Restricted Mode in Microsoft Edge
These are the methods you can do to enable or disable Youtube Restricted Mode in Microsoft Edge.
From YouTube Settings
From Group Policy Editor
From Registry Editor
Let us talk about them in detail.
1] From YouTube Settings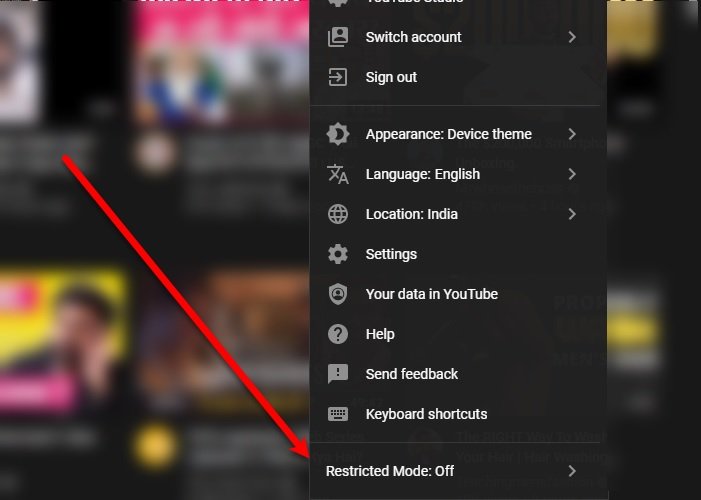 The easiest way to enable or disable Restricted Mode in Microsoft Edge is from YouTube settings. If you have logged in to your account, click on your Profile Picture from the top-right corner of the image and then use the toggle to enable or disable Restricted Mode.
2] From Group Policy Editor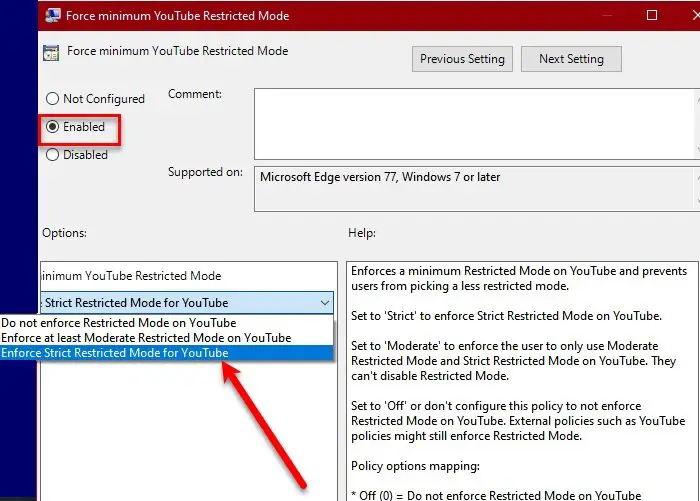 Another method by which you can enable or disable YouTube Restricted Mode on Chrome is by Local Group Policy Editor. Before altering the policy, we need to download some files from Microsoft Website.
You need to make sure that you are selecting the appropriate Channel/Version, Build and Platform for your device and then click GET POLICY FILES.
After downloading the policy files and extract them in a folder. Now, open the extracted file, click Windows > admx, now, copy the "msedge.admx" and paste it in the following location.
C:\Windows\PolicyDefinitions
Now, go to the language folder of the extracted folder, copy "msedge.adml", go to the language folder of "PolicyDefinitions" and paste it there. Make sure to do this step carefully, otherwise, mature content on YouTube won't be restricted.
Now, open Local Group Policy Editor and navigate to the following location.
Computer Configuration > Administrative Templates > Microsoft Edge
Double-click on "Force minimum YouTube Restricted mode", select Enabled, click on the drop-dox button from Options, select "Enforce Restricted Mode", and click Apply > Ok.
Now, check YouTube in Microsoft Edge, Restricted Mode will be turned on.
3] From Registry Editor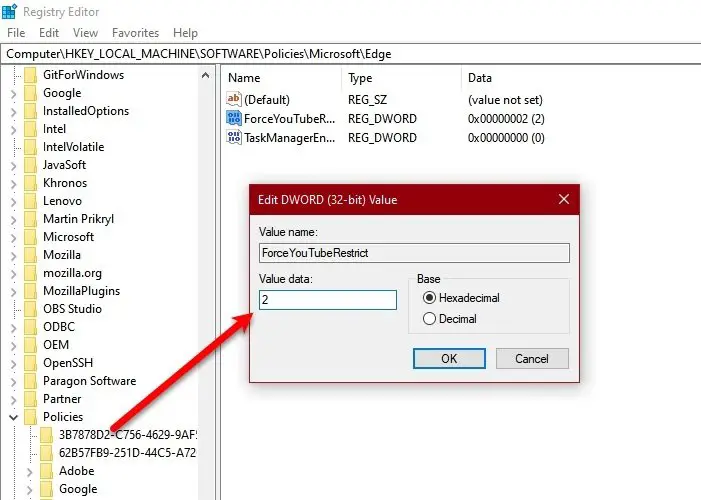 If you don't have Group Policy Editor but Registry Editor then enable or disable Restricted Mode with it. To do that, launch Registry Editor from the Start Menu and go to the following location.
HKEY_LOCAL_MACHINE\SOFTWARE\Policies\Microsoft
Right-click on Microsoft, select New > Key and name the key "Edge".
Now, right-click on Edge and select New > DWORD (32-bit) Value. Name the newly created value, "ForceYouTubeRestrict", set the Value data to 2, and click Ok.
Now, launch Microsoft Edge and check if the Restriction Mode is enabled.
Related read: YouTube Restricted Mode not turning off.