Google is promoting YouTube Music as the next big thing in the subscription-based music market. Because of this, YouTube has started rolling out new versions and updates to fill in the gap created by Google Play Music.
Staying on the same track, Google has introduced a desktop app for PC. Even though it is a web app, the experience is better. However, many users are experiencing that the YouTube Music app crashes.
YouTube Music app crashing in Windows 11/10
These are solutions that will help you if the YouTube Music app crashes on Windows 11/10:
Close and relaunch the app
Restart your PC
Clear Cache and Data of YouTube Music
Reinstall the YouTube Music app.
Let us talk about them in detail.
1] Close and relaunch the app
Close the app, wait for a few seconds and then relaunch the app and see.
2] Restart your PC
The first thing you need to do to fix the issue is to restart your computer. Before restarting make sure that you close all the applications running in the background.
Now, relaunch the YouTube Music app and check if it's crashing. If the application is still restarting then try the next solutions.
3] Clear Cache and data of YouTube Music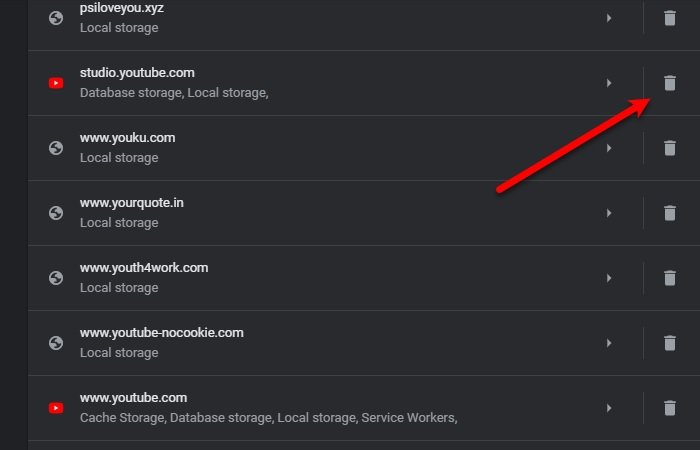 Try clearing YouTube's cache. Since YouTube Music is a web app, we are going to clear the cache and data for the specific site.
To delete YouTube Music data in Chrome type the following URL in the search box.
chrome://settings/siteData
Now, in the Search Cookies section, type YouTube Music and click on the Bin icon to delete its cache.
TIP: Subscribe to our YouTube Channel to stay in touch with the world of Windows.
4] Reinstall the YouTube Music app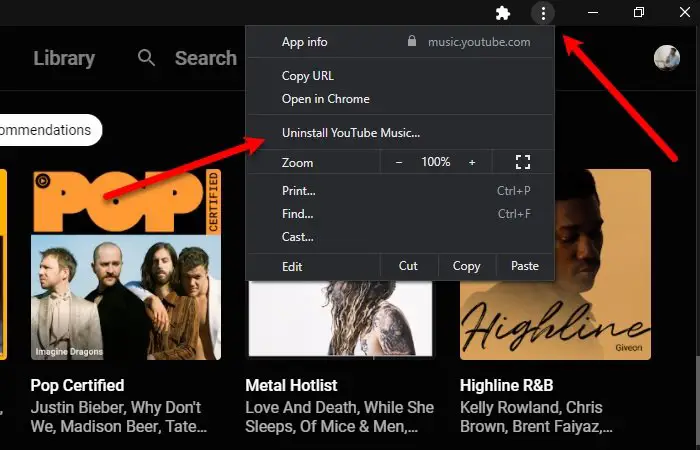 If nothing helps, you need to to reinstall the YouTube Music app. This way, if any of your files are corrupted, reinstalling will fix the issue.
To uninstall the application, launch the YouTube Music app, click on the three vertical dots, select Uninstall YouTube Music, check "Also clear data from Chrome (music.youtube.com)", and click Remove.
Now, go to YouTube Music's official website, download and install it on your computer.
Hopefully, this will fix the YouTube Music app crashing issue.