The application is not responding error is one of the many issues users encounter when using Windows computers. This issue is quite annoying as it just shuts down programs without warning, which may, as a result, cause you to lose unsaved work and other things like that. In addition, numerous people have been spotted reporting this problem on other platforms, including the Microsoft forum and others.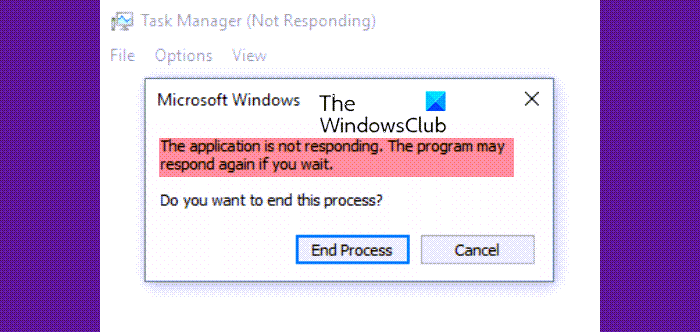 Most often, people choose to close the software by hitting the End Process option on the error message. However, this never fixes the problem and only causes your computer to hang. So, you should be aware of the numerous factors that could be causing this problem on your computer. Hence, this post will offer seven solutions to the application is not responding error in Windows 11/10, as well as some additional information.
Reasons for "The application is not responding" error
There are just a few potential causes of this error message if it appears on your computer while you are using a software or a built-in feature like the Task Manager. Typically, if your computer doesn't have enough memory to run a program, the application will crash and that could be the cause of the application not responding issue on your Windows computer.
Some users might not have updated their Windows recently, which means the computer may have bugs or other problems. This could be the cause of some programs crashing on these types of computers. Additionally, malware is widely known for causing issues like these. After correcting the problem with one of the fixes we'll cover in the following section of this article, you must take note of these causes to keep it from happening again on your PC. The causes are listed below:
Malware issues
Insufficient memory
Outdated drivers
Bug in the program
Fix The application is not responding error in Windows 11/10
We've gathered a number of solutions to resolve the application is not responding error in Windows 11/10 here:
Restart your computer
Update Windows as well as the program
Run Antivirus
Run Memory Check
Run System Maintenance Troubleshooter
Check-in Clean Boot State
Increase RAM
Now, let's cover how you can perform each of these workarounds effectively.
1] Restart your computer
If you happen to have been using your computer for a long hour, restarting the computer will help clear the memory as well as restart its services. Hence, your computer will operate more effectively as a result, and the problem you were having will be resolved. If this approach doesn't work, though, try the next.
Read: Task Manager is not responding
2] Update Windows as well as the program
The "Application is not responding" error can occasionally be triggered by a Windows computer bug. Updates are mostly used to fix bugs, as we all know. It's also important to understand that outdated drivers or missing updates can sometimes lead to performance problems. Thankfully, Windows Update allows you to update your drivers automatically. So, it is advised that you update Windows and see if it helps.
Windows 11
Press Windows + I keys to open Settings on your computer.
Click on Windows Updates.
If there are any available Optional or Driver updates, install them.
Windows 10
Go to Settings on your computer.
Select Updates & Security.
Then check available Optional or Driver updates and install them if there are any.
If this issue is due to a pending Windows Update, this approach will help fix it.
You should also manually check if any updates are available for the program that is creating issues, and install them if they are available.
3] Run Antivirus
Having malware on your computer will have a negative impact on its performance in every regard you could imagine. So, getting this error message may also be as a result of malware. You should therefore run a malware scan using Windows Defender or any other antivirus software you may have installed on your computer.
4] Run Memory Check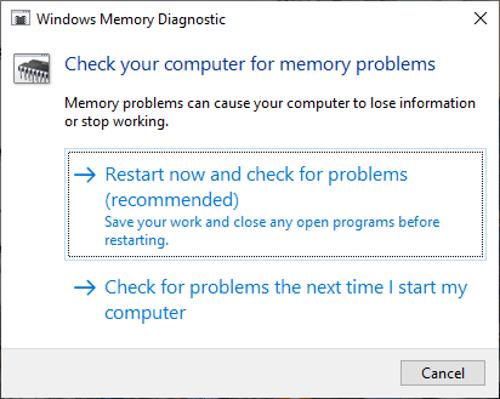 Another thing you can do to resolve the "Application is not responding" error is to run a memory check. This approach will help out if your computer is having a memory leak or any other memory issue to know whether that's the reason for the glitch you are facing or not. To run a memory check, do this:
Press Windows + R to open Run Command Box.
Type mdsched.exe and select OK.
On the resulting window, pick any of the two options depending on which one is convenient for you.
If you choose to restart now, then wait for the test to run.
5] Troubleshoot in Clean Boot State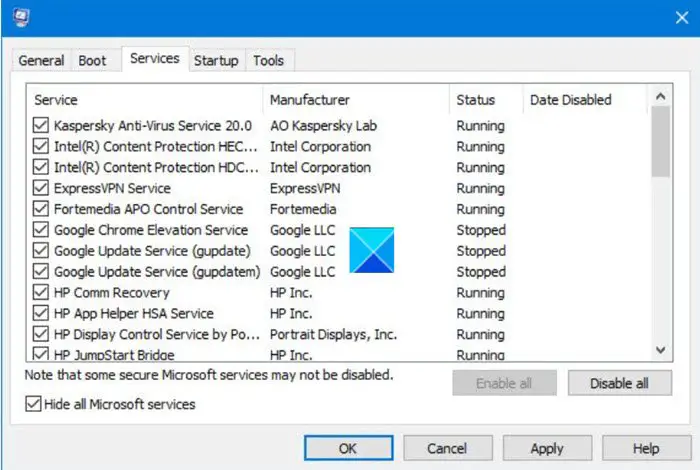 You can also perform a clean boot on your computer to determine what's causing the problem. If the issue does persist after the clean boot troubleshooting, it indicates that a third-party process is the root of the problem, and you may need to run a troubleshooter on your computer. Furthermore, troubleshooting in a clean boot state involves a number of steps, all of which entail restarting your computer. In essence, the activities consist of turning off a few services and checking to see if the problem persists. This is only being done to identify and fix the glitch's underlying cause.
6] Run System Maintenance troubleshooter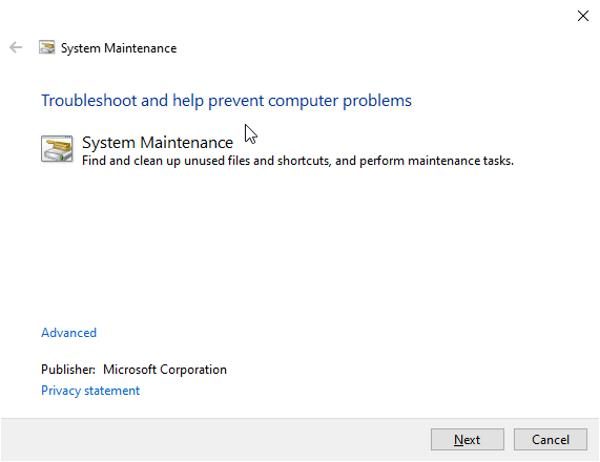 After trying other solutions, the issue is still happening; you can also try running the System Maintenance troubleshooter. To do that, follow these steps;
Press Windows + I to open Windows settings.
On the Setting search box, type System Maintenance and click on Perform recommended maintenance tasks automatically.
Click Next on the resulting windows and wait for the troubleshooter to run.
Afterward, restart your computer and check if the issue has been resolved.
7] Increase RAM
You may need to increase the RAM. This is sure to help you.
You could also optimize the computer for performance and Clean up Disk Space.
Similar: Programs not responding in Windows
What do I do if a program is completely unresponsive in Windows 11/10?
When a program becomes completely unresponsive on your computer, you should try to force quit the program. You can open the Task Manager using the Ctrl + Alt + Delete keys. Then look for the program in the Processes tab of Task Manager, click on the program, and select End task.
Read: How to kill a Not Responding process in Windows
Why is my application saying Not responding in Windows 11/10?
If your program stops responding on a Windows computer, most of the time, it can be traced to insufficient RAM. This means the program isn't getting the amount of memory for it to run efficiently. More so, it can be due to a bug or malware on your computer.