Similar to how some users were not able to toggle Airplane Mode, some have faced this odd issue where the Airplane mode won't turn off. It means every time they want to turn on WiFi, they will have to manually do it from the network settings or action center menu. In this post, we will share how to fix this Airplane mode won't turn off issue.
Airplane mode won't turn off in Windows laptop
The most significant advantage of Airplane mode is that it turns off all the radio on a device. If the device has a SIM, then without the Airplane mode, you will have to turn it off and on manually. Follow these methods to resolve the issue
Enable Airplane Mode Switch Collection or anything similar
Change Network Adapter's Power Management Settings
Restart Radio Management Service
Apart from this, you may also try Network Troubleshooter, update the device drivers,, or completely reinstall it.
1] Enable Airplane Mode Switch Collection or anything similar
Some hardware configurations come with special Airplane Mode Switch Collection drivers that manage Airplane mode. These are connected with a dedicated hardware switch.
Dell has recommended enabling and disabling such collection to reset the Apriplane Mode status. If you have any branded laptops, look for these types of switches in the Device Manager.
Open Device Manager (WIN + X, followed by M)
Expand Human Interface Devices section
Select and hold or right-click on Airplane Mode Switch Collection and disable it.
Repeat same, and this time enable it after 30-seconds
2] Change Network Adapter's Power Management Settings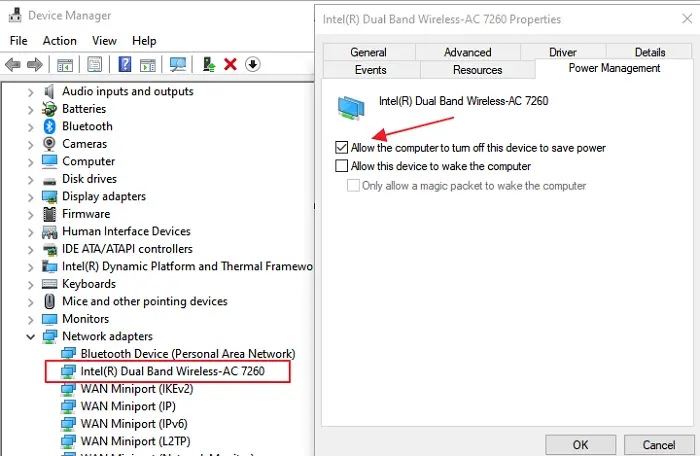 On a Windows 10 Laptop, Power Management can turn off the device or its component to save power.  Follow the steps to make an exception, so even on low battery, the Airplane mode is not turned on and freeze.
Use WIN + X, and then M to open Device Manager
Navigate to Network Adapters > Expand Network adapters of the computer > Right-click on it
Select properties, and then go to Power Management tab
Uncheck the option Allow the computer to turn off this device to save power
Click on the Ok button to apply the change.
It will make sure none of the battery-saving settings will manage Airplane mode or keep it always on.
Read: Windows laptop is stuck in Airplane Mode
3] Restart Radio Management Service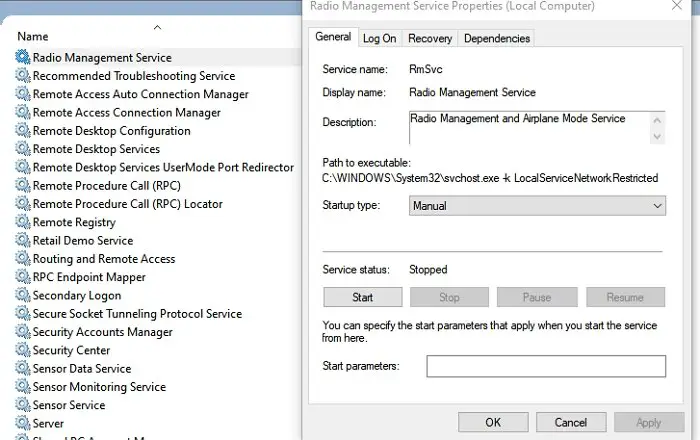 This service handles all operations related to Airplane mode and Radio services. Restarting the service may resolve the problem.
Open Windows Service by reaching "services" in the Start menu
Locate Radio Management service, and double click on it to open
Click on the start button or restart the service.
If that works, change the Startup Type from Manual to Automatic or Automatic Delayed Start
The change in startup type will make sure the problem doesn't occur anymore. However. If this has resolved your issue, you can come back here anytime and choose to restart the service.
I hope the guide was easy to follow, and you were able to resolve the issue because of which Airplane mode won't turn off when you wanted it.
Read next: Airplane Mode turns on by itself.