If your Windows Airplane mode constantly keeps turning itself on and off, then this post will help you fix the problem. It can happen after a Windows Feature update, or it could be because of Power Management or Network adapter issues. Follow these tips to fix the Airplane mode problem.
Windows Airplane mode keeps turning on and off
These are known working solutions for this problem, and every time you try one, make sure to check if the issue was resolved.
Change Power Management settings
Run Network troubleshooters
Switch off Radio Switch Device
Update Network Driver
Most of these solutions will need admin privileges to make the changes.
1] Change Network Adapter and Power Management Settings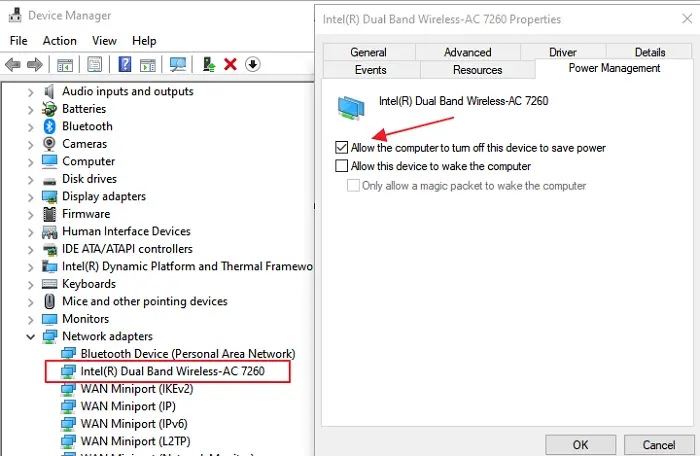 On a Windows 10 Laptop, Power Management can turn off the device or its component to save power. It is possible that this mode is creating this issue if you are running on battery.
Use WIN + X, and then M to open Device Manager
Navigate to Network Adapters, and expand it
Locate the network adapter in the computer, and right-click on it
Select properties, and then switch to Power Management tab
Uncheck the item Allow the computer to turn off this device to save power
Click on the Ok button to apply the change.
If the OS was turning off the adapter because of power-saving, then this stops it. The easiest way to solve this is by connecting your computer to a power source, but if this is a regular annoyance, it is best to turn it off from here.
2] Run Network troubleshooters

At times Network Troubleshooters come in handy resolve many issues, including this one.  Windows 10 offers built-in Network Troubleshooter, which fixes a lot of the network-related problems like this one.
Open Windows Settings (Win+ I)
Navigate to Update & Security > Troubleshoot
Find Network Adapter, and click on Run the Troubleshooter button
Post this, let the wizard run, and do its job.
Check if your problem is still persistent.
3] Switch off Radio Switch Device
It's not a fix but a workaround if you are still facing this issue.
Use WIN + X, and then M to open Device Manager
Expand HID or Human Interface Devices
Switch off Radio Switch Device or disable it.
The switch is available for devices that have a hardware switch or a keyboard combination to turn off wifi on the device. Post this; those hardware switches won't work. It would be best if you can connect to customer support to find out if this is a known problem and get a solution.
Related: Airplane Mode turns on by itself in Windows
4] Update Network Driver
It is a standard solution we suggest to everyone as it has known to work. If the installed driver has issues, then reinstalling will fix Airplane mode turning on or off the problem.
The right way to do is to check with OEM or use one of the driver updater software to see if there is a new version available.
We hope one of these solutions in the posts is able to resolve the problem.
Read next: Windows is stuck in Airplane Mode.