ADB or Android Debug Bridge is one of the most interesting tools. It allows your system to communicate with an Android device connected via USB or emulator. However, many users have started complaining that when they try to execute the ADB command, they see the following error message.
'adb' is not recognized as an internal or external command, operable program or batch file.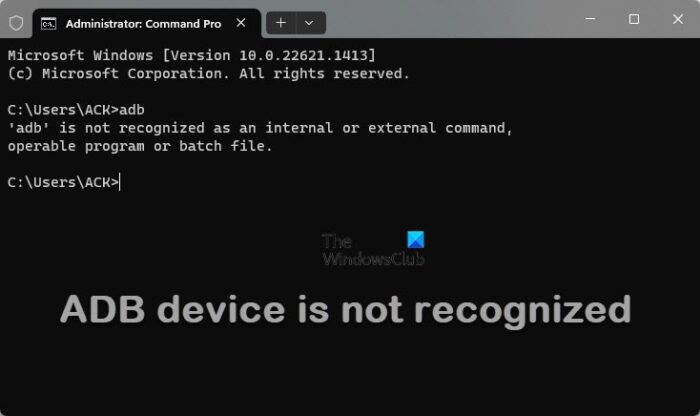 In this article, we are going to talk about this in detail. So, if ADB is not recognized on your computer, check out the solutions mentioned in this article.
Why is ADB not working?
Before talking about ADB Command, there is something you need to know. Android apps can not be installed directly on a Windows computer, for that, you need an emulator. Now since that is clear, let us talk about why the command is failing to run on your computer.
ADB Command will only work if you have installed its drivers. So, you have to download the drivers before executing the command. Also, ADB's path should be in the Environmental Variable list; otherwise, cmd won't recognize it, and you will see the error message.
There are some workarounds as well that we are going to see in this later. So, without wasting any time, let us hop into it.
Read: How to sideload Android apps using WSA on Windows 11
If you get an error message that says "ADB is not recognized", following the solutions that we have mentioned is the best thing you can do. However, before that, it is better to update your system; you can open Settings, go to Windows Update for Windows 11, and Update & Security for Windows 10, and check if there are any available resources. After updating the system, check if there are any Optional Updates and install them.
After following all the prerequisite solutions, move to the troubleshooting guide and resolve your issue. The solutions are in a particular order, so make sure to follow them.
Fix ADB is not recognized in Windows 11
If ADB is not recognized as an internal or external command, then check out the following solutions to get it recognized.
Add ADB to Environmental Variables
Execute from the location
Install or Update ADB Driver
Enable USB Debugging
Let us talk about them in detail.
ADB Devices not showing in Windows
1] Add ADB to Environmental Variables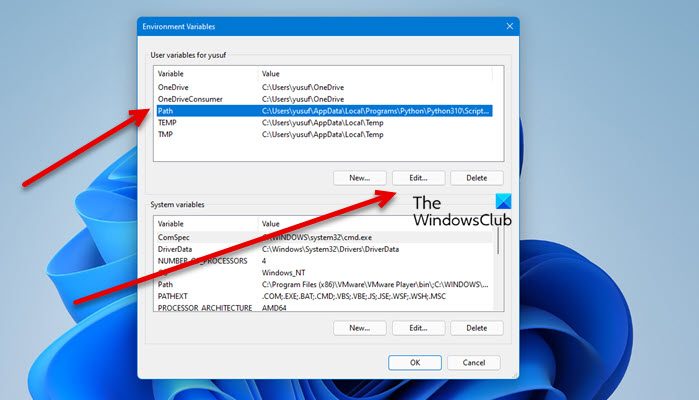 As mentioned earlier, ADB must be an Environmental Variable in order for that command to be executed. To do that, first of all, we have to copy the path of ADB. So, go to the location where you have installed the toolkit and copy the location of ADB.exe. Usually, it is installed at the following location, but if you have changed the path, go there and copy it.
C:\Program Files (x86)\Android\android-sdk\platform-tools
Now, search out "Environmental Variables" from the Start Menu. Select  Path and click Edit. Then click New, paste the copied address and click Ok.
Finally, close the window and the Command Prompt. Restart your computer, open Command Prompt, and run the command. Hopefully, it will do the job for you.
2] Execute from the location
If you still get the error message, you can try executing the command from the Path itself. To do that, go to the location of ADB.exe, click on the address bar, type "cmd", and hit Enter.
This will open a Command Prompt screen for you. Just type ADB and you will be good to go. If you want to use Windows PowerShell, instead of  typing "cmd", type "PowerShell" and hit Enter.
3] Install or Update ADB Driver
If the ADB Driver is missing from your computer, you will likely see the error in question. That is why it is important to install the driver before doing your job. You need to go to adbdriver.com and download the latest version of the driver.
Read:
4] Enable USB Debugging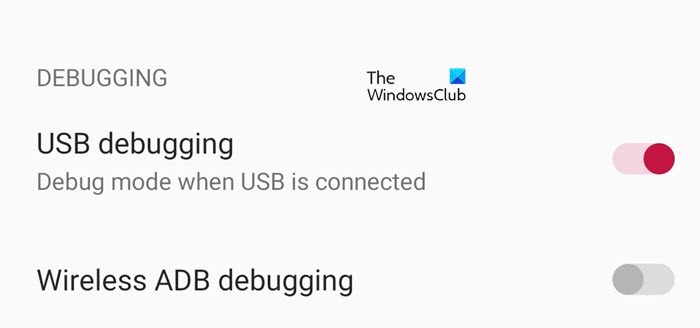 USB Debugging is a feature that should be enabled on your Android Phone before you connect it to your computer. However, first of all, you need to enable Developer Options on your phone. Every manufacturer has its own way of doing things, so, the setting can be different, but usually, you need to go to About Phone, tap on Build number 4-5 times and you will become a developer.
Now, open Developer Options, you can also use the Settings search bar. Then, use the toggle to enable Developer Options. Finally, connect it to your computer and hopefully, your issue will be resolved.
Hopefully, you can resolve the issue with our solutions.
How do I enable ADB in Windows 11?
ADB stands for Android Debug Bridge. It is a programming tool that is used to debug Android devices. If you want to enable or use ADB on Windows 11, first, you have to enable USB debugging on your Android device. After that, download the required set of drivers on your computer. Then, connect your Android device to your Windows 11 computer and run the required commands to enable ADB. You will see your Android device serial number in the Command prompt.
Also read: