Want to use your Windows PC files on your Android devices?  Well, you can. Before we get into the details like what do we need to convert a .exe file into a .apk file or how to convert it, let's talk about basics.
What is a .exe File?
A .exe is a very common file format and it is actually a short form of an 'executable' file. Such files are commonly used to run or install the software applications of Windows computers. Every program or application you run on your Windows PC is actually run by the .exe files only.
Just for your information, such files are also used by the attackers to distribute the trojans and malware to the PCs, often through phishing emails and SMSs. Thus if you get any. exe file in your email or SMS from an unknown source, do not run it as it may leave a virus in your machine or may steal your data.
What is an .apk File?
The .apk files are meant for the Android operating system and it stands for Android Application Package. This file format is used to run and install the applications on the Android operating system. All the apps available on the Google Play Store are also in the .apk format. This package contains all the necessary files for the Android programs.
Can EXE files run on Android?
No, EXE files cannot run on Android, but you can convert EXE files to APL files and then run them. All the applications or programs run on Android devices are in .apk format. You cannot directly use the .exe file in your Android device, first need to convert it into .apk format.
How to convert the .exe file into a .apk file?
There are two different ways to convert a .exe file into a .apk file- by using EXE to APK Converter or by using an INNO extractor.
1] Using EXE to APK Converter
Keep your .exe file ready and download the .exe to the .apk converter tool from here.
The tool comes in a RAR file and thus you need the software to open the RAR file. There are many Microsoft apps available to extract the RAR files.
Once extracted,  you will see a folder "EXE to APK Converter Tool".
Open the "EXE to APK Converter Tool" and double click on "EXE to APK Converter.exe" to launch the EXE to APK Converter Software.
Click on the "Next" tab, browse and select the .exe file you want to convert. Once the required files are uploaded, the tool will automatically start converting your files.
Conversion time may depend upon the size of software you are converting.
Once the conversion is done, the .apk file of the program will be saved on your computer. Copy the file from your PC and paste it on your Android device.
This is how you can run the .exe file of a program on your Android device.
2] Run .exe file on Android Device using Inno Setup Extractor
If you don't want to use the converter for any reason, you can go for this method wherein you have to download the file opener, Inno Setup extractor on your Android device. Inno Setup Extractor is available for free download in Google Play Store. It is a program specifically designed for Android devices to extract the Inno Setup Files directly on the Android device without using a computer.
Once you download the program on your device, launch it and navigate the .exe file you want to convert.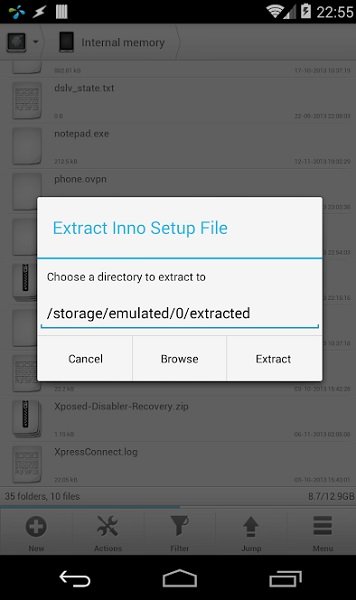 Please note that this extractor cannot run any random .exe file. It can only extract .exe files which are valid Inno Setup installer packages.
Conclusion- These are the two best methods to convert your .exe files into the .apk file and run them on your Android devices. The first method, using the converter tool is simpler and a go-to method as it can convert any of your .exe files while the latter method or using the Inno Setup Extractor can convert only specific types of files. Thus, we suggest you try the converter tool method first and then go to the second method if that doesn't work for you.
Do let us know if you know of any more methods to run the .exe files on Android devices, we will be happy to add them to our list,