Can Windows open RAR files? Yes, Windows 11/10 can open RAR files. Just like any other compressed file, RAR files are proprietary archive file that supports data compression, error recovery and file spanning. While you can open RAR files in Windows 11/10, it's not supported by default. We will have to use third-party free compression software to uncompress a RAR file to extract all the files and folders inside it. By default, Windows doesn't recognize RAR file format.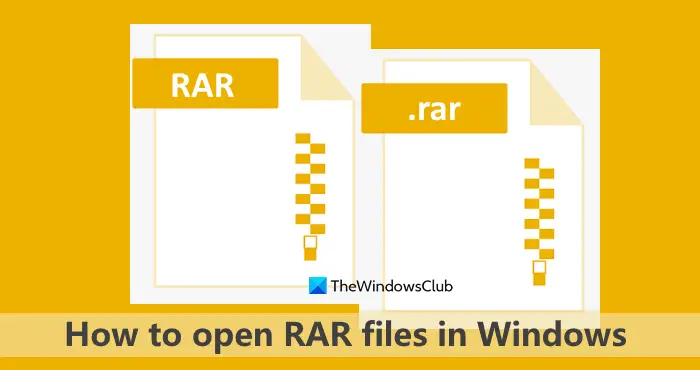 If you are wondering why was there a need for another compression technology? It's about functionality. The primary software, RAR Lab that can manage RAR files offer tons of functionality including better compression, the option to split compressed files, and later rejoin them, higher security feature, and so on.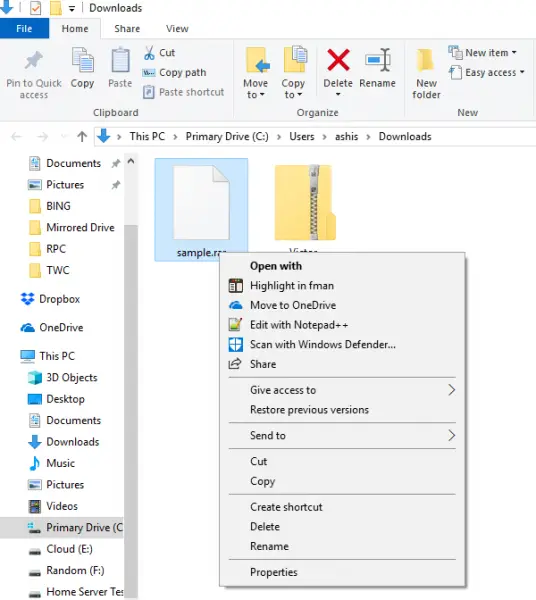 You can download the WinRAR software from RAR Lab, and unarchive, but it keeps prompting you to buy the software – but it still remains free to use. An alternative is the free open-source 7-Zip.  It supports WIM files, RAR5 archives, UEFI BIOS files, ext2/ ext3/ ext4 images, GPT, VMDK, VDI images, and single file QCOW2.
How to open RAR files in Windows 11/10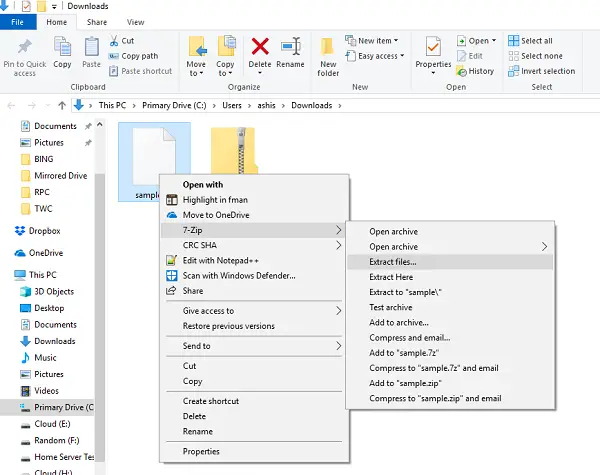 Download and install 7-Zip.
Open the location of your .rar file, and right-click on it.
Look for a contextual menu which says "7-Zip".
Hover your mouse over it, and choose extract files.
In the next window, you can select a path
Enter a password if the RAR file is protected, and other options.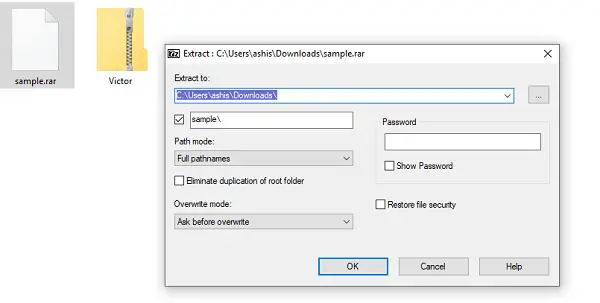 Your RAR file is extracted now.
Open RAR files in Windows 11/10 using a free Archive Extractor Online tool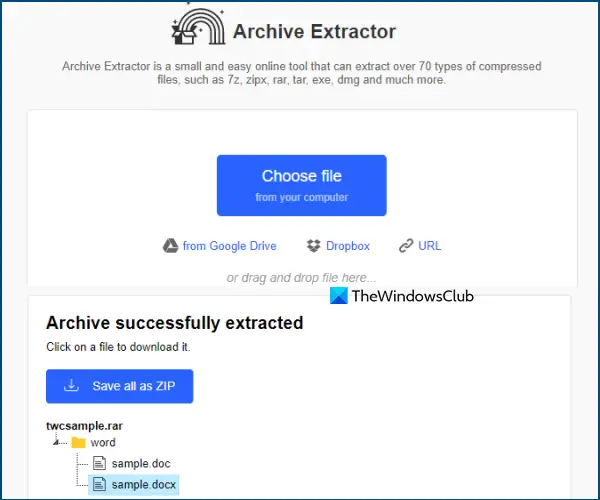 If you need an online tool that can open RAR files in Windows 11/10 system, then you can use this free Archive Extractor Online tool. With its free plan, this tool lets you process 10 files a day. Also, the maximum file size limit is 700 MB which would be sufficient.
Apart from extracting RAR files, this tool also supports other formats which include ZIPX, TAR, ZIP, WIM, DMG, ISO, etc.
To use this online RAR file opener tool, you can follow these steps:
Access this tool homepage from the extract.me
There, use Choose file button to add a RAR file from your Windows 11/10 PC. It also lets you add a RAR file from Google Drive, Dropbox, or an online file URL. In addition to that, you can also add a password-protected RAR file
Once the file is added, it will upload and extract it automatically. But, for a password-protected RAR file, it will prompt you to enter the RAR password so that it can extract the content
Finally, a list of all the extracted files will be visible to you after processing the RAR file. You can click on a file to download it separately or download all files in a ZIP archive.
Now read: How to convert files to RAR format in Windows
List of other free software that can open RAR files:
Extract Now: The biggest advantage of using this software is that it can extract contents of multiple archive files quickly and easily – all at the same time
PeaZip is a free software RAR unarchiver for Microsoft Windows, Linux, and BSD, with GUI. It supports both old and new RAR file formats
RAR Opener is a Windows Store app that can open popular archives like RAR, 7Z, ZIP, TAR, LZH, etc.
The Unarchiver is also a free software unarchiver for RAR and other formats.
So it is possible to open RAR files on Windows 10 for free, and without paying anything. However, it is possible that you might miss the extended functionality of the original software. So unless you need to manage, create, and split RAR files professionally, the free options are more than enough to get the job done.
Which app is best for RAR files Windows 11/10?
To Open RAR Files on Windows, WinZip, WinRAR, PeaZip, 7-Zip are some of the best tools.
Why can't windows open RAR files?
You may not be able to open RAR files due to the following reasons:
1] The RAR file in question is corrupt or invalid.
2] Your PC does not have any software that can open or support RAR files.
How do I unzip a RAR file in Windows 11?
If you want to unzip a RAR file in Windows 11 or Windows 10 OS, then you need to use a free third-party tool for that. Windows built-in utility doesn't support RAR format files for extraction. So, you can use 7-Zip, WinZip, or some other handy tool to unzip a RAR file. This post above contains all such RAR opener tools. Check them out.
How do I open a RAR file without WinRAR?
There are multiple ways to open a RAR file without WinRAR. You can use the very popular and open-source tool called 7-Zip to open a RAR file easily. There are some good and free online RAR file opener tools also available to use. Archive Extractor Online is one such tool. You can check the details about these RAR file opener tools in this post.
Read next: How to open CFG files?