When we talk about file compression or extraction, there are many such software available in the market. But most of them take up time when you need to extract several Zip, Rar or other archive file formats. You have to extract the contents, one after the other. If you want to go for a quick operation and extract the contents of all your archives at once at the same time, then ExtractNow will fit your need.
Extract multiple Zip, RAR, archive files at once
ExtractNow allows you to extract contents of multiple archive files quickly and easily – all at the same time. If you have multiple numbers of zip or rar files and you want to extract all of them at once, ExtractNow will help you with that effortlessly. It's a small, portable freeware that extracts your multiple zip files in a few clicks. ExtractNow is a handful and reliable software. You only have to drag and drop the file into the main application window to extract it.  It has a simple interface with three major buttons Settings, Clear and Extract.
ExtractNow Features
Options to Drag and drop files or the folders to extract them
Support all major archive formats including ZIP & RAR.
A small and simple user interface for first time user
Delete extra files after extraction
Repetitive search options through folders to extract
You can Register and provide with a password to keep your extract files safe
Always on top option available
Automatically switch to history option
Allow multiple instances.
Supported archive file formats:
zip (+jar,xpi), bzip2 (+bz2,tbz2,tbz), rar, arj, z, lzh (+lha), 7z, cab, nsis, lzma, lzma86, xz (+txz), ppmd, udf, xar, mub, hfs, dmg, compound (+msi,doc,xls,ppt), wim (+swm), iso, chm (+chm,chi,chq,chw,hxs,hxi,hxr,hxq,hxw,lit), split (+001), rpm, deb, cpio, tar, gzip (+gz,gzip,tgz,tpz), mslz, flv, swf, ntfs (+ntfs,img), fat (+fat,img), mbr, vhd, pe, elf, apm, macho, ace, sit
How to use ExtractNow
Open ExtractNow software to extract your multiple zip files, select all the files you want to extract, drag and drop on the main page.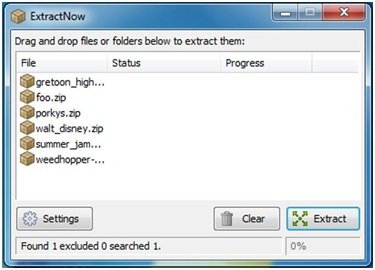 Now click on the Extract button then it will ask you for the location where you want to save your extract file, provide the location and click OK. You can also click on OK TO ALL to save all the extracted files at the same place.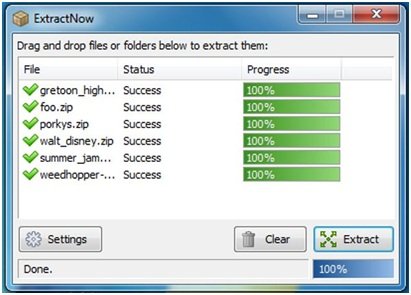 It also provides you with Settings and other major options. You can set the general settings like Minimize to the system tray, Always show on top, etc.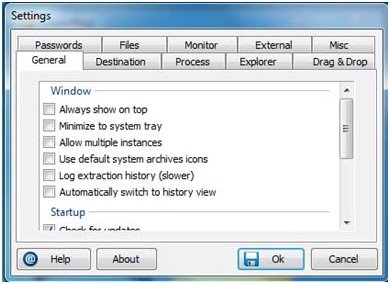 You can even set the destination folder from the settings, so you don't have to provide the destination again and again while extracting. You can also select Process button from the settings where you can decide what to be done after extraction like if you want the zip files to be deleted so instead of doing it manually, you can select and make the settings. You can also move it to a specific folder and delete it as well. There are more options available in the settings that you can select as per your need.
ExtractNow download
You can download the software from here. Use it to extract your multiple zip files at once. It is the 1.73 MB freeware software that can run on any Windows OS.
During the installation, you may be asked to install third-party software. Users are advised against installing them as it could lead to a change in the homepage or default search engine.
This post will show you how to extract CAB Files using command line tools.