In this post, we are going to talk about what is MusicXML file and its use, and how you can view MusicXML files in Windows 11/10. A MusicXML file is basically used for displaying western musical notations. As the name suggests, it is an XML-based file standard designed for exchanging digital sheet music.
It can be used for simply storing music scores in an electronic format, printing high-quality sheet music, and exchanging musical scores between different musical notation programs. Additionally, there is a compressed MusicXML file format i.e., an MXL file. MXL file format is used to compress and save MusicXML data with reduced size.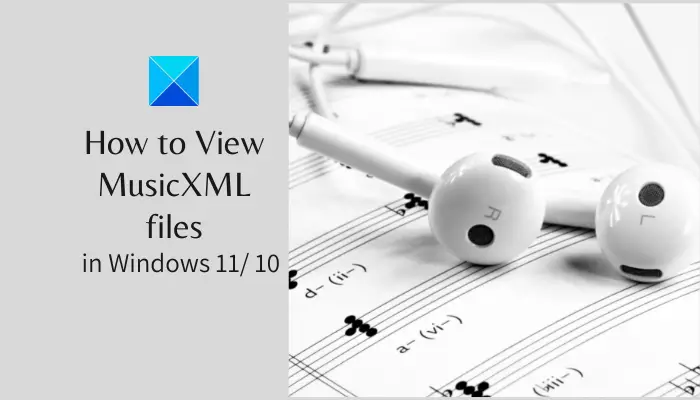 Now, if you are looking for a solution to view a MusicXML file in Windows 11/10, this guide will help you. Here, I am going to mention multiple freeware and websites that allow you to open and view the MusicXML file. So, without much ado, let's get started!
How to view MusicXML files on Windows 11/10?
Here are the free software and online service that let you open and view MusicXML files in Windows 11/10:
MuseScore
Denemo
Lime
Soundslice.com
Let us check out these MusicXML viewers in detail!
1] MuseScore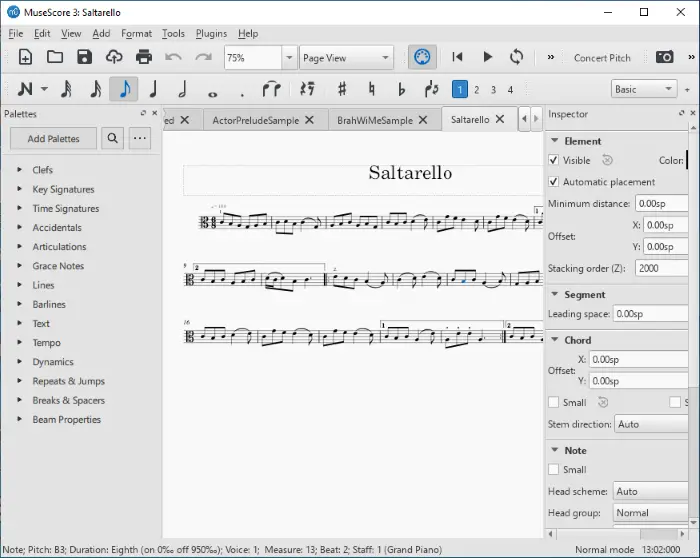 MuseScore is a popular free and cross-platform music notation software using which you can import and view MusicXML files in Windows 11/10. It is a free and open-source MusicXML file viewer. You can simply download and install it on your PC and then launch its main GUI. Then, you can go to its File menu and click the Open option to import a MusicXML file to it. It then shows you the music score contained in the imported MusicXML file.
You can also listen to the music score saved in the source MusicXML files. Simply click on the Play button present on the main toolbar to hear the music. It lets you adjust the view of the musical notation page. You can also change the properties of notes and elements like color, direction, stacking order, etc. Other than MusicXML files, you can also open and view Muse data files, MIDI, Capella, Guitar Pro, Power Tab Editor files, and a few other music files.
It is mainly a musical score composer. Hence, you can edit MusicXML files in it using various standard and advanced tools. You can modify notations manually, add new notes and elements, change the position of notes, delete a note, and do more. To compose musical notations, it provides you Synthesizer, Piano Keyboard, Mixer, and other tools.
It is a really handy musical notation freeware that comes in both installer and portable versions.
Also see: How to insert Music Notes and Symbols in Microsoft Word.
2] Denemo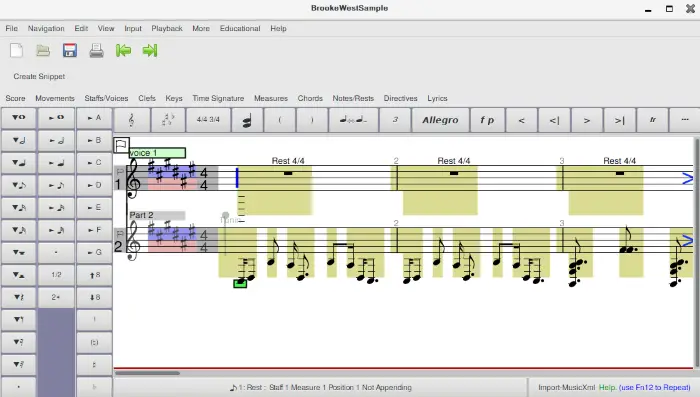 Denemo is a free MusicXML file viewer software for Windows 11/10. Launch this software and then go to the File menu and click the Import File > Import MusicXml option. As you import the file, you will be able to view musical notation on its main interface.
Additionally, it by default shows the print view of the imported MusicXML file in a separate window, as shown in the below screenshot.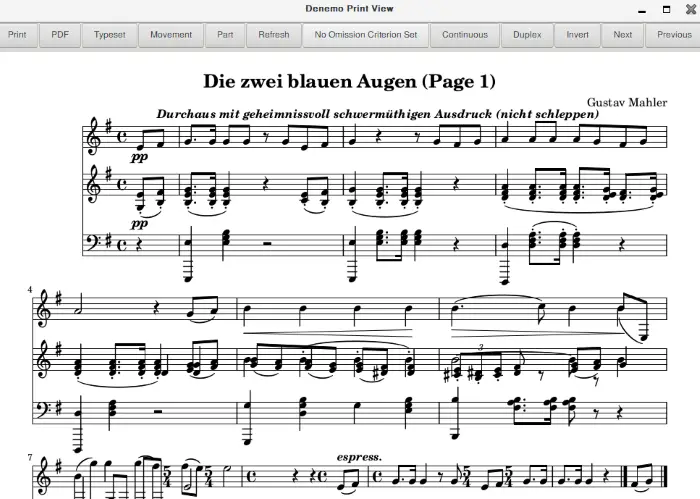 It lets you visualize MusicXML files using zoom functions, bookmarks, cursor movements, move display right or left, and more features. You can also play the music score with various playback options like play chord at cursor, playback view, shift pitch, etc. You can also edit MusicXML files in it and convert them to other supported formats like PDF, PNG, MIDI, etc.
You can download this music notation software plus MusicXML viewer from denemo.org.
3] Lime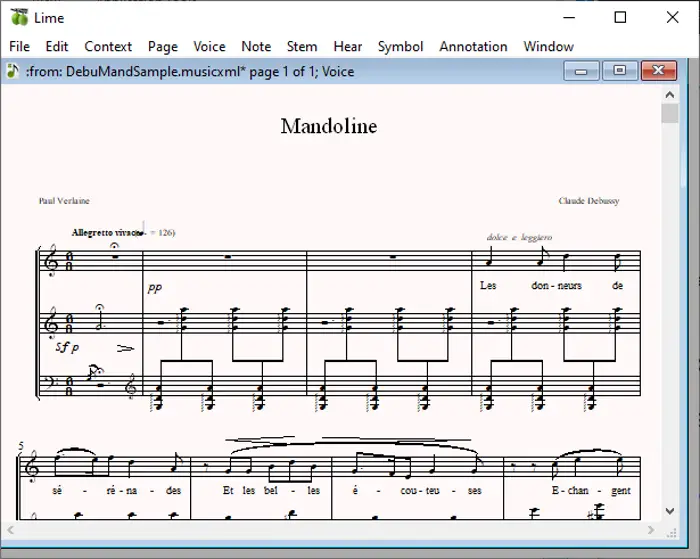 Lime is a free software to open and view MusicXML files in Windows 11/10. It is a portable software, so you can simply double click on its exe file to launch its interface and then start viewing MusicXML files. Besides MusicXML, it also lets you view MIDI and NIFF files. Simply, go to the File menu and click the Import > MuiscXML option to open a MusicXML file.
While importing the MusicXML file, you can configure options like slur association to stem or voice, transpose octave shifted notes, default lyrics point, ignore slur and tie configurations, additional page scaling, etc. It provides features like zoom options and add annotations. You also can use it to edit the notations imported from the MusicXML file. A dedicated Fix Problems feature is present in its Page menu that lets you fix rhythm errors, pitch violations, missing reminders, and more.
See: How to convert Plain Text to Musical Notation PDF in Windows 10.
4] Soundslice.com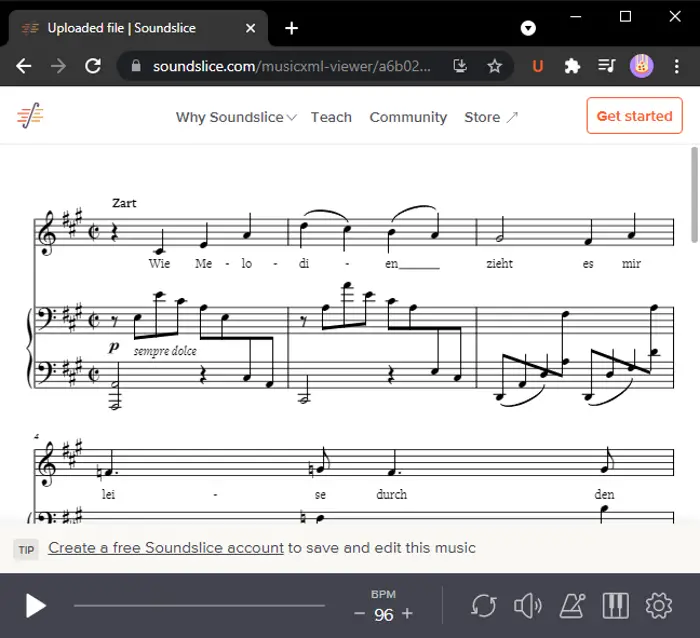 Soundslice.com is a free online service to open and view MusicXML files. Go to its website, upload a MusicXML file and you will be able to view the sheet music in a web browser. It provides a dedicated playback option that allows you to listen to the music score. You can adjust the BPM of music, enable loop playback, adjust volume, enable metronome, etc.
It provides piano keyboard visualizations. You can also set up some view settings like zoom level, layout, and instrument appearance.
Now read: Notation Player makes it possible to view music notes and read lyrics.