The third problem I started facing on my new Dell laptop was that every now and then, in spite of using the AC power adapter or charger which came along with the ultrabook, I frequently got to see this message box, when charging.
The AC power adapter type cannot be determined. Your system will operate slower and the battery will not charge. Please connect a Dell 90W AC adapter or higher for best system operation
This never happened on my earlier Dell XPS desktop, and was actually pretty annoying! On searching a bit on the Internet I found that this was an issue many were facing. Some said that this issue was now resolved in the newer Dell machines. But it doesn't look to be the case, as I was still seeing this message on my new ultrabook.
The AC power adapter type cannot be determined
The adapter worked and charged fine. Then when I shut off the main power supply for a couple of hours and then start charging again, I got to see this message. Similarly, after having resumed the machine from Sleep, I got to see this message frequently. Sometimes, simply turning the power off and then turning it on made me see this error box.
This was pretty frustrating actually. Just when I had resolved the Your system does not appear to have Intel Rapid Start Technology enabled error on every start-up and the screen brightness flickering issue, I started seeing this error!
Well, if you too are seeing this message, here are a few things you could do.
1] Take out the power cord from the laptop and reconnect it with force twisting it a bit while inserting it. If need be also unplug it from the wall socket and reinsert the plug. This actually solved my problem. Even when my cord was inserted tightly and properly initially itself, I used to see the error. But doing this, made the error box go away. But then, this cant is the solution now, can it!? I can't keep doing this all the time!
Why does this happen?
Dell reacts this way if it is not able to recognize or determine the AC power adapter type. In this scenario, you will find that:
Your system is operating slower
The battery will not charge or will charge slowly.
What you can do is check the health of your Battery. Also, check if your AC Adapter is functioning fine.
2] If the message continues to trouble you and you are sure that your batter health is good and that you are using the correct AC power adapter, then you may if you wish disable the Adapter Warnings in BIOS. IF you are not familiar with BIOS, I suggest you do not do this. If you are comfortable with BIOS settings then restart your Windows 8 and during restart, press the F2 key, to boot into BIOS.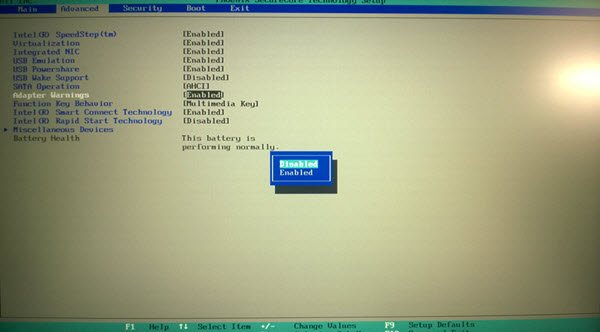 Once here, select the Advanced tab and navigate with the help of the keyboard to Adapter Warnings. Set it to Disabled. Save the settings and Exit.
So you see, these are not exactly solutions – just workarounds! Three problems with my new Dell laptop! Not sure what to say! In the first two cases, it was the addon Intel or Dell programs that were causing issues. Let us hope I do not face any other problems with my new Dell!
Visiting the Dell Support Center may be an option you may want to consider if you wish to escalate the matter.