If YouTube videos lag or stutter in Edge, then the solutions provided in this article will help you fix this problem. There can be many reasons for this issue, like a corrupted browser cache, bad extensions, etc. Whatever the cause of the issue is, use the solutions provided here to get rid of this problem.
Fix YouTube videos lag in Edge
If YouTube videos lag in Edge, use the solutions listed below to fix the issue.
Update Microsoft Edge
Disable Hardware Acceleration in Edge
Play YouTube videos in InPrivate mode
Disable your extensions
Configure Proxy Settings
Reset Edge settings to default
Let's see all these fixes in detail.
1] Update Microsoft Edge
Are you using the latest version of Microsoft Edge? Check this manually. If an update is available, install it and then see if the issue occurs or not. The following steps will help you update Microsoft Edge: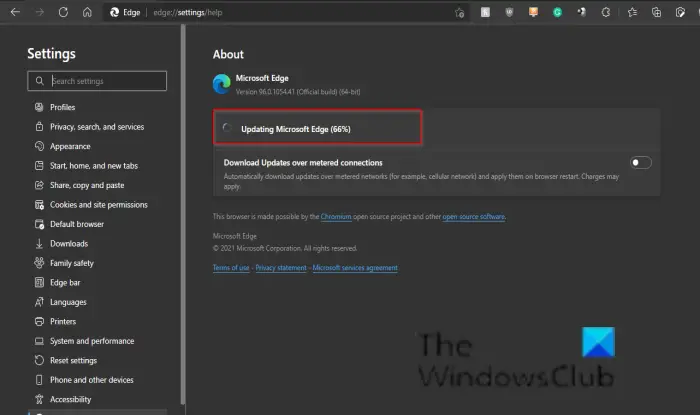 Open Microsoft Edge.
Click on the three dots on the top right side and go to "Help & feedback > About Microsoft Edge."
If an update is available, Edge will start downloading it automatically.
If Edge is up to date, you will see the Microsoft Edge is up to date message.
Related: YouTube not working on laptop
2] Disable Hardware Acceleration in Edge
Microsoft Edge uses Hardware Acceleration when available. The Hardware Acceleration feature helps increase the performance of the Edge browser. It remains enabled by default. In some cases, it can cause issues with Microsoft Edge. In such cases, disabling the Hardware Acceleration can help.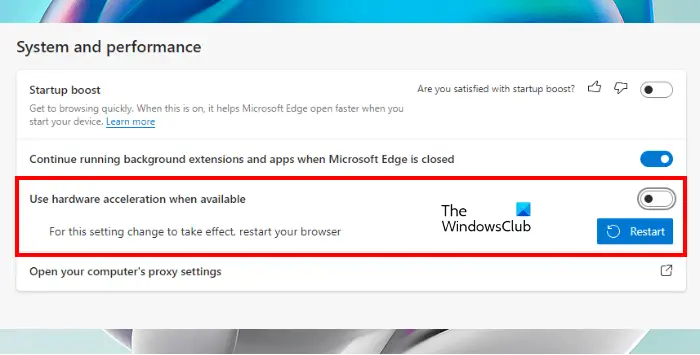 The steps to turn off hardware Acceleration in Edge are provided below:
Open Edge Settings. For this, type edge://settings in the address bar of Edge.
Select the System and performance category from the left side.
Turn off the switch next to the "Use hardware acceleration when available" option under the System section on the right side.
After performing the above steps, you have to restart Edge.
3] Play YouTube videos in InPrivate mode
Do YouTube videos play smoothly in InPrivate mode or do you experience the same issue? Check this. If YouTube videos do not lag in InPrivate mode in Edge, the cause of the problem may be either a corrupted cache or cookie or a bad extension. Press the Ctrl + Shift + N keys to open InPrivate mode in Edge.
Exit InPrivate mode and clear cache and cookies. To do so, press the Ctrl + Shift + Delete keys. After clearing the cache and cookies, check if the issue persists.
Read: Improve YouTube Buffering, Performance & Speed
4] Disable your extensions
We also suggest you disable all your extensions in Edge and then check if it helps. If this fixes the issue, you have to find out the problematic extension in Edge. Type edge://extensions in the address bar of Edge to view all the installed extensions. Now, disable all the extensions and then play a video on YouTube. If the video does not lag, proceed toward the next step.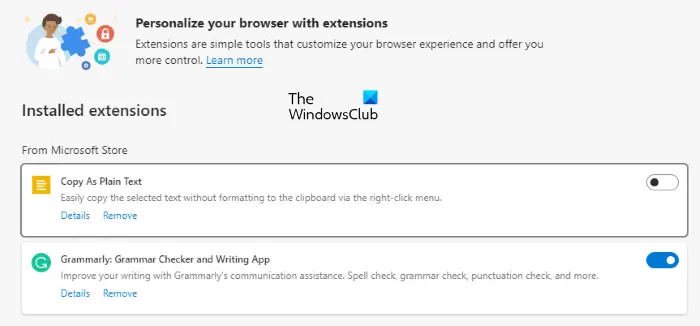 Now, turn on extensions one by one and see whether the problem reappears in Edge. When the issue appears again in Edge after enabling an extension, the extension you have just enabled is the culprit. You can turn off that extension while playing YouTube videos or look for its alternative.
According to the reports, Ad Block extension was found to be the culprit of this issue.
Read: Fix YouTube slow loading & buffering issues
5] Configure Proxy Settings
Turn off the Automatically detect settings option in your Proxy settings. This fix has helped some users. Maybe this will help you too. Go through the following instructions:

Open Settings.
Go to "Network & internet > Proxy."
Turn off the Automatically detect settings switch.
6] Reset Edge settings to default
If the problem still persists, reset the Edge settings to default. After doing this, your startup page, new tab page, search engine, and pinned tabs will be reset to default and all your extensions will be disabled.
This action will not delete your history, favorites, and saved passwords in Edge.
That's it. I hope this helps.
TIP: This post will help if YouTube videos are not playing on Microsoft Edge
Read: How to speed up Edge and make it load faster.
How do I clear my YouTube cache in Edge?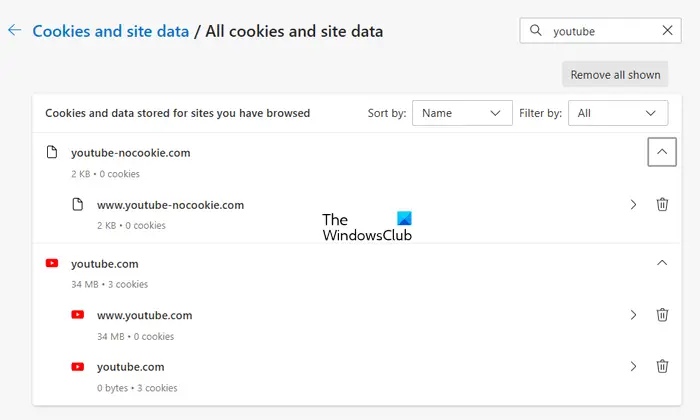 You can clear cache and cookies for specific websites in Edge. To do so, type edge://settings/siteData in the Edge address bar and then type YouTube in the search bar on the right side. After that, Edge should show all the YouTube-related cache and cookies. Now, click on the Remove all shown button.
Is it good to clear YouTube cache?
Web browsers save some information in the form of cache and cookies. This information helps to load the same website faster when you visit it the next time. But sometimes, cache data gets corrupted which creates issues. Clearing the YouTube cache is completely safe. This action can help fix video loading or lagging issues on YouTube.
Read next: Edge Waiting for browser.events.data.msn.com.