In this post, we will show you how to improve YouTube Buffering, Performance, Speed, Loading Time, and Streaming on Windows PC. YouTube has been around for 15-years, and yet no other video-centric website possesses the means to compete effectively with this mammoth platform. While the likes of Facebook is trying to position IGTV to compete, it has a long way to go before it can become a viable option for most.
Improve YouTube Buffering, Performance & Speed
There are a lot of video streaming websites out there, and YouTube is without a doubt the most used video website on this planet. But recently, I started having issues with YouTube buffering. I have a pretty decent connection, but still, YouTube was running slow and the videos taking forever to buffer. This can be frustrating when you are trying to watch something really important. Except for YouTube, all the other streaming sites worked just fine – for example, Metacafe, Vimeo, etc. So I decided to do some troubleshooting to see if I could resolve this problem and improve YouTube buffering, performance, and speed.
How to make YouTube videos load faster
As it stands, YouTube is our best bet for content for the time being, so what do we do when videos on YouTube begin to buffer on a regular basis?
In many cases, buffering and overall performance problems have nothing to do with the speed of your internet connection. At times, the factors are quite different, which is why we've decided to discuss alternative issues as to why your videos are having a hard time loading.
This article will explain several ways to reduce problems when watching YouTube videos. Try them all to see which one works the best or you.
Change DNS
Change the video quality
Enable Limit reservable bandwidth
Firewall Exceptions Trick
Let us discuss this situation in more detail.
1] Change DNS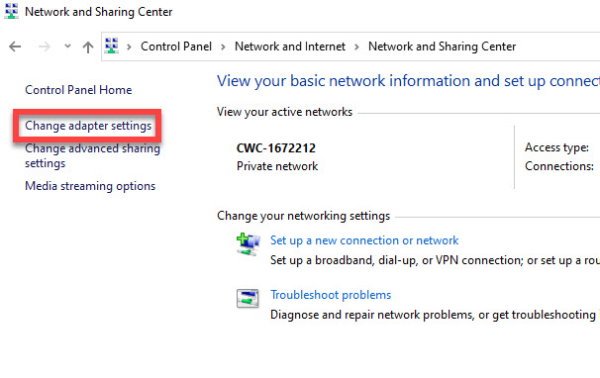 One of the best ways to improve buffering when streaming videos, is by changing your DNS to one offered by Google. Using this OpenDNS, in some cases, can help a great deal.
OK, so the first thing to do here, is to visit the Control Panel, and to do this, you must first search for Control Panel via the search box and move forward from there. After opening the panel, select Network and Internet from the list, then click Network and Sharing Center.
Another way to get there is by right-clicking on the Wi-Fi connected icon on the Taskbar, then select Open Network & Internet settings. Now, from the left pane, click on Change adapter settings, then from there, right-click on one of the networks, and be sure to double-click Internet Protocol version 4 (TCP/IPv4).
Next, seek out the section, Use the following DNS server addresses, and select it. From there, the following options should look like this:
Preferred DNS server: 208.67.222.222
Alternate DNS server: 208.67.220.220
Finally, click on the OK button and restart the computer to see the changes whenever you visit YouTube again.
Fix: YouTube videos lag in Edge
2] Change the video quality
Another way to improve performance on YouTube is to change the quality of videos. For many, the default is either 720p HD or 1080p HD. In some cases, the default might even be set at 4K. Depending on the speed of your internet connection, it may take a while to load videos at high quality.
To ensure better performance, just decrease the video quality. 480p is nice since it keeps a decent amount of quality, therefore, it is watchable and should load much faster than whatever comes ahead of it.
Read: Best YouTube extensions for Chrome, Edge, Firefox to improve viewing experience
3] Enable Limit reservable bandwidth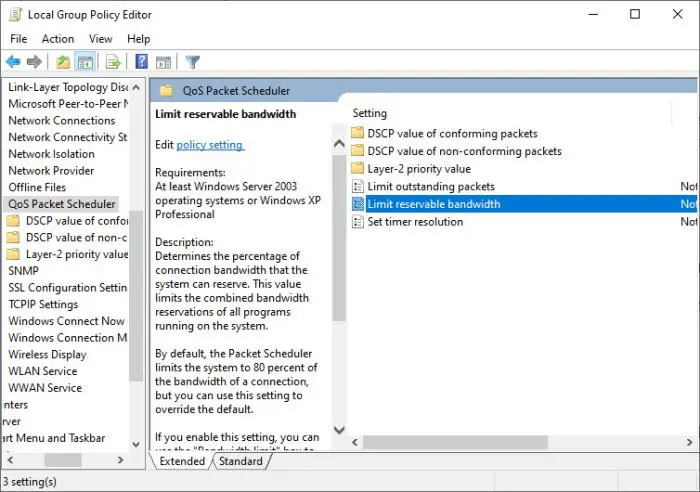 Did you know that in some cases, Windows will reserve a portion of your bandwidth for the purpose of downloading updates among other things. This is important, true, but the feature is not set in store because things can change.
In order to enjoy the full speed of what your internet connection has to offer, we will have to disable this feature. We can do this by clicking on the search icon, then type gpedit.msc. Open this tool from the search results, then right away, navigate to:
LOCAL COMPUTER POLICY > COMPUTER CONFIGURATION > ADMNISTRATIVE TEMPELATES > NETWORK > QOS PACKET SHEDULER > LIMIT RESERVABLE BANDWITH.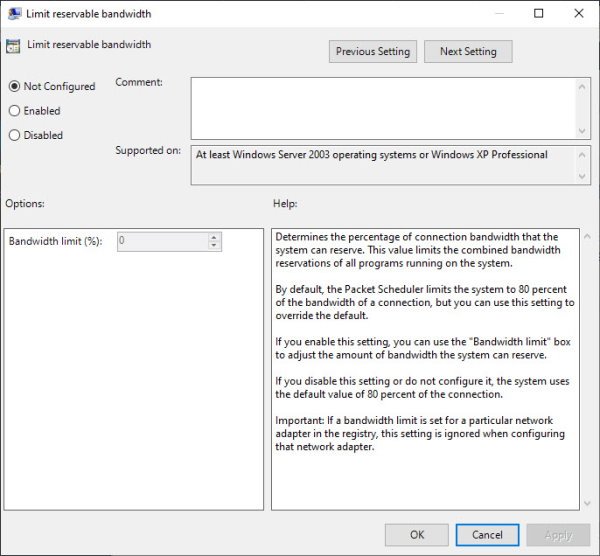 From there, look for the option that says Limit reservable bandwidth, and enable it right away. After that, be sure to set the limit to 0, then hit Apply > OK. Finally, go on ahead and restart your computer and test if YouTube is loading videos much faster than before.
TIP: Do consider subscribing to TheWindowsClub YouTube Channel.
4] Firewall Exceptions Trick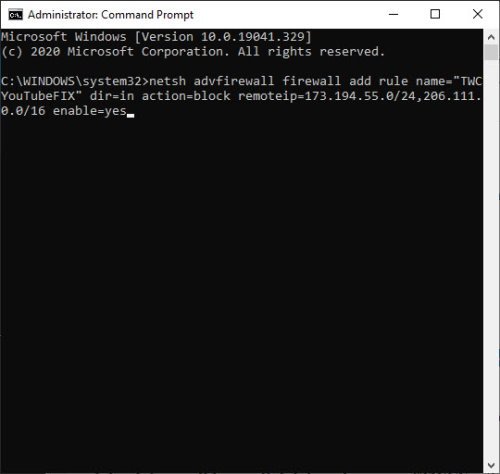 Certain ISP tends to throttle bandwidth from the server that caches videos which caused performance issues. The idea is to find the relevant IP range and block them via Widows Firewall. Going down this road should improve performance in some cases. This is how you can do it:
Go to Start Menu and type in CMD
Then Right-click and click on Run as administrator
Then copy and paste the following command
netsh advfirewall firewall add rule name="TWCYouTubeFIX" dir=in action=block remoteip=173.194.55.0/24,206.111.0.0/16 enable=yes
You will now want to restart the computer before attempting to see if everything works accordingly. Also, if you want to remove the rule, then type the following command in CMD:
netsh advfirewall firewall delete rule name="TWCYouTubeFIX"
At least one of these options should enable faster loading of YouTube videos, so we recommend trying them all to see which one works the best.
Read: How to open and edit videos using YouTube video editor.
How do I fix YouTube slow loading?
To fix YouTube slow loading & buffering issues you can change (ca) the YouTube URL, lower the quality of the video, clear your web browser's cache, block these IP addresses, or use a VPN service.
Why is YouTube buffering so slow?
If your YouTube videos take so long to load then either your internet speed is poor or the video quality too high. YouTube will adjust the video playback quality depending on your screen size, device and internet speed.