If YouTube videos load slowly for you and keep buffering, then this post will help you. When it comes down to entertainment on the web, most tend to take advantage of what YouTube has to offer, and that's great because YouTube is the best place to watch videos online, and that's not going to change any time soon. While YouTube is awesome, it does suffer from problems now and again. There are times when folks are unable to watch their favorite videos due to the service slowing down considerably for reasons unknown.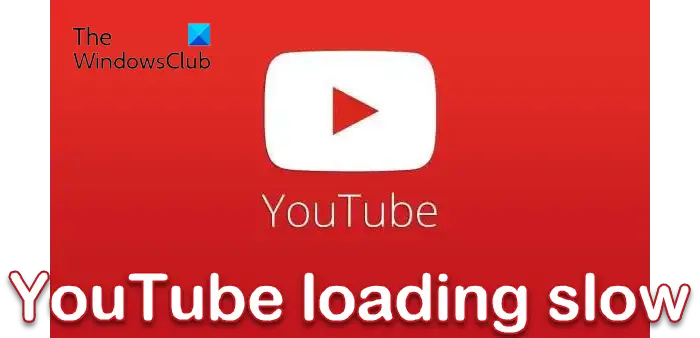 Fix YouTube slow loading
If YouTube is slow in loading or video buffering even when your Internet is fast, then these practical tips will help you make YouTube videos load faster:
Change the YouTube URL
Lower the quality of the video
Clear your web browser's cache
Block these IP addresses
VPN service.
1] Change the YouTube URL
This works, so don't ignore believing we will talk nonsense.
If the video is not working, we suggest replacing the www in the URL to ca. Yes, it's that simple, and it works, well, for some.
2] Lower the quality of the video
Chances are you're used to streaming videos in HD, but this time around the video you're attempting to watch is buffering. In this case, we recommend changing the quality to 480p or lower. Going below 360p means the video will become pixelated, so bear this in mind.
To do this, click on the gear icon on the video player, then click on Quality. From here, you can easily choose which one is best for your needs at this time.
3] Clear your web browser's cache
Many things can be fixed simply by clearing your browser's cache. So you need to clear your Chrome or Firefox browser cache or Edge cache or the cache of the browser you use.
4] Block these IP addresses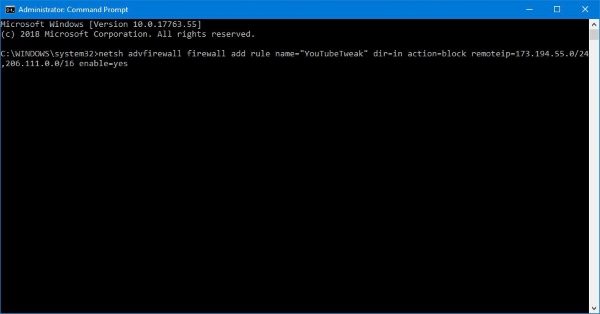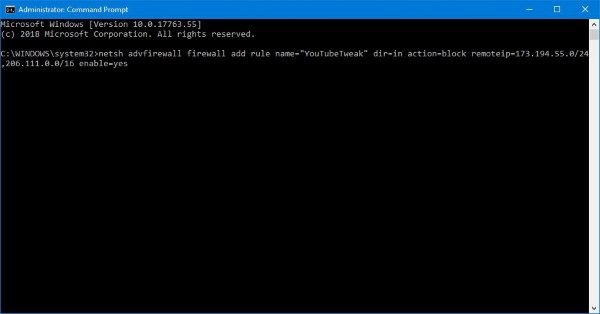 In most cases, many of us watch videos on YouTube via Content Delivery Networks our Internet Service Providers have set up. What this means, some users on the web are not watching content directly from YouTube, and this gives service providers the power to throttle speed for streaming videos.
With this in mind, you must consider blocking two IP addresses to get this back to normal, and they are 173.194.55.0/24 and 206.111.0.0/16.
First, you need to open the Command Prompt. Do this by clicking on the Cortana button, then type Command Prompt in the search box. You should now see Command Prompt in the search results; so simply right-click on it, and select Run as administrator.
The next step is to copy and paste the following command into the Command Prompt:
netsh advfirewall firewall add rule name="YouTubeTweak" dir=in action=block remoteip=173.194.55.0/24,206.111.0.0/16 enable=yes
Hit the Enter key, then close the window.
TIP: Do consider subscribing to TheWindowsClub YouTube Channel.
5] VPN service
If you are using a VPN service, we suggest you disable it and see if that makes a difference.
If you are not using a VPN, we suggest you use a free VPN software for video streaming and see if that works better for you.
The Opera web browser comes with a free VPN service built-in. Simply launch Opera, then click on the Menu button at the top-left corner. From there, select Settings, then Click on Advanced > Privacy & Security. Scroll down to VPN, then enable it.
If you're using Google Chrome, then read this article to find the best and free VPN extension for Chrome for the web browser. We've tested all of them and can say for certain that they are good enough. However, the VPN option in Opera is much faster.
Firefox & Chrome users can look at these Browser extensions to improve YouTube Streaming.
Why is YouTube buffering so slow?
YouTube will adjust the video playback quality depending on your screen size, device and internet speed. If your YouTube video keeps buffering, then either your internet speed is poor or the video quality is too high.
How do I increase my YouTube loading speed?
If you have a decent internet connection, but still, YouTube videos are running slow, and the videos are taking forever to buffer, then to YouTube videos load faster, you can change the DNS, change the video quality. enable Limit reservable bandwidth or use this Firewall Exceptions Trick.
Now read: How to improve YouTube Buffering, Performance & Speed on Windows PC.