Microsoft Edge is the default web browser from the software giant in Windows 11/10. Ever since this browser came on the scene, many have chosen to use it over rivals. Some users, however, are facing an issue where they cannot play YouTube videos on their Edge browser. Of you face this issue, then this post is sure to help you.
YouTube videos not playing on Microsoft Edge
If YouTube videos are not loading or playing in the Edge browser on Windows 11/10, you may need to check Flash settings, Disable GPU, Clear the cache, Reset Edge flags to default, etc. Some users might suffer from a black screen; videos fail to load, no sound in videos, and much more. The big question is, then, can these issues be fixed? This can be solved by simply following our lead to the letter.
Check if Flash is enabled
Clear the browser cache
Reset Edge Flags
Disable hardware acceleration
Reset Edge to default.
Fix video streaming problems in Edge
Before you begin, make sure that your Edge browser is updated to its latest version.
1] Check if Flash is enabled
Maybe the videos you're trying to play are powered by Adobe Flash, a platform that is on its last legs. If that is the case, then we should point out something very important. In the new Edge web browser, Flash is blocked by default, therefore, one needs to enable it.

To enable Flash, click on the three-dotted menu button located at the top-right corner of the browser. From the dropdown menu, please select Settings, then scroll down to Cookies and Site Permissions. Seek out Adobe Flash, click on the option, then toggle the button to turn it on.
Reload the webpage and check if the video is working again as it should. If not, well, continue reading.
NOTE: Adobe Flash has been deprecated now.
Related: YouTube not working on laptop
2] Clear the browser cache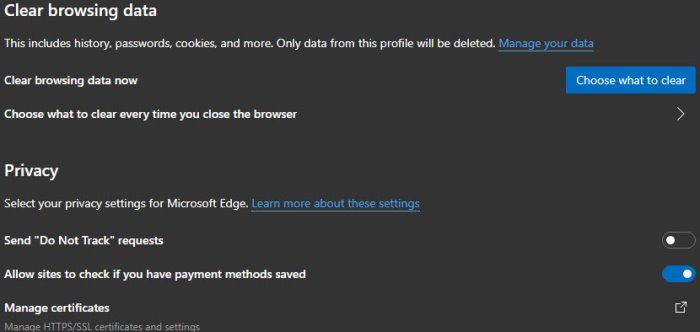 OK, so the next step we can take in a bid to fix video playing problems in Edge, is by clearing the cache. In fact, a lot of problems with this browser can be solved by performing this action.
In order to clear the cache, please follow the steps above to open the Settings area. From there, select Privacy and Services from the categories to the left, then scroll down to Clear Browsing Data. Under it, you should see "This includes history, passwords, cookies, and more. Only data from this profile will be deleted."
Click on Choose What to Clear, and from the pop-up window, select Cached Images and Files, and finally, click on Clear Now. Wait for Edge to do its thing, restart the web browser and try to load the video again.
Read: YouTube videos not playing in Firefox
3] Reset Edge Flags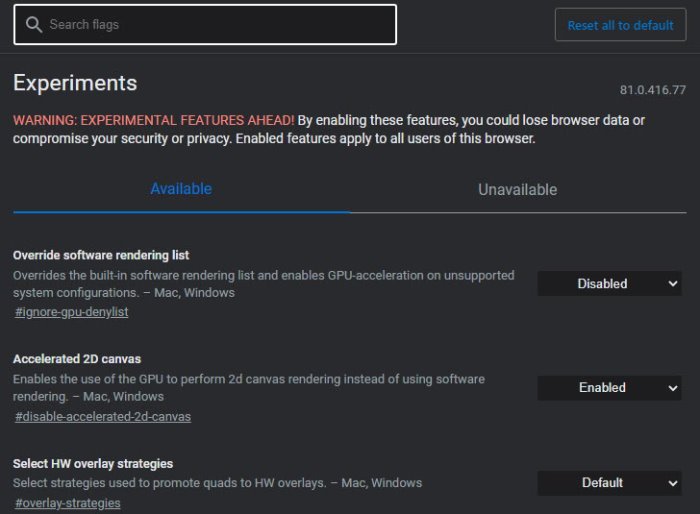 Here's the thing, issues with YouTube failing to work properly in Edge could be linked to the edge:flags. Now, to set things right, type edge:flags in Edge's address bar, then hit Enter on the keyboard.
Simply click on Reset all to default to return this section to its original setting. We ask that only advanced users make changes to the edge:flags section when necessary.
Read: YouTube not working on Google Chrome
4] Disable Hardware Acceleration

OK, so if you're having problems with your GPU, you will have problems watching videos, especially if your browser set to render using GPU acceleration. By default, Edge takes advantage of GPU acceleration, but this can be changed to the software.
Again, navigate back to the Settings area of Microsoft Edge, but this time, you will want to click on System and Performance from the category section found on the left. You should now see three options after selecting System, but we will be focusing on Use hardware acceleration when available. Click the toggle button to turn it off.
Should that option fail to work, then how about we turn off hardware acceleration from within Internet Options. Going this route will remove this feature for all web browsers and not just Microsoft Edge, so please keep that in mind.
Press the Windows Key + S, then search for Internet Options and click on once it's up. A new window should pop up with several options, just select the Advanced tab, and select Use software rendering instead of GPU rendering*.
Hit Apply, then OK, and finally, restart your computer to ensure everything goes into effect.
Fix: YouTube videos lag in Edge
5] Reset Edge to default
If nothing helps, you can reset Edge to default and see if it helps. Make sure to backup your bookmarks, passwords, etc. before you do this.
Let us know if this helped you.
Read next: How to fix common problems streaming video content in Windows.