The Location Tracking service in Windows 11/10, will tell the apps where your location is and you may or may not want this happening. When any app uses the Location settings to identify your location, you will see a round icon in your taskbar. This would mean that your location is currently in use in Windows 11/10.

Your location has recently been accessed or is currently in use
If you do not want your Windows 10 device to reveal your location, you can disable this service.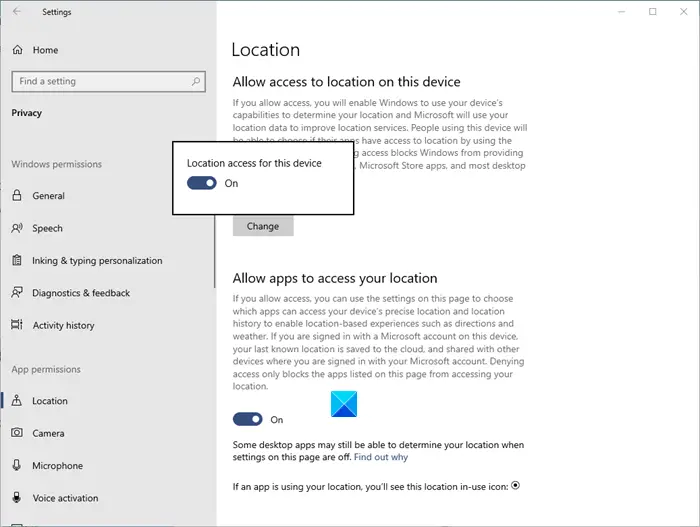 To do so open Settings > Privacy > Location.
In Windows 11, you will see the Locations settings here: Open Windows Settings > Privacy & security > Location.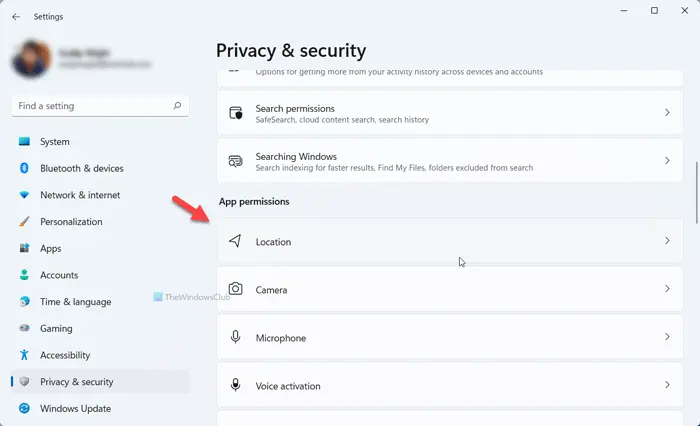 Disable Location Tracking for each user
On the right side, you will have to toggle the Location slider from the On position to the Off position.
When you do this, the Location Tracking service for your account will be disabled and apps and services will not be able to request for, your location and location history.
Read: How to set your Default Location in Windows 11/10.
Turn off Location Tracking for entire device
If you want to totally disable the Location setting, just above this setting, you will see a Change button. Click on it and set the Location for this device as Off.
When you do this, the location for your device is set to Off, and the Location services will be disabled for all the users.
Clear Location History
While there, you may also want to clear Location history on this device, by clicking on the Clear button.
Choose apps that can use your location
Below this, you can choose apps that can use your location. Here you can control the location settings for each app individually. To do this, both the above settings have to set to On.
Geofencing
Scroll down further and you will see a Geofencing setting. A Geofence is a geographical boundary. Apps will use your location to see if you are crossing this boundary either way. If any of your apps use this feature, you will be offered a setting to turn it On or Off.
This post will show you how to harden Windows Privacy Settings. You can also use our Ultimate Windows Tweaker to further tighten privacy in Windows 10.