Several apps and services in Windows 10 require access to your location in order to impart location-based services. However, sometimes things can go wrong, and location discovery may break causing the apps and services to fail in fetching your current location. Keeping in mind such circumstances, you can set the default location which can be used when apps and services are not able to pinpoint your current location correctly
It can turn out to be pretty useful when both your current and default location are set to your home address. You can peacefully stop worrying about the slow internet speed and location discovery because your default location will be picked up if the current one is inaccessible. Quite useful, isn't it? Let's see the steps to set and change your default location in Windows 10.
Set Default Location in Windows 10
1. Open Settings app using key combination Windows Key + I. Select Privacy from the available options.
2. In the left pane of Privacy Settings window, move to the Location tab.
3. Now on the right side pane, scroll down to the section named Default location. Click on Set default button to open Windows Maps app for setting a location as default.
4. Up next in Maps app, click on Set default location button.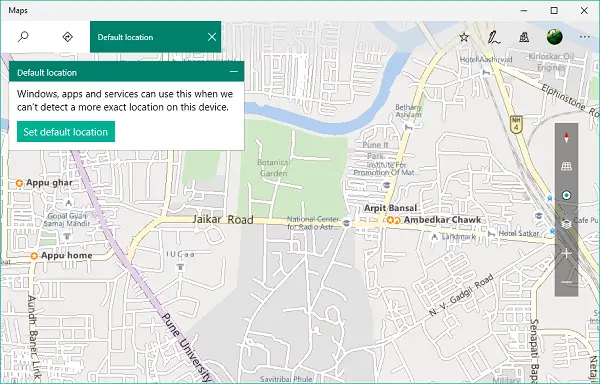 5. A text box should come in sight with a drop-down menu consisting of your saved and recent places. You can enter a location manually, or you can select anyone from the drop-down menu. You can also click any location on the map to set it as default.
6. That is it. You have saved your default location which will be automatically selected in case an exact location is not discovered by apps.
Change Default Location
7. To change your default location in the future, you can also access Maps app settings.
To do so, click on the horizontal ellipsis menu button on the top-right edge of the Maps app and select Settings from the menu. Now, on the Settings slate, click on Change default location button under the section named Default location.
Your default location should now be picked up whenever location discovery services fail to pinpoint your exact location.
Read: Your location is currently in use in Windows 10.