If the Windows Update page notifies that Windows feature update is available, and when you proceed with its download and install, you receive the notification "You need to restart your PC to finish installing a firmware update", then this post is intended to help you. In this post, we will prescribe what you can try to get past this upgrade block.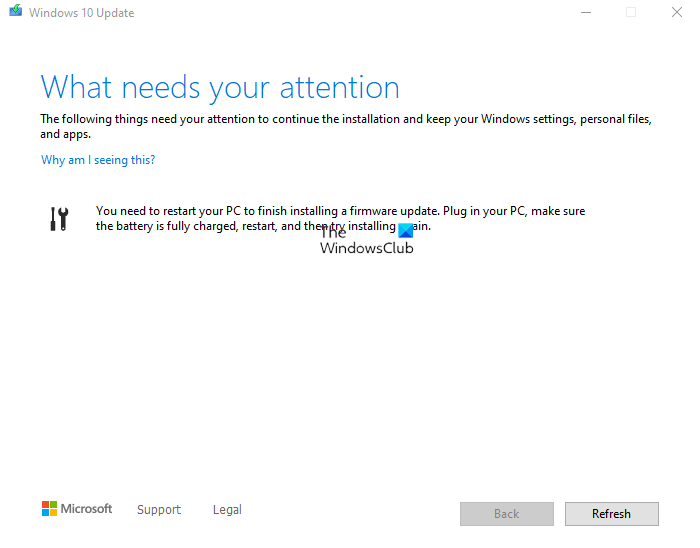 When you encounter this Windows 10 upgrade block, you'll receive the following full notification;
The following things need your attention to continue the installation and keep your Windows Settings, personal files, and apps.

You need to restart your PC to finish installing a firmware update. Plugin your PC, make sure the battery is fully charged, restart, and then try installing again.
You need to restart your PC to finish installing a firmware update
When you encounter this issue, you'll be unable to install the Windows 10 Feature Upgrade as Windows is asking to restart the device to complete installing the firmware.
But despite multiple restarts, the notification appears consistently!
So, if you're faced with this issue, you can try our recommended solutions below to effectively resolve the issue.
Update BIOS and Firmware
Since the upgrade block notification points to firmware-related update in as much as the notification is also requiring the user to fully recharge the PC battery before restarting the device. Be that as it may, you can try updating the BIOS on your system.
Using tools from OEMs is the easiest way to do so. All OEM manufacturers have utilities that help you easily update, BIOS, firmware, and drivers. Search for yours and download it from the official site only. This is the safest way to update the BIOS.
If you own a Dell laptop you can head over to Dell.com, or you could use Dell Update Utility.
ASUS users can download the MyASUS BIOS update utility from the ASUS support site.
ACER users can go here. Enter your Serial Number/SNID or search for your product by Model, select BIOS/Firmware, and click the Download link for the file you want to download.
Lenovo users can use the Lenovo System Update Tool.
HP users can use the bundled HP Support Assistant.
Once you complete the manual update of the BIOS/firmware on your system, the Windows 11/10 upgrade block notification should now be removed. Consequently, you can now proceed with the upgrade process again and the process should complete successfully allowing you to take full advantage of the next version of Windows.
Users trying to upgrade or install Windows have been facing this screen and hence this post.
Read: Fix Firmware update failed in Windows.