When the User Account Control or UAC limits access to installed files and programs, you cannot uninstall them from Windows and see the following error message – You do not have sufficient access to uninstall a program. Follow the steps given below to fix this error.
You do not have sufficient access to uninstall a program
The error message also prompts you to contact your system administrator even when all the administrative privileges rests with you. To resolve the issue, try these steps.
As the first troubleshooting method, you can enable a built-in Administrator Account and use it to perform the operation.
If this doesn't work, you'll need to make modifications to the Registry Keys.
Launch the Registry Editor.
Navigate to the Installer key.
Create a new DWORD value: DisableMSI.
Enter the REG_DWORD value as 0.
Close the Registry Editor and Exit.
Restart your PC.
It's advisable to create a backup of the Registry before proceeding further.
Launch the Run dialog box by pressing Win+R keys in combination.
Type Regedit in the empty field of the box and hit Enter.
When the Registry Editor opens, navigate to the following path address –
HKEY_LOCAL_MACHINE\Software\Policies\Microsoft\Windows\Installer.
Switch to the right-pane and create a new DWORD value. Name it as DisableMSI.
Now, double-click the entry above to edit its STRING value.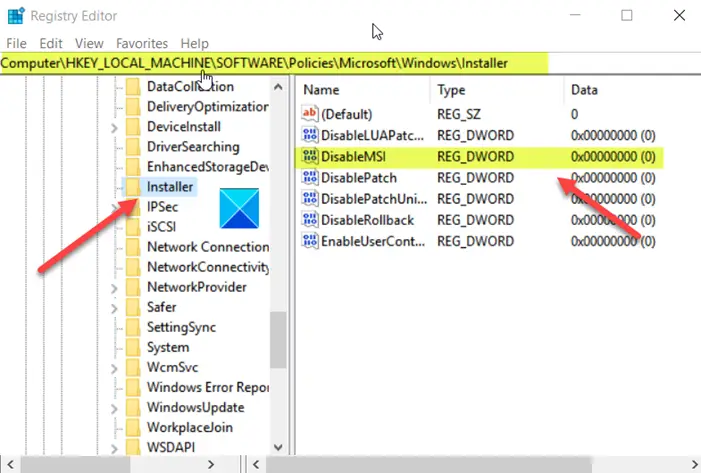 When the Edit String box appears, keep the value as 0 in the Value Data field.
Hit the OK button when done.
Read: Cannot install or uninstall programs? Run the Program Install and Uninstall Troubleshooter.
Now close the Registry Editor and Exit.
Restart your PC to allow the changes to take effect.
Read: How to uninstall Programs not listed in Control Panel.
Now, try uninstalling an app or a program from Windows 10. You should not see the 'You do not have sufficient access to uninstall a program' error message in Windows 10.
If this does not help, you may use other ways to uninstall the program.
If for some reason you are still unable to uninstall the program in Windows 10, you may find the following links helpful: