With Xbox remote play, you can play games from your Xbox console straight to your PC, phone or tablet over the internet. In this post, we offer suggestions you can try if Xbox Remote Play is not connecting or working for you on your preferred gaming device.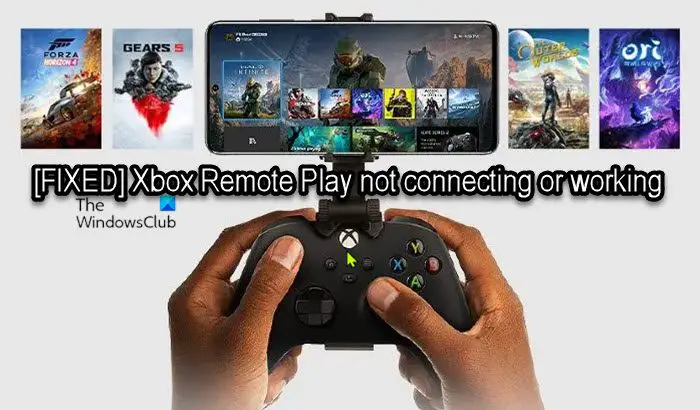 Xbox Remote Play not connecting or working
If Xbox Remote Play is not connecting or working on your mobile gaming device, you can try our recommended solutions presented below in no particular order (start off with the initial checklist for possible swift resolution) and see if your problem is resolved on your device.
Initial checklist
Check your internet connection
Check the Xbox mobile app
Contact Xbox Support
Let's take a look at the description of the process involved concerning each of the listed solutions.
1] Initial checklist
Xbox Remote Play is mainly dependent on stable internet connection, so before you jump to the solutions proper below, you can perform and complete the following pre-tasks one after the other; and on completion of each, check if Xbox Remote Play is now connecting and working as it should without any sort of issues.
Check Xbox server status. You can first check the Xbox status at support.xbox.com/en-GB/xbox-live-status via a browser, or via the Xbox app on your mobile device; go to Profile > Settings > Support & feedback > Xbox status. If there are services outage, there's nothing much you can do but wait for the services to be restored.
Restart the Xbox app. On the scenario the Xbox Live service is all green and up and running for all services, you can try restarting your Xbox app by simply closing and reopening the app and also make sure the Xbox app is updated on your mobile device..
Check your Xbox account. Make sure you are using the same Xbox account on your app as you've used to enable remote play on your console.
Restart your gaming device. Restart the device you are using for remote play – and you can either power cycle or restart your Xbox console as well and make sure your Xbox is updated, as connection problems can arise when your Xbox needs an update – so check for available updates, and try again.
Enable Xbox Remote Play. It may seem obvious, but you can also double check to make sure remote play is set up properly using this Xbox guide. Most importantly, check Xbox supported countries and regions for remote play.
Read: How to set up up Multiplayer Gaming on Windows Network
2] Check your internet connection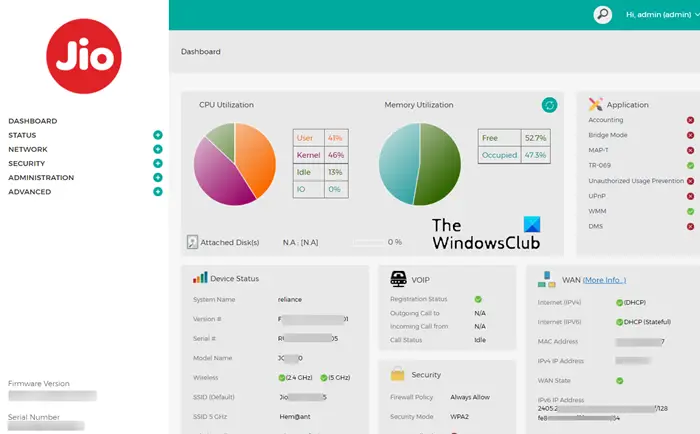 The Xbox Remote Play is not connecting or working issue on your gaming device could be due to the fact that certain places or regions may be unable to use the remote play capability if the Xbox network service is unavailable. However, other things being equal, if this problem persists, you should consider contacting your ISP; as they may be limiting Xbox Live services, particularly cellular streaming owing to high bandwidth usage. It's also likely you're in violation of streaming rules and your ISP throttled your connection for exceeding a specific data use threshold.
In addition, request that your ISP open the required ports listed below on your router.
Port 88 (UDP)
Port 3074 (UDP and TCP)
Port 53 (UDP and TCP)
Port 80 (TCP)
Port 500 (UDP)
Port 3544 (UDP)
Port 4500 (UDP)
Also, request the UPnP feature be disabled and then enabled again on your internet device, and your console's IP be added to the DMZ zone setup.
Read: How to modify or change your WiFi Router settings
3] Check the Xbox mobile app
If you have identified that you're not having internet or network connection issues or problems either at Xbox end or locally at your present location, but the issue you're currently facing is still unresolved, you can check the Xbox mobile app and get support for specific app issues under the Profile tab. Select Settings > Support & feedback to get help, along with up-to-the-minute Xbox online status reports. If need be, you may have to reinstall the Xbox app on your mobile gaming device.
4] Contact Xbox Support
Depending on what exactly is happening when you start the remote play; is it just not turning on? Is it freezing? Are you getting a black screen? Does it work sometimes and other times it does not? – you can see if troubleshooting the issue using this Xbox guide helps. If nothing else works, you can contact Xbox support for additional assistance.
Hope something in this post helps!
Related post: Steam Remote Play not working on Windows 11/10
Why isn't my Xbox app connecting to my Xbox?
If the Xbox app isn't connecting to your Xbox console, you can check that your console allows the Xbox Console Companion app connections – do the following:
Press the Xbox button to open the guide.
Select Profile & system > Settings > Devices & connections > Remote features > Xbox app preferences.
Under Xbox app, select Allow connections from any device.
Why can't I connect my Xbox to my phone?
If your mobile device won't connect to your console during setup, you can restart your mobile device, and while your mobile device is restarting, hold down the Xbox button on the front of the console for 10 seconds. Once the console powers down, press the Xbox button on the console to turn it back on. Then, try the setup process again.