If you're the owner of an Xbox One or have owned one in the past, then you should know that this product rarely shows an error code when things go wrong. Unfortunately, whenever an error code pops up from out of nowhere, there's not much a user can do to fix the problem. Luckily for those who might have seen the error code 0x800c000b, there are a few things you can do.
Fix Xbox Error Code
0x800c000B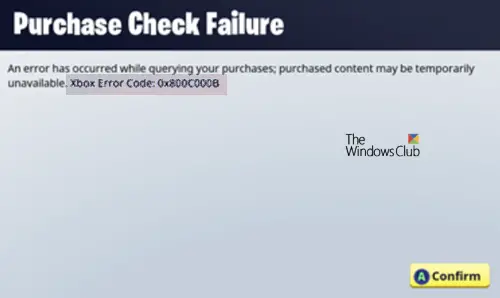 It can occur if Party Chat is not working, there is a Purchase Check Failure, or when users cannot sign in to their Xbox account, and that can be a problem for those who want to play online. The question is, then, what should we do in a bid to get rid of the problem along with its error code?
1] Check your internet connection
The inability to sign into your account could mean your internet connection is facing problems, so that's something we'll need to look at. Maybe it has everything to do with your Internet Service Provider, or probably your Xbox One settings are at fault.
A) Reset or restart your router
To restart your wireless router, you can plug it out and plug it back in again, or press the off button, and press it again to turn it on. It all depends on the type wireless router you have at home.
On the matter of resetting the router, most devices come with a tiny hole, and within that hole, is a button designed to restart the hardware. Get a pin or any object that is able to fit inside, and press and hold for up to 10 seconds.
B) Test network connection
Press the Xbox One button on your controller, then select Settings. After that, open All Settings and navigate to Network > Network Settings. Finally, click on Test Network Connection and keep an eye out for any major errors.
2] Restart the Xbox One
Most problems users face with their Xbox One are easily solved with a simple restart of the system. It's the default action to take, therefore in this case, that's exactly what we're going to do.
To restart, simply press and hold the power for up to 10 seconds. The console should automatically turn off. After that, press the power button again to turn it back on and check to see if the issue persists.
3] Check if Xbox Live is running smoothly
Whenever good ole Microsoft is doing maintenance work on Xbox Live, it tends to cause several problems for Xbox One owners. The best step to take right now is to check if work is being done this Microsoft service.
It's called the Xbox Live Services Status Report, and it should show you everything you need to know.
If this does not help you, you might want to clear your disk storage cache, change your MAC address, delete and reinstall your Profile or even consider resetting your Xbox One.
Related read: Troubleshoot Xbox One errors using Online Troubleshooter.