If the WoW Error 132 Fatal Exception, Memory could not read error keeps troubling you, then this post may help you. Recently, some users have been complaining about Error 132 Fatal Exception, Memory could not read while playing the game. The complete error message reads:
This application has encountered a critical error ERROR #132 (085100084) Fatal Exception
Program: D:\wowiWow.exe
Exception: 0xC0000005 (ACCESS VIOLATION) at 0023:0077 EDD8
The instruction at "0x0077EDD8" referenced memory at "0x0000007C".
The memory could not be "read."
Press OK to terminate the application.
Fortunately, you can follow some simple suggestions to fix the error.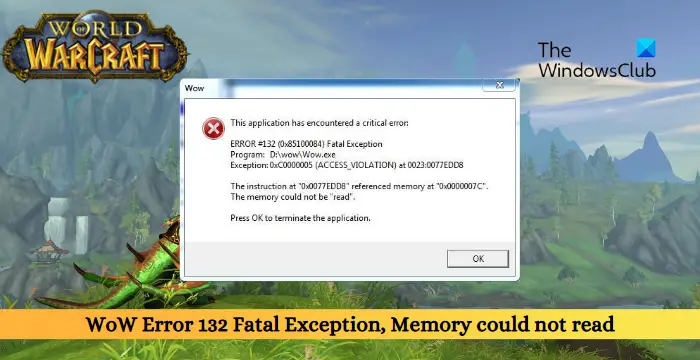 Fix WoW Error 132 Fatal Exception, Memory could not read, reset the game's user interface
To fix the WoW Fatal Exception error on Windows 11/10 PC, follow these suggestions.
Update Device Drivers
Scan the Game Files
Reset WoW User Interface
Run CHKDSK
Clear space using Disk Cleanup
Temporarily Disable Antivirus and Windows Defender Firewall
Check for Overheating Components
Reinstall the Game
Now let's see these in detail.
1] Update Device Drivers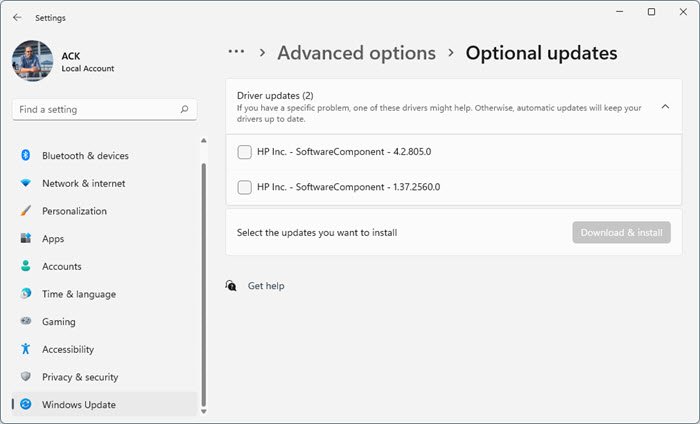 Firstly, update the graphics drivers of your device. This is because outdated or corrupt drivers can be why Error 132 Fatal Exception occurs. Update the drivers and see if the error's fixed. Here's how:
Press Windows + I combination to open Settings and navigate to Update & Security > Windows Update.
Scroll down and click on Advanced Options > Optional Updates.
Under Driver Updates, a list of updates will be available, which you can choose to install if you are facing an issue manually.
You can also use tools like AMD Driver Autodetect, NV Updater, Intel Driver Update Utility or Dell Update utility to update your device drivers.
2] Scan the game Files
Corrupted game files are another reason the Error 132 Fatal Exception can occur. Verify the game files on Steam and scan the game files on the Battle.net client to repair these files. Follow these steps to do so:
On Steam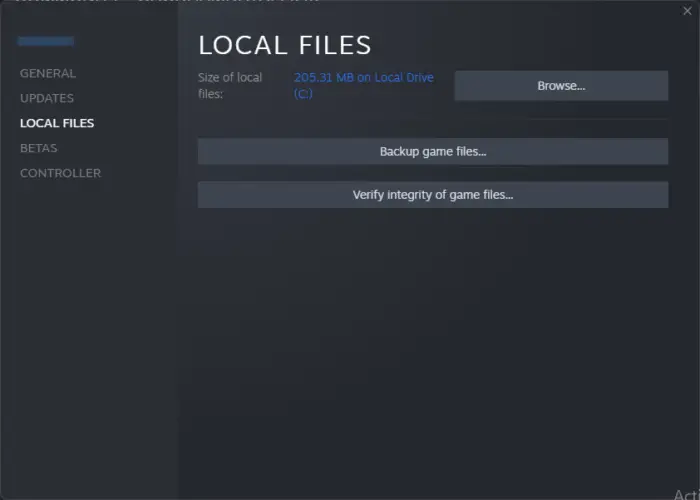 Open Steam and click on Library.
Right-click on World of Warcraft from the list.
Select Properties > Local Files
Then click on Verify Integrity of Game Files.
On Battle.net
Open Battle.net client and click on World of Warcraft.
Click on the Gear icon and select Scan and Repair.
Now click on Begin Scan and wait for the process to complete.
Close the Battle.net launcher, and restart your PC once done.
3] Reset WoW User Interface
The User Interface in World of Warcraft is a part of the game mechanics allowing players to interact with the game. Resetting it can help fix minor bugs and errors. Here's how:
Open the Battle.net application, click Options, and select Show in Explorer.
Now open the File Explorer and navigate to World of Warcraft's folder.
Navigate to the folder for the game version you're troubleshooting and rename the Cache, Interface, and WTF folders to CacheOld, InterfaceOld, and WTFOld.
Restart the game for the changes to take effect.
4] Run CHKDSK
Check Disk is a utility by Windows that can scan and repair errors with the hard drive. It also checks the hard drive for any corruption that may cause this issue. Here is how you can use chkdsk:
Open an elevated Command Prompt.
Type the following command and press Enter.

CHKDSK C:/f/r/x

The command won't run as your device's root drive is in use. Type Y, press Enter, and then reboot Windows.
The command will now start running. Wait for the procedure to complete.
Power on your device and check if error 132 is resolved.
5] Clear space using Disk Cleanup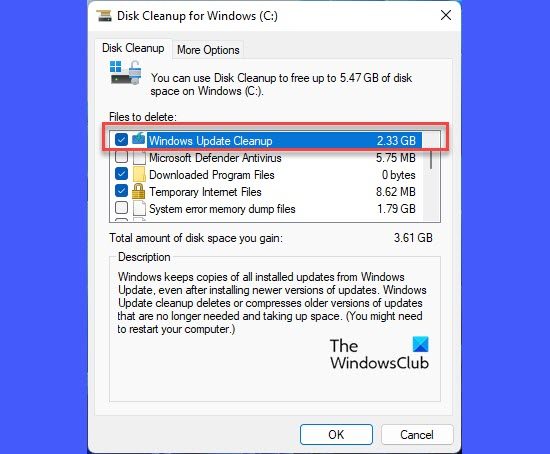 The error 132 fatal exception in WoW can also occur if your device runs low on disk space or has accumulated too many temporary and junk files. Deleting these files will help clear disk space and help fix the error. Here's how:
Click on Start, search for Disk Cleanup and hit Enter to open it.
Select the files that you want to delete like Downloaded Program Files, Windows Update Cleanup, DirectX Shader cache, etc.
Click on Ok to proceed and the Disk Cleanup system will now ask for confirmation.
Click on Delete Files to proceed.
Do note that you will see more options if you click Clean up system files.
You can delete all but the latest system restore points, Windows Update Cleanup, Previous Windows installations, etc., using this tool.
6] Temporarily Disable Antivirus and Windows Defender Firewall
Security applications like antivirus software and the Windows Defender Firewall can cause interruptions with World of Warcraft and make it misbehave. Disabling these temporarily can help fix the Fatal Exception Error 132. Here's how you can disable the Windows Defender Firewall.
7] Check for Overheating Components
The fatal exception error 132 can also occur if your device is overheating. Overheating components can cause system instability, leading to memory errors. Check your Windows device for overheating, resolve it, and see if the error is fixed.
8] Reinstall the Game
If these suggestions don't help, reinstall the game. It's possible the game's core files are corrupted and can't be fixed manually. To fix this, remove all files of World of Warcraft from your system, and start installing it again.
Read: Fix World of Warcraft Error WOW5190023 or WOW51900127
Let us know if anything here helped you.
How much RAM should WoW be using?
The amount of RAM that World of Warcraft (WoW) uses depends on several factors, like your device's hardware specifications, the number of add-ons installed, and the configured settings. However, Blizzard recommends WoW needs a minimum of 8GB RAM to run on any system.
How do I fix Error 132 in World of Warcraft?
To fix error 132 in World of Warcraft, reset the game's user interface and use Disk Cleanup to clear temporary files. However, you can also run chkdsk and temporarily disable third-party antivirus software to see if it helps.