No matter how often you use your computer system or which operating system you are using, your PC must always be protected against malicious programs. Hijackers today have too many ideas to take control over your computer and thus it becomes even more important to keep your computer system protected. It is almost impossible to check for all sort of the intruding malware in your computer system, so the only feasible alternative is to, apart from your antivirus software, get some special software which helps you monitoring every change occurring in your computer. This is where WinPatrol comes in use.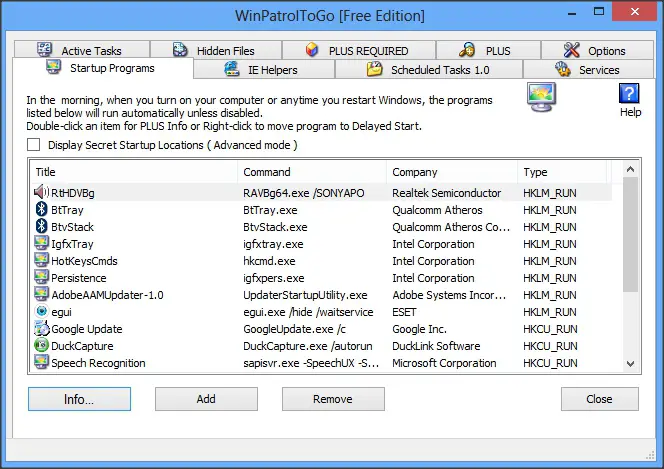 WinPatrol is one of the popular and most commonly used software to protect the computer system against various malicious activities. It also helps you better manage the Windows computer, by managing startups and keeping a watch on the changes being made to your system. We have already covered WinPatrol in detail.
BillP Studios has now come up with its newest portable version WinPatrolToGo. This portable version is a single executable file which you can carry on your SD card or portable USB device without leaving any left over files or registry entries on the computer being managed. You just need to plugin your portable USB and run the WinPatrolToGo executable file.
Features of WinPatrolToGo Portable Version
Analyzes each program installed and running on your computer
Remove and manage Startup programs
Disable unwanted Windows Services or set them to Start Delayed
Remove Toolbars and BHO's.
Create Reports that provide a snapshot of potential problems   Disable ActiveX Controls & MORE!
WinPatrol is a freeware, but there is also a Pro Version available which provides extra security to your system. the free version does not have access to WinPatrol PLUS knowledgebase and real-time infiltration detection.
WinPatrolToGo free download
The bottom line is that WinPatrol is all-in-one protection tool for your computer system providing smooth functionality – and if you are one who loves to help your friend with their computer problems, WinPatrolToGo would make a useful tool to have on your USB. Go get your free copy winpatroltogo.com..