If you see this error message – Windows Sandbox failed to start, Error 0x800706d9, There are no more endpoints available from the endpoint mapper, then this post may be able to help you.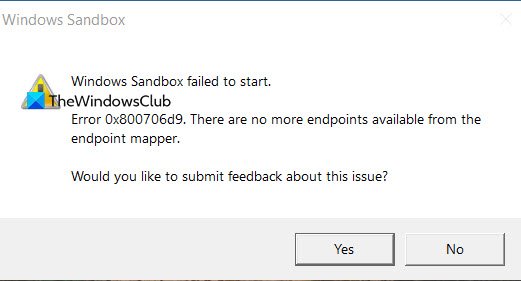 Windows Sandbox error 0x800706d9
The sandbox error can happen because of file corruption, services not running, and sometimes it is because of a feature update. Follow the suggested methods to resolve the problem. But before you begin, make sure you have enabled virtualization settings in your computer BIOS or Firmware menu, which can be accessed during the bootup of the computer.
Check the status of Hyper-V Related Services
Disable and Enable Hyper-V
Check for Cumulative Update in Windows
You will need admin permission to follow the steps to resolve the problem.
1] Check the status of Hyper-V Related Services
Open Services Manager and ensure that the following Services are Started. If they are, Restart them; If they are not, then Start them:
Network Virtualization Service
Virtual Disk
Hyper-V Virtual Machine Manager
Hyper-V Host Compute Service
Container Manager Services
Application Guard Container Service
Remote Procedure Call (RDC)
2] Disable and Enable Hyper-V
Eric O'Malley offered this workaround at Microsoft Answers.
Next, please navigate to the folders and Search for VHDX files and delete them but not from the recycle bin. You will have to unhide system files, hidden files, and so on.
C:\ProgramData\Microsoft\Windows\Containters\Sandboxes

C:\ProgramData\Microsoft\Windows\Containters\Zygotes
Having done that, turn on and enable everything that was disabled before deleting the VHDX file.
Turn on or Restart Container Manager Service
Turn on Windows Defender Random Folder Protection and Tamper Protection Service
Check if Windows Sandbox opens as normal. You may have to restart the computer.
READ: Windows Sandbox not loading, opening, or working.
3] Check for Cumulative Updates
It is possible that one of the feature updates has broken this, and the only way out is Microsoft fixing it through a cumulative update. In that case, you will have to keep checking if there is an update that fixes it.
Let us know if anything here or something else helped you fix the problem.
Similar error codes: