Sometimes when you open an image or a picture in Windows Photo Viewer, it displays nothing. Instead, you will see an error message "Windows Photo Viewer can't display this picture because there might not be enough memory available on your computer".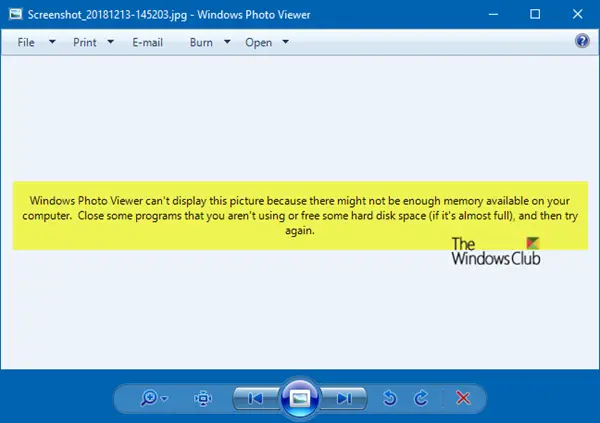 While this may look like a clear-cut issue of low RAM or less storage space in the computer, but that's always not the case. We have noticed this issue even when we had enough resources as well as disk space. So you are in a similar situation, you need to check on Color Profile of the screen as well.
Another important thing to note is that If the image size is very large, the Windows Photo Viewer may not be able to open the high-resolution image. By default, Windows Photo Viewer will not open an image file that is larger than – I think the value is – 100 megapixels. You will then have to use some other image viewer app – like say, GIMP.
Windows Photo Viewer can't display this picture
Before you begin, close some processes via the Task Manager, run Disk Cleanup Tool or restart your computer and see if that helps. If not, then follow the steps below, and check if this resolves your issue.
Type color management in the search box and then choose "Change advanced color management settings for display". Alternatively, go to Settings > System > Display > Advanced display settings. Select the display, and click on Display adapter properties of Display.  Then, switch to Color Management tab, and click on Color Management button.
In the next window, select the monitor on which you receive this error.
In case you have two displays, make sure to select the primary display. You have an option to identify the monitor as well.
Once confirmed, select the checkbox which says "Use my settings for this device".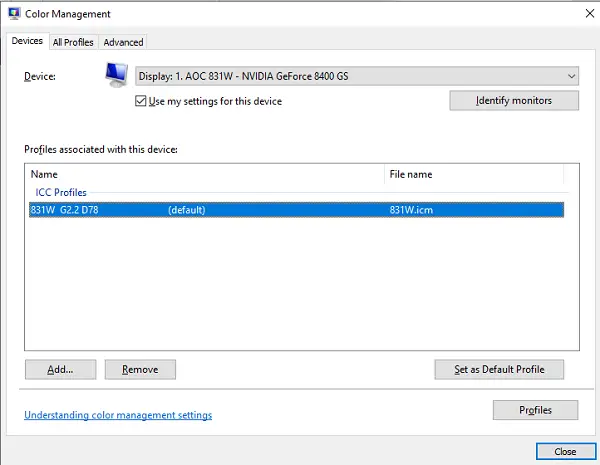 Next, select the Profile listed under "Profiles associated with this device". Click on Remove. If you do not see any profile here, then there is nothing to do for now.
Next click on the Profiles button.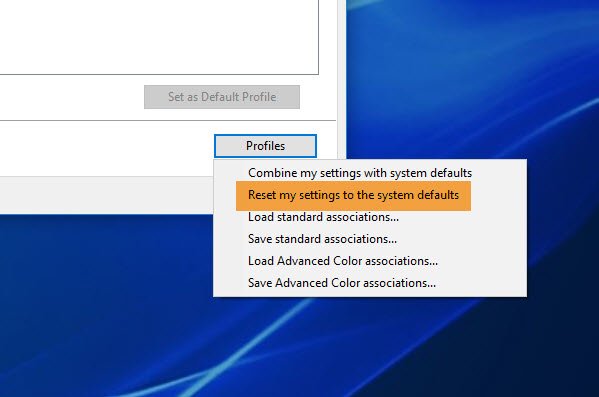 Choose Reset my settings to the system defaults.
Now, switch to Advanced tab, and make sure all the settings are set to System default which includes a device profile, rendering intent, perceptual images, Relative Colorimetric and so on.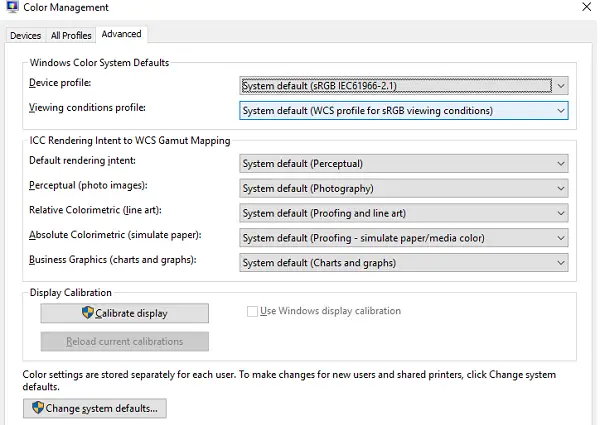 After this, you should restart the computer once, and then try opening an image with Photo Viewer.
If using the System default profile does not help, select Agfa:Swop Standard as the default profile and see if that helps.
This has been known to help some.
Alternatively, you may remove all metadata using ExifCleaner or EXIF Purge. They are small free portable tools that remove EXIF metadata from multiple images at once. With the click of a button, you can remove the camera, location, and other technical information from a batch of photos that are embedded by the camera or the photo editing software.
Let us know if any of these suggestions helped you to fix this problem – or if you have any other ideas to suggest.