Windows 11/10 is a great operating system with a lot of cool new features, but that doesn't mean it's without issues every operating system seems to face from time to time. One of the most common issues is the inability of Windows 11/10 to open a JPG or PNG image file. It's a common problem that tends to pop-up now and again. Just try and live with the fact that there's no perfect operating system out there, and as such, weird things will happen that shouldn't be happening in the first place.
What's annoying about this problem is the fact that many Windows 11/10 users work with photos on a daily basis. To have some simple task be rendered useless can be irritating, to say the least, but worry not, there are ways to get things back on track.
Windows 11/10 cannot open JPG or PNG files
OK, let's look into a couple of options that could fix the issue of your Windows 11/10 not being able to open PNG or JPG files. To fix this issue, you have the following options:
Reset Photos app
Reinstall the Photos app
Select Photo Viewer as the default if it isn't already
Fix JPG/JPEG/PNG File Association.
PNG or JPG files not opening on PC
1] Reset Photos app

The very first thing you should do it to reset the Photos app on your Windows 11/10 machine.
Windows 11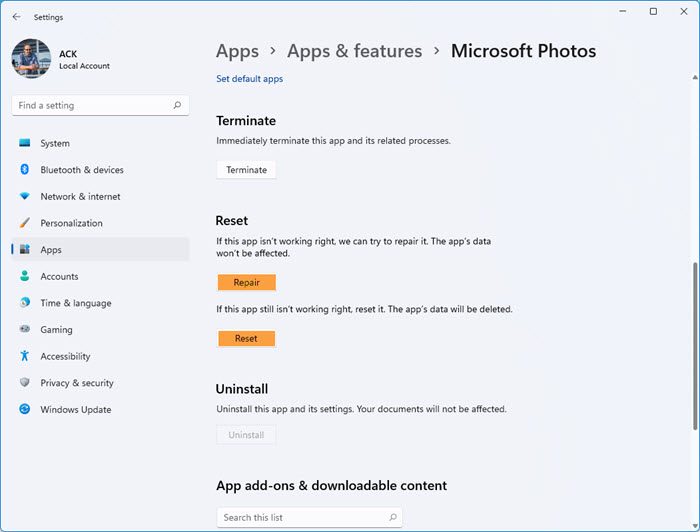 To Repair or Reset the Microsoft Photos app in Windows 11
Press Win+I to open Settings
Click open Apps settings
Select Apps and features
Locate the Photos app
Click on Advanced options
Next, click on the Reset button.
Windows 10
To do this, open Settings panel > Apps > Apps & features tab. Now, scroll down and find out Photos and select the Advanced options.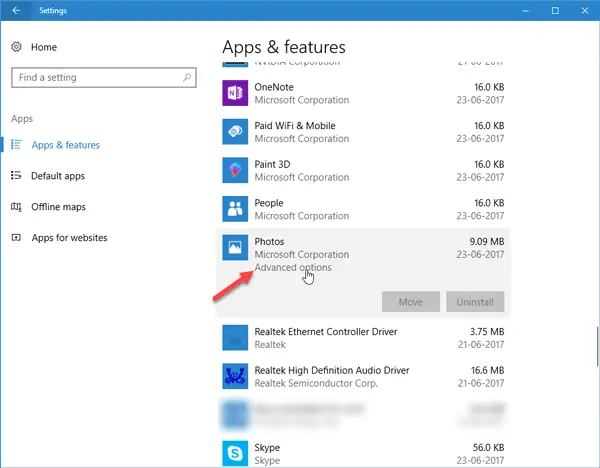 On the next screen, click on the Reset button to initiate the process.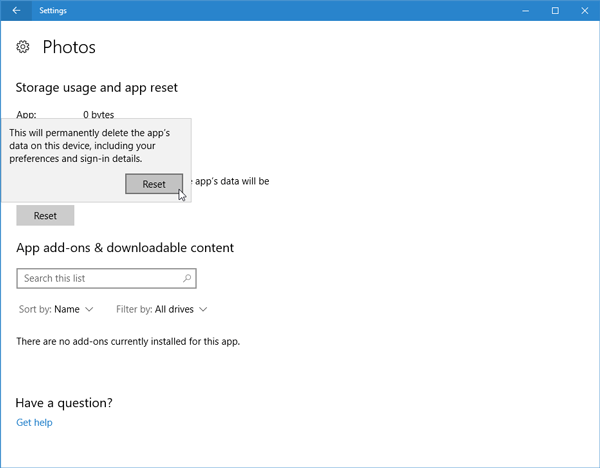 It may take few moments to complete the process, and your Windows Store app will be reset to its default settings.
2] Reinstall the Photos app
Chances are, the reason for not being able to open JPEG files might have a lot to do with a bug in the Photos app. We recommend reinstalling the UWP app and seeing if that helps.
First, you'll need to press the Windows Key + S, then after that, type PowerShell. Now right-click on the file and select Run as administrator. The moment the PowerShell is fully up and running, execute the following command:
get-appxpackage *Microsoft.Windows.Photos* | remove-appxpackage
Once the Photos app is removed, just venture off to the Microsoft Store, search for Microsoft Photos and download & install it again.
You could also use CCleaner to uninstall the app with a click.
3] Select Photo Viewer as the default if it isn't already
Compared to the Photo app, Photo Viewer is faster, although it doesn't have some of the interesting features. Still, if you're already no fan of the Photo app, then this is good enough.
We'll need to restore Photo Viewer. It was available in previous versions of Windows, but with Windows 11/10, Microsoft chose to omit it in favor of the Photo app.
Follow this registry manipulation to restore the Windows Photo Viewer in Windows 11/10, or use our UltimateWindows Tweaker to enable it with a click.
Download our freeware Ultimate Windows Tweaker, navigate to the Additional tab and click on Enable Windows Photo Viewer and click Apply.
Having done this, right-click on any image file, and you will see it included in the Open with context menu.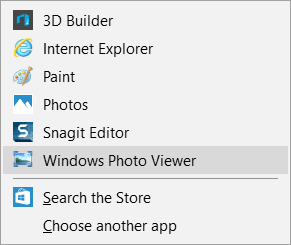 You will also see it offered to be set as the default photo viewer if you wish to.
To make Photo Viewer the default program for opening JPEG and all sort of images on your computer do the following:
In Windows 11, open Settings > Apps > DEfault apps > Photos. Locate JPG and JPEG, click on the links and in the pop up set Windows Photo Viewer as the default.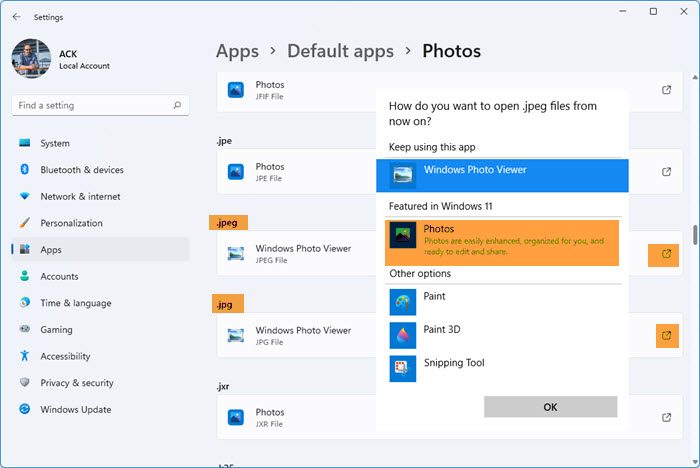 In Windows 10, open the Settings app, then select System > Default apps > Photo Viewer > Photos.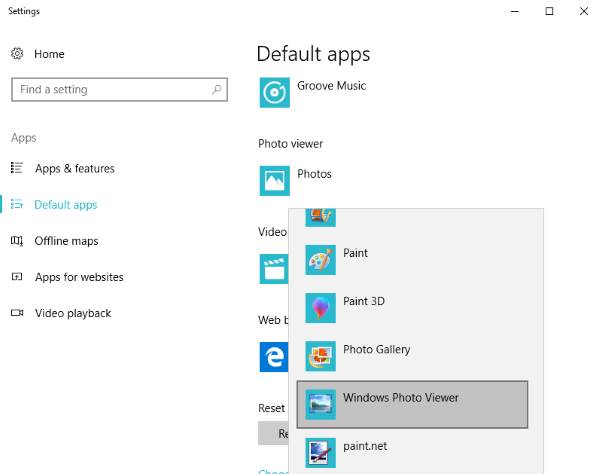 Finally, select Windows Photo Viewer from the list and from there, everything should work as expected.
4] Fix JPG/JPEG/PNG File Association
Use our freeware File Association Fixer to fix Fix JPG/JPEG/PNG File Type Association.
If all else fails, then maybe it's time to download an alternative photo viewer from the web.