You can enable Windows Photo Viewer in Windows 11/10 by using our Ultimate Windows Tweaker. It is disabled by default in Windows 11/10 since Microsoft wants you to use the better Photos app.
The new Photos app includes a lot of new features including basic photo editing and touch-up tool. It allows you to share files as well.  But some maybe find it a little slow to open, and the UI is much different, and this can take some time getting used too.
Enable Windows Photo Viewer in Windows 11/10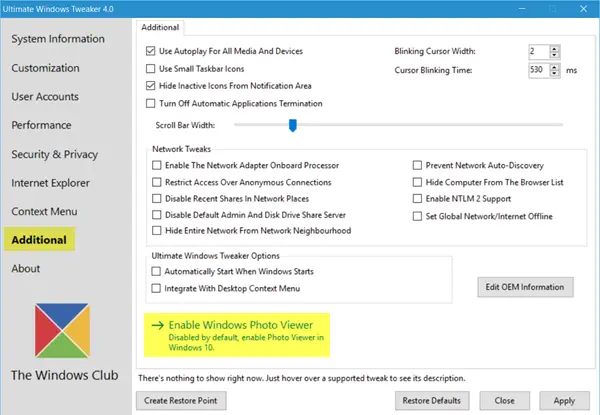 There are many who are used to and like viewing their images or photos using the Windows Photo viewer which was present in Windows 8.1 and earlier. If you too are one of them, then there is now a simple way to turn it on or enable it.
The solution?
Go get our freeware Ultimate Windows Tweaker!
Navigate to the Additional tab and click on Enable Windows Photo Viewer and click Apply.
Viola!
Having done this, right-click on any image file, and you will see it included in the Open with context menu.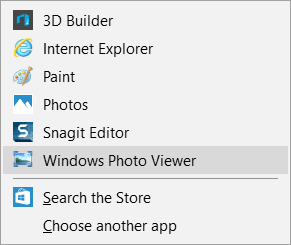 You will also see it offered to be set as the default photo viewer if you wish to.
Remember, once you do this, there is no way to undo it, not that it should bother you because you can always leave it enabled, and set the default app to the Photos app if you change your mind.
Let us know what you prefer. Windows Photo Viewer or the new Windows 10 Photos app.
You can also restore Windows Photo Viewer in Windows without using any software using Windows Registry. See this post if you want to get the Microsoft Office Picture Manager in Windows 10.