Microsoft Office and Office 365 now, do not ship with Picture Manager. Microsoft Picture Manager let users view, edit & manage images easily and many liked it. This tool has basic functions and lets you manage, edit, share, and view your pictures from where you store them on your Windows computer.
Using Picture Manager you can crop, expand, or copy and paste images. By using the Picture menu, you can change how your pictures look. You can adjust the brightness and contrast, Color, Crop it, Rotate or flip it, remove the Red-eye effect, Resize it and Compress the picture too. Sharing pictures is easy too. You can send pictures in e-mail messages or create a SharePoint picture library on your corporate intranet.
On Windows 10, you now have the Windows Photos app that lets you manage your pictures. Microsoft removed the Picture Manager, as the basic image editing tools which were included there, are already included in Word, PowerPoint or Excel. But if are missing it and want to install the Picture Manager, you can do so as follows.
Install Microsoft Office Picture Manager in Windows 10
Download Microsoft Office SharePoint Designer 2010 or 2007. It is free to install and does not require a license. Mind you; you need to install the 2010 version – 32-bit or 64-bit, and not the 2013 version, as SharePoint Designer 2013 does not include the Picture Manager.
Once you have downloaded it, start the installation, accept the licensing terms and select the Customize button for installation, when it is offered.
Now on the next screen, select Run from My Computer for Microsoft Office Picture Manager and Not Available for all the other programs, as shown below.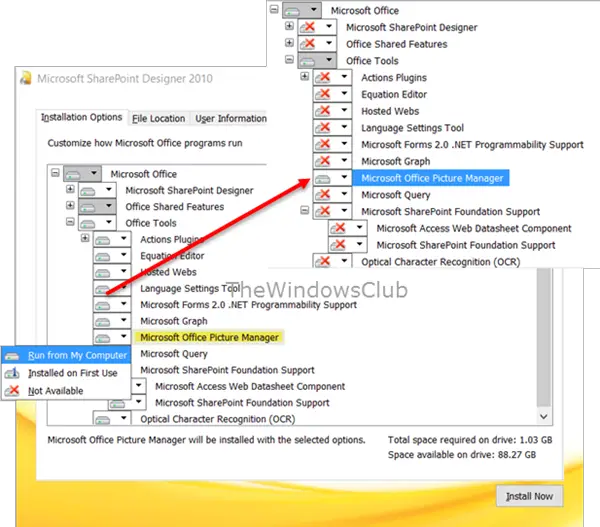 Click on Install now, and the installation will proceed. Once it is completed, you will be able to see Microsoft Office Picture Manager under Recently added in your Windows 10 Start Screen.
Click on it to open the program.
Microsoft Office Picture Manager allows you to manage, edit, share and view your pictures. The Locate Pictures feature is pretty useful in locating all your pictures. You can use the picture editing tools to crop, expand, or copy and paste. You can also share or send pictures in e-mail messages or create a picture library on your corporate intranet.
You may also use the Setup.exe file from Office 2010, 2007 or 2003 installation CD and during installation, select Customize and then opt to install only Microsoft Office Picture Manager. But you may face licensing issues, in this case, so using SharePoint Designer is the better option.
Enjoy using Microsoft Office Picture Manager, even if you have Office 2019/16 installed on your Windows 10 computer.
Now see how you can get the Windows Photo Viewer in Windows 10.