Photo viewing experience in Windows was not that great experience, until now. The Windows Photo Viewer, the default app for viewing photos when browsing through a folder in file explorer served its purpose well but wasn't quite feature-rich by any means. Things changed with the release of Windows 11/10. It introduced a new app – Photos App replete with editing and sharing features.
Share files using Windows Photos App
The Photos app includes a wide range of editing options to enhance your photos/images, from automatic fixes to advanced adjustments. Once you are done with the editing job, you can have them shared with friends and family without leaving the app.
Sharing image files directly from File Explorer can certainly be handy and Windows 10 makes it dead simple. To share photos, videos and panoramas you need to keep certain points in mind.
First, all photos and videos in the Photos app can be shared with any apps that are available in the Share charm, like the Mail app. For files stored in OneDrive, you have the option to send invitations that give specific people permission to see the files or get a link to share with others.
Tip: The Video Editor app is a feature of the Photos app. Learn how to use the Video Editor app in Windows 10.
Share photos and videos in your OneDrive
Assuming you have access to Photos App, right-click files and folders to select them.
Click Share to open up the Share sidebar. One-click Share button in the File Explorer actually lies hidden inside the Sharing menu. It has the same three-dot-circle icon as seen in the Windows Charms bar. If you would like to share with an individual person or groups, choose Invite people. To share with an unknown group, choose Get a link.
Read: Windows Photos app is slow to open or not working.
Share photos and videos from your Pictures library
In the Photos app, go to the folder with the photos or videos you would want to share. Here, depending on the type of file to be shared, different options will be visible in the Sharing menu. For instance, if you have chosen a folder, and not a file, the Share button will be grayed out and the Zip button will be available.
Pressing Win+H may not bring up the Share bar. To bring it up for individual files, right-click the photo or video you want to share and if you're using a mouse, hover your mouse cursor in the upper-right corner of the screen, move the cursor down, and click Share.
Now, click the service you would want to share with and follow the on-screen instructions.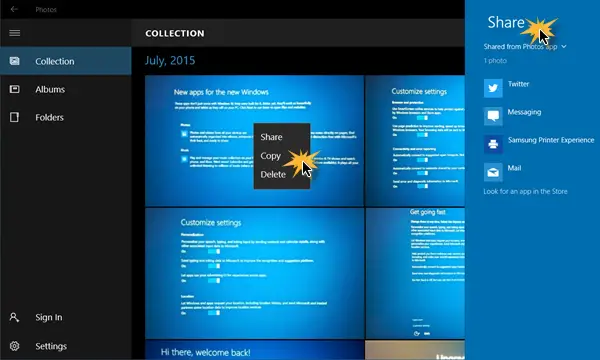 The Share list could include Twitter, Mail, Printer, Messaging, Facebook, OneNote, PicsArt, Dropbox, etc. The list depends on the apps that you have installed on your Windows PC. So if you do not see Facebook in your Share list, install the official Facebook app and you will see it added.
Liked the Picture Manager and missing it on your Windows PC See how can get the Microsoft Office Picture Manager in Windows.