Windows Media Creation Tool is a sophisticated tool to download the ISO file and update your computer to the latest version of Windows 11/10. If you have tried to use this tool, but have received the following error, then this post will help you-
There was a problem running this tool. We're not sure what happened, but we're unable to run this tool on your PC. If you continue experiencing problems, reference the error code when contacting customer support. Error code: 0x80072F76 – 0x20017.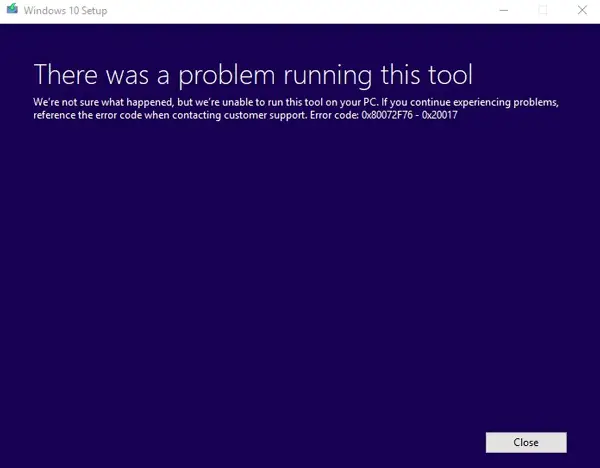 Here is a solution that will fix your problem within moments. This error mainly appears on Windows 11/10. If you have confronted this issue, here is what you have to do.
Windows Media Creation Tool Error 0x80072F76-0x20017
Windows 11/10 sometimes prevents apps from running on your computer. If it is currently blocking the Windows Media Creation Tool, you need to unblock the tool to get rid of this error message.
For that, download the Windows Media Creation Tool. If you have already downloaded it, right-click on that .exe file and click Properties. Make sure you are on the General tab.
Here you should find an Unblock option regarding Security with a message called This file came from another computer or might be blocked to help protect this computer.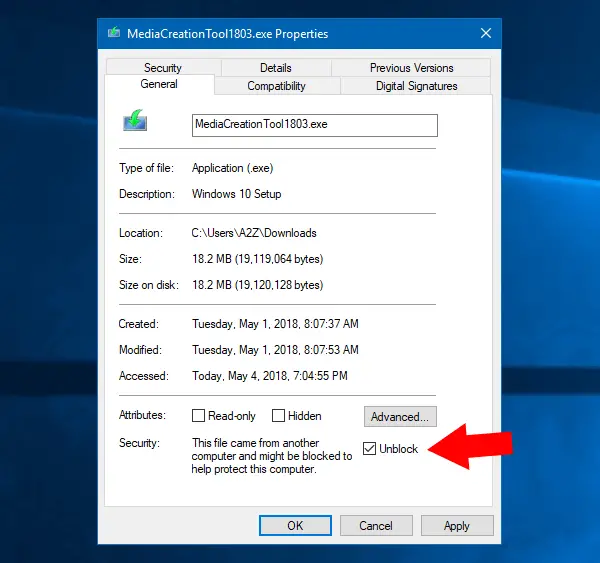 You need to select the Unblock checkbox and hit Apply and OK.
That's all! Now you can use Windows Media Creation Tool to download Windows ISO file.
Hope this works for you! If it does not, then use the Windows Update Assistant Tool.
There are more suggestions here: Windows Media Creation Tool Error running this tool or starting setup.