Windows Hello is a feature in Windows 11/10 that uses biometrics, including facial recognition for a quick sign-in to your PC. You can access its settings via WinX Menu > Settings > Accounts > Sign-in options. If you see a Windows Hello isn't available on this device message here, here are a few things you may want to take a look at.
Windows Hello isn't available on this device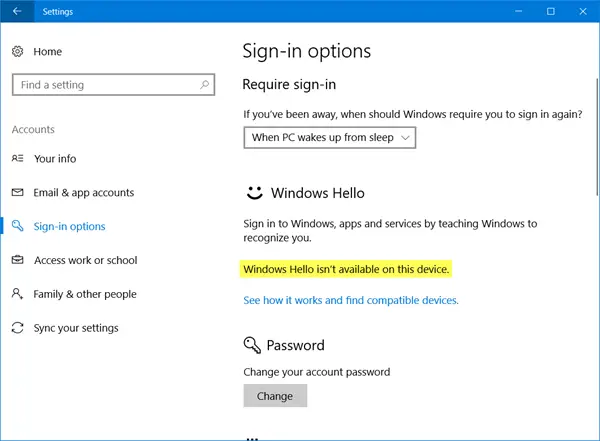 Go through the entire list of suggestions and see which of these may apply in your scenario.
1] First of all, check if your device supports Windows Hello. You may note down your laptop name and model number and search on the manufacturer's site to see if it supports Windows Hello.
2] Run the built-in Hardware and Devices Troubleshooter. You may also use the Windows Software Repair Tool and see if it helps.
3] If Windows Hello is not working for you, you need to Sign in to your device using a different method, such as a PIN or Password and then remove Windows Hello as a sign-in option. Do so by opening Settings > Accounts > Sign-in options and clicking on the Remove link under Fingerprint or Facial recognition.
Having done this, restart your computer and then set up Windows Hello or Fingerprint Reader on Windows 10 or Surface device afresh and see if that works for you now.
4] Maybe you need to update the device drivers. From the WinX Menu, open Devices Manager and update your device drivers for:
Windows Hello driver
Webcam
Fingerprint scanner
Microsoft IR Camera Front
Surface Camera Windows Hello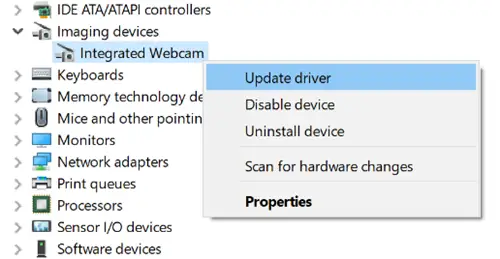 You may not see all the drivers on your device. Search for the one's that are available and either update them – or uninstall the drivers, restart your PC and then click on Scan for hardware changes to let Windows download the latest drivers for your device.
5] If you are facing this issue in your business environment, you may Run gpedit and ensure that all the settings here are set to Not Configured:
Computer configuration > Administrative Templates > Windows Components > Biometrics.
This Microsoft resource can throw more light on this subject.
Hope something helps!
This post will help you if Windows Hello does not recognize your Face or Fingerprint.