Among many features introduced in Windows 10, a new security feature named Windows Hello deserves a special mention. It uses biometric means, including facial recognition for quick sign-in. Hello facial recognition is indeed fast and can help the system identify and sign you in less than a minute. However, this capability requires special hardware that most devices are not equipped with.
For instance, this sort of sign-in demands special camera hardware with IR capabilities if it has to function smoothly under any lighting conditions, including pitch-black darkness.
If you find that the Windows Hello does not recognize Face or Fingerprint and is not displaying any error message, here are a few steps you can try out to get the problem fixed.
Please note that if nothing happens when you try sign in using Windows Hello and no error message appears, you may be having a hardware issue. So try these things:
Windows Hello fails to recognize Face or Fingerprint
First, make sure you have the latest Windows Updates installed and also make that you are connected to the Internet.
1] Run the built-in Hardware and Devices Troubleshooter. Follow the on-screen instructions.
2] If the fingerprint reader fails to respond to your request, detach and reattach your Tablet or Surface Pro 4 Type Cover with Fingerprint ID from your Surface Pro 4 and try using the fingerprint reader again.
If reattaching your Surface Pro Type Cover with Fingerprint ID doesn't solve the problem, try typing or using the touchpad. If neither the keyboard nor the touchpad on your Cover works, see Troubleshoot your Surface Cover. This post will show you how to do it.
Read: How to use Windows Hello in Windows 10 to sign in.
3] If the IR camera or the fingerprint reader still aren't working then,
Sign in to your Surface using a different method, such as a PIN or password.
Remove the fingerprint set up or scan of your face and try setting up a new scan, follow these steps.
Go to Start Windows logo, and select Settings > Accounts > Sign-in options.
There, under Windows Hello, locate the IR camera or fingerprint setup option.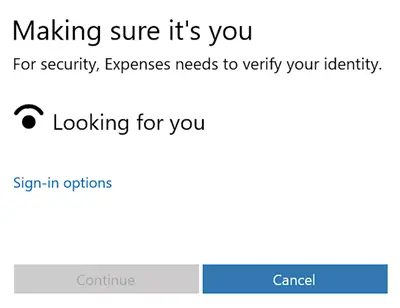 Next, select Remove to remove the scan of your face or fingerprint.
Now, to create a new scan, select Set Up > Get Started.
At this point, you will be requested to set up your account with a PIN. Simply follow the on-screen instructions when you are asked to do so.
Again, follow the on-screen instructions to scan your face using the IR camera of your device or to scan your finger using the fingerprint reader on Surface Pro 4 Type Cover with Fingerprint ID.
When done, hit the Finish button and sign in using Windows Hello.
If nothing works, you may contact Microsoft here and report your problem.
Let us know if anything helped.
This post will help you if you see a Windows Hello isn't available on this device in Windows Settings.